NKyTribune staff report
A deposition of NKU Athletic Director Ken Bothof filed as part of public court documents in the case of Jane Doe vs. Northern Kentucky University reveals an "incident of a sexual nature" involving another NKU female student in February, 2015 by (then) three members of the NKU basketball team.
"Jane Doe" filed a 19-page lawsuit in January, naming NKU Pres. Geoffrey S. Mearns; NKU Police Chief Les Kachurek; Kathleen Roberts, senior advisor to the President and Title IX coordinator; and Ann James, Senior Associate Dean of Students and Deputy Title IX Coordinator.
The case is being heard by Judge William O. Bertelsman in the Eastern District of Kentucky, Covington Division, of the U.S. District Court.
Jane Doe's attorney Kevin Murphy filed the deposition with federal court as part of a motion for sanctions against NKU's legal counsel, specifically Patsey E. Jacobs of Sturgill, Turner, Baker & Moloney of Lexington for her persistent efforts to invoke FERPA (Family Educational Rights and Privacy Act) to keep Bothof from answering questions. In the motion Murphy says "without citing any privilege," NKU's counsel advised "the witness not to answer twelve times. FERPA is a Federal law, not a privilege," the motion says: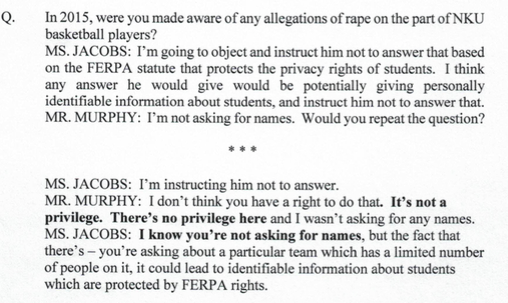 The information, Murphy argues in his motion "goes directly to the issue of deliberate indifference on the part of Northern Kentucky University and the remaining Defendants, and may lead to the discovery of deliberate concealment of this incident."
Jane Doe is seeking damages from the university for its response to a sexual assault she says occurred in a campus dorm in 2013.
The university has filed a motion with the court asking for a gag order of all parties, to prevent Jane Doe and her attorney from taking their case to the "court of public opinion."
See links to the NKyTribune's previous stories:
NKU student files suit against NKU
NKU's attorneys reply to Jane Doe suit
NKU files motion for gag order
NKU student alleges assault by four members of basketball team
Murphy would not comment on his most recent motion or on the deposition of AD Bothof, saying only that the documents speak for themselves.
In answer to Murphy's question: Were you made aware in 2015 of a rape on campus by any member of an athletic team at NKU?" Bothoff responded: "I don't know that rape was used in the allegation. I was made aware of a university investigation into misconduct on behalf of some of our student athletes. . ."
Q: How were you first made aware of it.
A. Through the Office of Student Conduct . . Ann James
* * *
Q: Was the NKU Police involved in investigating it?
A. . . .I don't have any recollection of that, no.
* * *
Q: When you received word for the first time from Ann James that certain athletes were identified for this certain sexual incident, were those players, after you were notified, placed on suspension?
A: When we were notified of a student conduct issue, at that time, on the day that it happened, no, they were not suspended.
* * *
Q: And it was related to multiple boys, not just one, correct?
A: Yes.
Q: And it related to just one woman victim, correct?
A. Yes.
* * *
Q: Was this reported to the NKU Police?
A: I don't know.
EDITOR'S NOTE: A NKyTribune review of the NKU Police Log during that period shows no report of a "sexual incident" in any NKU dorm. The log is available online.
Q: Is it supposed to be reported to the NKU Police?
A: Once a person had knowledge of it, yes. . .
Q: So am I correct then, from putting two and two together, that you didn't contact the NKU Police?
A: No.
* * *
Q: Did you have any conversations with Mearns about this?
A: Certainly. . .
Q: And what did you talk to Mearns about relating to this incident?
(Attorney Jacobs objects on FERPA grounds; says Bothoff can answer with respect to the process.)
A: When we have a conduct issue, I do call the president to let him know that there is a student athlete who is undergoing a student conduct issue.
* * *
Q: Now, do you know, sir, if these students went through the administrative procedures; did they go through hearings?
A: Yes.
Q: Do you know if the woman involved, the victim, did she appear at the hearings?
A: I don't — I don't know.
Q: Was it important to you, as the athletic director, to gather as much information as you could to determine whether these boys did force themselves on a woman against her will?
(Jacobs objects)
A: I didn't see it as my responsibility to gather information. I'm not responsible for the investigative part of it.
* * *
Q: Were you made aware at all as to whether the victim in 2015 of the athletic players was at any time threatened that she better not come forward and press charges against these boys; were you ever made aware of that?
A: Not that she was threatened, no.
Q: Did you learn anything else about any approach made to her?
A: I knew that there was a student who was having conversations with her.
Q: Who made you aware that there was a student having conversations with her?
A: I think it came through the student conduct process.
* * *
Q: Was (suspension of the athletes) ever contemplated or discussed between you and your coaching staff?
A: It certainly was contemplated by me, but we went to our policies from a student conduct policy standpoint to help us with that decision.
Q: And what aspect of the policies led you to believe that you should keep them on the court?
A: Well, there had been no charge made against any of the student athletes.
* * *
Q: Were you called into meetings with Administration about this situation?
A: Yes.
Q: Who was in the meeting?
A: President Mearns, Sara Sidebottom, Ann James, myself, Katie Herschede, Leslie Fields. There may have been a couple other names but I'm not sure.
* * *
Q: Do you know who first notified anyone on campus of this incident?
A; I'm trying to think. As I recall, it was an RA (Resident Advisor).
Q: During this time frame, was NKU's application for Division 1 still pending?
A: Yes.
Q: Was there any concern expressed in any meetings about the impact that this could have on the Division 1 application if it became public?
A: Not that I recall, no.
* * *
Q: On the sexual incident in 2015 there were suspensions?
A: Yeah.
Q: Before the hearing or after?
A: Once the — once the student decided to formally charge, then they were suspended from all team activities.
Q: And was that in the off season then they were suspended?
A: It was after the — after the season was completed.
Q: And when the season started, those who still remained on the team and didn't graduate or leave, played the first game, correct?
A: . . .correct.
Q: So in reality it was a suspension that did not affect the players' ability to play in an in-season game, correct?
A: Well, we waited to determine how — what else would be, if there was going to be any additional — for the outcome of the hearing.
Q: Right. Did you attend the administrative hearing?
A: No.
Q: Did any of your staff?
A: Not that I am aware of.
* * *
The deposition is more than 60 pages long and was conducted on August 25 over a 2-1/2 hour period.