By Judy Clabes
NKyTribune editor
What started with an off-hand remark of one friend to another about eight years ago became a voice that "spoke to all of us."
That's how Mark Guilfoyle explains the exquisite St. Mary's Park — or as some are calling it, "the Fountain Square of Northern Kentucky."
The privately-funded, volunteer-driven project, lovingly moved from idea to fruition by a small group of dedicated friends, will be formally dedicated Saturday.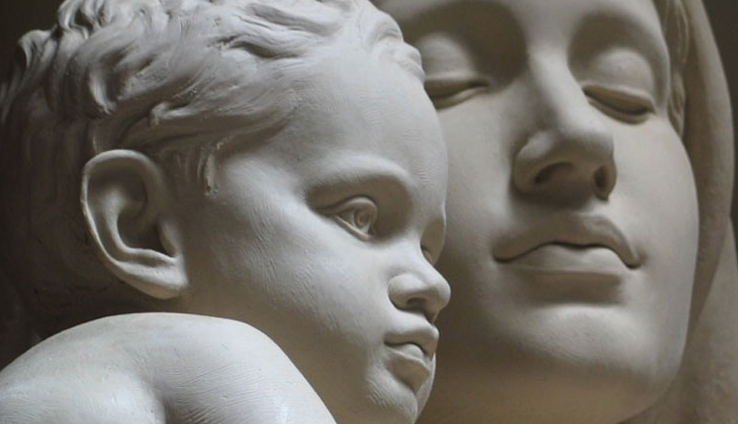 St. Mary's Park graces the corner of 12th and Madison, across the street from the Cathedral Basilica of the Assumption and between the Diocesan Curia Building and the widened Martin Luther King Boulevard.
A short program will commence at 1:30 p.m. in the Bishop Howard Memorial Auditorium in the Diocesan Curia building. Immediately following, Most Rev. Roger J. Foys, D.D, Bishop of the Roman Catholic Diocese of Covington, will dedicate and bless the fountain and statue in St. Mary's Park.
"We hope St. Mary's Park with its beautiful bronze statue of Mary with baby Jesus will become an iconic image for all of Northern Kentucky," said Guilfoyle, an attorney with DBL Law Firm. "We hope it will be a gathering place, a rallying point, a place of community pride and contemplation."
Guilfoyle credited a "small group of dedicated volunteers" who were united in their efforts to bring this "oasis" to Northern Kentucky.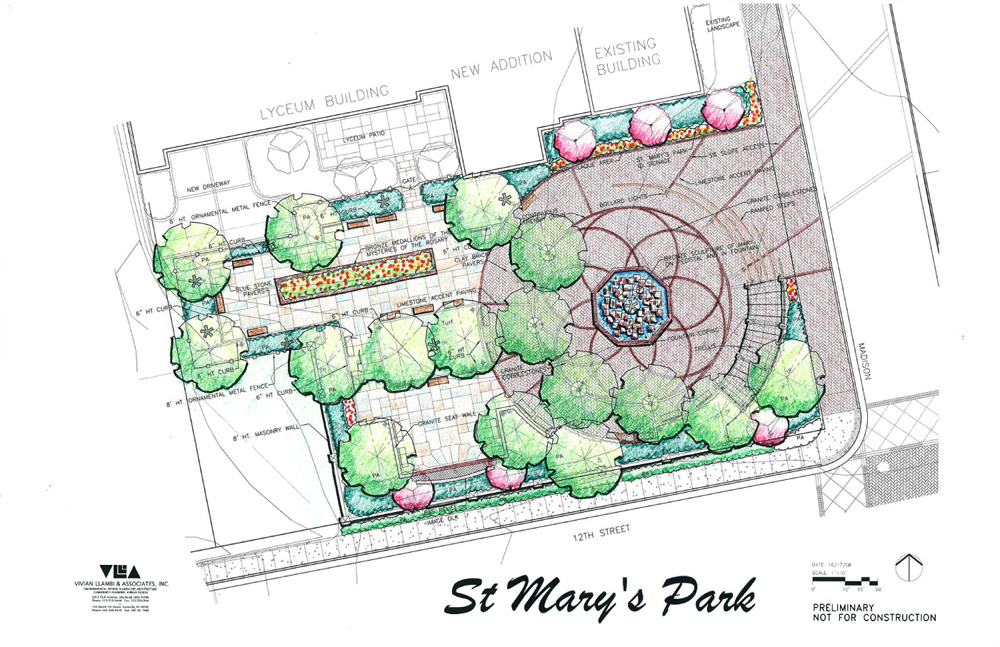 The park is, he said, a perfect example of what a small group of good people can do to enrich the community.
That group included Mary Brown, Anne and Bill Burleigh, Dan Groneck, Joan Wurtenberger and the Very Reverend Ryan L. Maher, V.G., Rector of the Cathedral, along with Guilfoyle.
"It has been a true community effort," he said. "And the result of incredible generosity of individuals and foundations."
It was not an inexpensive effort by any means, but all the funds have been raised for the "first phase" that will be dedicated on Saturday.

"Since Mary is of all creatures the one most conformed to Jesus Christ, it follows that among all devotions that which most consecrates and conforms a soul to our Lord is devotion to Mary, his Holy Mother, and that the more a soul is consecrated to her the more it will be consecrated to Jesus Christ."

Blessed John Paul II
 "On The Most Holy Rosary" (2002)

That involved a process that took years: A landscape architect, extensive planning, lush landscaping, selecting and commissioning the right sculptor, designing, fundraising — and, yes, a lot of praying.
It had to be just right.
The Cathedral is one of Greater Cincinnati's architectural gems, boasting world-class art both within the church and on the church façade.
St. Mary's Park is designed to complement the Cathedral's art with its own inspirational sculpture, set in a richly landscaped space. The Park will provide a setting to view the impressive façade of the Cathedral, which includes Clement Barnhorn's relief of the Assumption of Mary in the central tympanum.
The Park will be open to the public during the day and will provide the wider community with a public space to gather and to relax in a soothing urban oasis.
The centerpiece of the fountain — and of the project — is a bronze sculpture of the young mother, Mary, holding an infant Jesus. With sleeves rolled up and eyes nearly closed, Mary is not only a mother at work, but also a mother contemplating things to come. The infant Jesus is lovingly attached to His mother, yet has the expression of One gazing beyond.
The sculpture was created by artist David Frech of Beacon, N.Y., in the classical style. It is nine feet tall from Mary's feet to the top of her head, and rests on a four-foot stone pedestal.
The fountain is 24 feet in diameter at its base.
It is wrapped and under covers until its grand unveiling on Saturday, but the park is obviously taking shape — and the wrapped statue is of amazing, impressive proportions.
Guilfoyle and his colleagues hope it will inspire hope and faith too.
"The world can get a little crazy these days," he said. "We wanted to make a statement about the kind of people we really are — and to provide a quiet place for contemplating that."
Phase two is already underway. A statue of Our Lady of Knock, also sculpted in the classical style by David Frech, will be situated in a devotional space awaiting her, somewhat apart from the Mother and Child statue. It is a tribute to the Irish heritage of the Cathedral parish.
To learn more about St. Mary's Park, visit www.saintmaryspark.org.
Photo by Dakin Roy