Hammocks are synonymous with summer leisure, relaxation and to some retirement.
They are a great way to relax in backyards, beaches or while camping in the woods, but what if I told you that a handful of people died every year while resting in a hammock?
It's true.
Like with anything else, if you don't use a hammock properly it can be extremely dangerous. On Aug. 1, 2017 a Northern Kentucky girl, age 15, was sitting on a hammock at a friends's house and was killed when a tree collapsed and toppled over on her, crushing her to death.
The Fort Thomas teenager was relaxing with her friend when the accident occurred. Luckily, her friend was not seriously injured. News reports did not did not determine the cause, but I suspect that the tree was dead and the added weight caused it to fall over.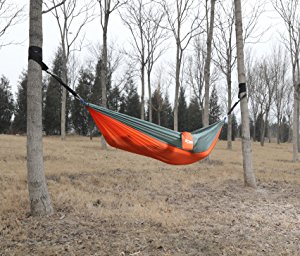 Hammocks have been around for nearly a 1,000 years and are defined as sling made of fabric, rope, or netting, suspended between two points, and used for swinging, sleeping or resting. It normally consists of one or more cloth panels, or a woven network of twine or thin rope stretched with ropes between two firm anchor points such as trees or posts.
Hammocks were developed by native inhabitants of Central and South America for sleeping. They were later used aboard ships by sailors to enable comfort and maximize available space, and by explorers or soldiers traveling in wooded regions to keep them off the ground and away from insects and poisonous snakes.
Hammocks have also been employed on spacecraft to utilize available space when not sleeping or resting. During the Apollo program, the Lunar Module was equipped with hammocks for the commander and module pilot to sleep in between moonwalks.
Today, they are more popular than ever with college-age millennials and outdoor enthusiasts.
A 2015 report showed sales of hammocks increased a whopping 30 percent to $53.8 million compared with 2014, according to the market research firm NPD Group Inc., which found that overall sales have doubled during that time.
Websites like Amazon, L.L. Bean, Moosejaw and Wayfair are climbing on board the trend by marketing new designs in cool materials.
Despite the lack of any current updated accident data from the Consumer Product Safety Commission, the law of probability tells me that with the increase in sales, the number of accidents and fatalities would also be on the rise.
However rare incidents like the one in Fort Thomas may be, accidents occur with enough frequency that the public needs to become more aware of the risk factors of using a hammock improperly.
Unfortunately, the internet is full of tragic stories involving hammocks as people have been either severely injured or killed, leaving families reeling and devastated.
In an effort to avoid such a tragedy, here are some helpful safety tips to remember when using a hammock:
• Follow Safety Guidelines – Always read the user guidelines and follow the instructions. These guidelines are recommended by the manufacturers and retailers not just for your safety; following them will also extend the life of the hammock.
• Inspect Prior to Each Use – Inspect your hammock before you use it. Remember that the hammock is only as good as its weakest link.
• Hanging Distance – It is necessary to hang your hammock properly. This means that the hanging points for each end should be within the recommended distance prescribed by the manufacturer. If the hammock is stretched too far, it will increase the likelihood that tipping will occur. Likewise, if the hammock is not stretched far enough, it will sag and you may hit the ground when you sit in it.
• Chose Only Sturdy Trees – Never secure a hammock to a dead tree. Remember not all trees are alike, and you should try to locate two hard woods with a deep root base that will safely hold the intended load.
• Use Only Strong Posts – The hammock should never be fastened to an object that has the potential to move. If hanging from a post, be sure it is at least 6 inches in diameter and that at least 1/3 of it is sunk into the ground, preferably anchored with concrete. Brick posts should be avoided.
• Fasten Correctly – Much care should be given to make sure that the hammock is properly fastened to the structures so that it will not come loose when you get in.
• Not for Kids – Children should not be allowed to play on a hammock while unattended. While hammocks provide a fun means of relaxation for children, they also present a certain degree of danger if they aren't supervised. Children can become entangled in hammock strings resulting in serious injuries. Hammocks can become quite unsteady at times and kids may not have the balance or coordination to enter or exit without falling.
• Don't Try To Repair A Damaged Hammock – When a hammock is damaged, throw it away.
• Hang Hammocks At A Safe Level – Hang the hammock no more than 18 inches above the ground. Remember the higher you are the harder the fall.
• Clear Debris – Remove any debris, like rocks limbs, from beneath your hammock so that if you do fall it would be less likely to cause an injury.
• Don't Jump from A Hammock – Sit sideways and then swing your feet in.
• Obey the Weight Limit – Check the weight limit associated with your hammock. It can usually be found on the strap.
• Bring Inside When Not In Use – UV rays and the weather can slowly cause your hammock to deteriorate over time. It's generally a good idea to bring the hammock inside when you are not using it.
Be Safe My Friends.

Keven Moore works in risk management services. He has a bachelor's degree from University of Kentucky, a master's from Eastern Kentucky University and 25-plus years of experience in the safety and insurance profession. He lives in Lexington with his family and works out of both the Lexington and Northern Kentucky offices. Keven can be reached at kmoore@roeding.com.