Co-owners Mark Ramler and Stuart MacKenzie, with project partners the Catalytic Fund and the City of Newport, will gather with community leaders and neighborhood residents on Thursday to celebrate the grand opening of the newly renovated bar and package liquor store, Jerry's Jug House.
Built as a garage during Prohibition, with ties to bootlegging, the building went legit as a "jug house" following Repeal Day in the 1930s. It was still illegal at that time to buy alcohol at the neighboring grocery store, but thirsty patrons could purchase jugs of beer and later liquor and wine at the adjacent "jug house." The new owners plan to continue this 80-year-old uninterrupted tradition, while also providing a welcoming gathering place for the residents of Newport's East Row neighborhood.

Mark Ramler, award-winning preservationist and owner of Mansion Hill Properties, embraced both the challenges and surprises during the revitalization of this local treasure, located at 414 E. 7th Street.
"When we started construction, we were excited to find a bunch of old artifacts from the building's storied past," he said. "We've tried to pay respect to the people and generations who kept this place alive by remodeling what was necessary, but keeping much of the historic details intact, including the large stainless steel walk-in, bar shelves, and UK wallpaper."
Most of the bar's decor was inherited with the purchase of the building, including vintage photos, receipts, and even hats. Visitors will also see the original framed Newport Bartending ID of the bar's namesake, Jerald W. Bittner.
Stuart MacKenzie, veteran of the hospitality industry and owner of both Jerry's and Northside Yacht Club, designed the cocktail menu around an interesting find.
"We were able to get our hands on a 'flaked ice machine,'" he said. "Think Frisch's ice but with less air in it. The ice is perfect for simple, fresh highball cocktails with homemade ingredients."
Mark and Stuart will also be serving wine by the glass or bottle, as well as draft beer, which hasn't been at Jerry's for decades. They invite customers to bring empty growlers ("jugs") to be filled and taken home. They also want to assure their "legendary Jerry's regulars" that they will still offer a $3 domestic neighborhood draft special.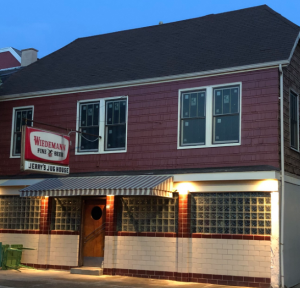 Joe Klare, Vice President of the Catalytic Fund, was pleased to be able to finance the project.
"As a resident of Newport, I love seeing the old buildings brought back to life. The new Jerry's will be a great neighborhood hangout and make Newport an even better place to visit and live."
Jerry's new interior features an expanded bar, a carryout section, two seating areas and flat-screen TV's to watch the big games.
"It was a huge task, but we were able to gut the old 'office,' where it was rumored that an illegal gambling machine used to sit right up until we took over," Ramler said. "We were able to turn it into a comfortable public back lounge with booths, a TV and cocktail tables."
A garage door-style window will connect the bar to the neighborhood. A spacious apartment above the bar will be available for rent in the coming months.
In addition to the original tobacco-stained UK wallpaper and old betting chalkboard, Mark and Stuart have hung an impressive collection of vintage beer signs. The result is a welcoming, comfortable bar whose friendly owners are looking forward to continuing the jug house tradition in East Row.
Jerry's Jug House will be open from 2 p.m.-1 a.m. Monday through Saturday and noon-1 a.m. on Sundays.