Today is Juneteenth!
A holiday recognized by the state of Kentucky and many other states, Juneteenth is the oldest nationally celebrated commemoration of the ending of slavery in the United States.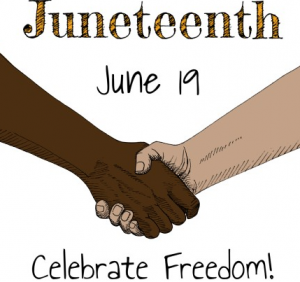 Dating back to 1865, it was on June 19th that the Union soldiers, led by Major General Gordon Granger, landed at Galveston, Texas with news that the war had ended and that the enslaved were now free.
Note that this was two and a half years after  President Lincoln's  Emancipation Proclamation  – which had  become official January 1, 1863.
This holiday is supposed to be a celebration of freedom for the slaves. Yet here we are 155 years later still fighting for freedom. I wonder how the slaves felt in the moment when they heard the proclamation that said they were no longer considered property but are now free. I'm sure they were yelling, crying and hugging one another.
Finally, the day we have prayed for, fought and died for.
Finally, freedom.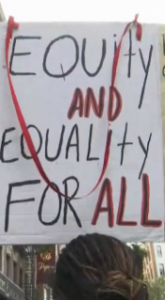 But in the next breath, I can imagine they were thinking what's next? We are free, but we have absolutely nothing. They didn't have any money; any property and the vast majority of slaves could not even read. How would they forge a road ahead? It would seem overwhelming and nearly impossible. Yet history shows us that they did indeed make it. They were trailblazers, no path was created for them, they made their own path. It is incredible what has been accomplished in 155 years.
Today, I believe we are standing at the same precipice, asking the same question. What's next? Where do we go from here?
Over the last several weeks of protest, demonstrations and unrest the national attention is finally acknowledging that racism is real, structural racism is insidious and needs to be addressed.
But now that we have the national attention my question is what's next? Are we just going to have a conversation and cry together and acknowledge how wrong this is and go back to our normal lives or are we going to demand real change?
I was in a meeting with many female leaders and one leader stated, enough talking, we need to put our money behind the talk for real action and real change to take place.
My hope for what happens next is what my mother would call," putting your money where your mouth is." For those who have been deeply impacted by the current events in our country should take a hard look at their spheres of influence and open doors for people of color. There are many rooms that we do not have access to were decisions of wealth are made. For those of you in the seats of power in those rooms, my challenge to you is to blow up the current systems and create new systems that include all.
It's time to blaze a new trail, this time we need to blaze the trail together. Then we can celebrate Juneteenth as a day of freedom for all.
Catrena Bowman-Thomas is executive director of the Northern Kentucky Community Action Commission.
(Editor's note: These notifications came to the NKyTribune late morning on June 19th)
"Today we join in commemorating the final end of slavery in America at the end of the Civil War. When Kentucky's native son President Abraham Lincoln signed the Emancipation Proclamation in 1863, he took an important step towards ending slavery in our country. Juneteenth celebrates the final end of this unjust and cruel practice in the United States more than two years later in 1865.
 
"As the birthplace of President Lincoln, Kentucky has a special responsibility to lead the way in building a just society that treats all as equals. We join Americans of all races, religions, and backgrounds in celebrating this important milestone, and recommitting ourselves to working together to build a better and more just society to pass on to future generations."
– Republican Party of Kentucky Chairman Mac Brown
Juneteenth is a day for celebration and reflection. It celebrates the emancipation of black lives from slavery 155 years ago. We hope you'll join us on this day by participating in Cincinnati's virtual Juneteenth festival or learning something new about the African American experience. We've curated some ideas on ways to commemorate this important day and build this momentum all year. To allow our staff time to reflect with their families, Greater Cincinnati Foundation will close early today, Friday, June 19, at noon. 
As an organization, we have supported the black community in different ways and will continue to do so to make a better tomorrow for everyone. A day for celebration, yes, but the times we are in illuminate how far black lives are from safety and freedom. Systemic inequities in every sector must be addressed. 
Stronger Together. 
Ellen Katz, Greater Cincinnati Foundation
In other news, Gov. Andy Beshear signed a proclamation marking June 19 as Juneteenth National Freedom Day in Kentucky and said he will ask the legislaure to make it an official state holiday.