By Ryan Clark
NKyTribune contributor
When Brad Fritz rolls into a room, he speaks volumes – and he does it without saying a word.
It's because of the accident, which makes it difficult for him to speak at all. He uses a typing machine that talks for him, called a Lightwriter, which means his every word – a joke, a swear, etc. – comes out in a computer-sounding voice. Slowly, he will type, a letter at a time, and his words are read aloud by the machine.
At first people in the audience don't know how to react. They're a bit uncomfortable, even though Brad is smiling. It could be the wheelchair, or the way Brad's past traumas are given away by his bent posture and shaky hand gestures. It makes sense – almost dying can leave behind that kind of evidence.
But then Brad starts typing/talking. "Ask me anything you want," the computer voice says, slowly, as he keys in the words.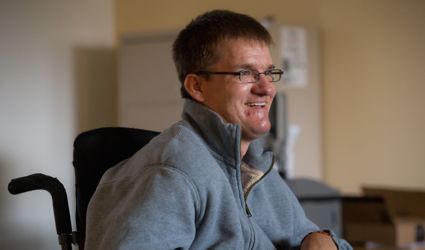 And usually, one by one, the audience gets more comfortable. They ask him about the accident, if he remembered being thrown from the car and hitting the tree. They ask him if later, when he'd realized his entire life had changed, if he wanted to die. And Brad always wins them over with his personality.
He tells them about graduating from Covington Catholic High, then from Thomas More College. He baits the audience on this one.
"What was your major?" a student asks.
Brad smiles, typing his answer.
"Pimping," he says.
The classroom waits a beat. You can see them thinking: Did he just say that?
The next moment they erupt in laughter. It's one of the biggest laughs he gets all night. He's won them now, and they'll listen to everything he says.
This is Brad Fritz's life: He wants to help save others.
A youthful mistake
Fifteen years ago, Brad was an all-star high school athlete. As a sophomore at Covington Catholic High he established himself as a standout football player. He had a pretty girlfriend. The world was his end zone.
Then, one night after a particularly painful loss, he decided to get into a car with some friends who'd been drinking.
Like that, everything changed.
When Brad woke up he'd been in a coma in the hospital for three months.
The police report said the three teenagers were driving in a cemetery, going about 55 miles per hour around a curve when they clipped a headstone, spun around twice and hit a tree. Brad, who'd been wearing his seatbelt, was still thrown from the car. He hit the tree, and when paramedics arrived he had a collapsed lung, a broken jaw and his head had swollen to the size of a basketball.
Doctors were certain he wouldn't survive. But after three months he awoke from his coma. He couldn't stand up. He couldn't speak. Technically, he had suffered severe brain damage. He could still feel everything, but he could barely use his arms, legs or hands.
He was 15 years old. To him, his life was over.
"I was so angry and confused that I didn't even want to be alive," Brad says in his presentation.
Starting life over
Five months after the crash he was released from the hospital. He still couldn't even stand by himself. He was mad at God. He was mad at those who survived the crash. He was mad at the world.
He says it was that anger that helped him, in a way. It pushed him to try and walk and talk, to try and get better.
At least, for a while.
For Brad, life started over at 15. He continued his rehabilitation. He went back to school. He learned he would have to repeat his sophomore year. As time crept on, he remembered more from his accident, and the horrific scenes of his life kept rolling through his mind. As the year anniversary of the wreck approached, he thought of other awful things.
"Everyone always expected me to smile, and, even though I was unhappy, I smiled," he says. "Even though I was smiling, my unhappiness soon grew to pure hatred. Suicide began to cross my mind."
But being raised Catholic, he was taught suicide wasn't an option. Still, that didn't really matter when so much had been taken away.
Classes and life went by, unhappily, each day. As the school year turned once more, Brad again felt pain when he learned his cousin died in the World Trade Center during the 9-11 terrorist attacks.
"One week later marked two years since the wreck," he says. "I started considering how I would kill myself. This went on for around a month. There were constant reminders on TV and the radio of what had happened that day. I think everyone knew what was going through my head. My friends told me that in October they were going on retreat. They asked me if I was going on it. I decided I might as well."
A true awakening
The retreat was a religious-based event, called Christian Awakening, and Brad heard many stories of survival.
"I heard a lot of different stories – rape stories, adoption stories, drug stories – and my story didn't seem so tough anymore," he says. "I realized everyone suffers. The whole point of life is to suffer. It's what we do in that suffering that makes us human."
And life began to change.
"I felt selfish that I thought my story was any more difficult than anyone else's," he says. "It brought back my faith in God because I realized that I hurt myself, and God kept me alive."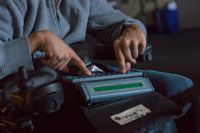 Brad went on to graduate high school, and then college, before he decided to take his story on the road. Now he presents for a living, traveling across Kentucky and Ohio to teach young people to value their lives.
"I invite Brad to speak to my University 101 class early each fall semester as we approach the subject of personal responsibility and accountability," says Tom Ramstetter, an instructor at Northern Kentucky University. "His message really captivates students and compels them to look at their own behaviors inside and outside the classroom, good and bad. Sharing his experience and personal growth is beneficial to students of all ages."
Elizabeth Garcia was a freshman in that class when she first met Brad Fritz and listened to his presentation.
"He put into perspective that people take life for granted, myself included," says the junior English major at NKU. "I realize I think about the negative way of life more than what positives I do have. I think about how I should be thankful that I have all that I have, and that more people should cherish your life, because it could take a turn for the worse at any time."
Elizabeth was so moved by the presentation – and by Brad's message – that she composed a poem based on his story.
"I focus on what it felt like to sit there and hear this presentation and to see with my own eyes what happens to someone before and after something like this," she says. "I felt what Brad went through and I saw the pain in his voice through his writing. Meeting Brad influenced me to step inside his shoes and see my life as his is now. It was a remarkable presentation."
Elizabeth ended her poem with these lines:
"His dreams crying out with one last breath
as they died along with the happiness of a youthful boy.
Ruined.
But not his will to live, his courage, his perseverance, his ability to heal,
Not his ability to reach out and touch lives."
Brad laughs when the class finally opens up to him.
Wise — and giving
Now 30, Brad smiles easy. He can speak, though his words come out slow and difficult. He still looks young, like he did in his old football pictures. But he's wise, too.
He uses his motorized wheelchair to get around. He lives with his brother, and his mother drives him to his speaking engagements. After doing this for years in the tri-state area, he has since expanded his reach to present in places as far away as Rhode Island and Missouri. He'll speak to groups of various sizes and professions – from classes of student drivers to staff and patients at hospitals. He's now working on a book about his experience.
"I had heard Brad's story while in high school and then he reached out to me to see if we would be interested in having him come in and speak," says Molly Hug, a teacher at Boone County High. "We did and he has come in twice a year since. It is so important for our students to understand the importance of the choices we make in life, especially those that involve substance abuse and the consequences that come along with those choices."
Mary Porter, a teacher at Saint Ursula Academy in Cincinnati, says Brad's story is relatable to young people.
"Brad allows my students to understand how decisions affect countless numbers of people," she says. "(He) also focuses on his faith and how he questioned it during his rehabilitation. (He) teaches about not taking life for granted and the importance of a strong family support system."
Hannah Blankenship, a senior at Cincinnati, says that when faced with a difficult task, she thinks about Brad's presentation.
"He could have easily just given up on his life," she says. "What really surprises me is that he persevered through something so difficult in order to love his life, and now he uses his life and the things he overcame to have an impact on other kids' lives. It goes to show that life circumstances aren't determiners for what you make your life to be. Brad defies all odds and expectations."
Above all, these are the reasons he opens up – to help people, he says.
"I hope students take out of it whatever they need," Brad says, "whether it's them going through tough times and they need some help finding strength, or they're struggling with their faith or finding meaning in life. Maybe they need help finding strength when faced with difficult decisions, or they even just need perspective."
There's one thing Brad no longer searches for – meaning. He says he knows now why God spared his life. Everyday, he says, he can travel the region, delivering his message of not taking anything for granted.
"If I speak to a class and I help just one person, just one student, make the right decision," he says, "then I've done my job."
To get Brad Fritz to speak to your group, contact him at brad@thebradfritz.com or visit his website at http://bradfritz.org/.
Ryan Clark is the New Media Editor/Instructor at Northern Kentucky University.This story first appeared at KyForward.com and reprinted by permission. Clark can be reached at clarkr9@nku.edu