By Mark Hansel
NKyTribune Managing Editor
Officer Adam Argullin moves to the beat of his own drums.
The Florence Police Department Community Resource Officer and D.A.R.E. instructor takes a unique approach to make his classes memorable for students.
Instead of showing up in his police department uniform at the class graduation ceremony, Argullin, an accomplished drummer, shows up in a D.A.R.E. T-shirt and jeans and plays a set for the students.
The unique approach to the program is one of the reasons Argullin was recently named officer of the year by the Kentucky D.A.R.E. Association.
"The Florence Police Department allows me to drum for D.A.R.E. graduations because, whereas in most agencies D.A.R.E. funding is drying up, we celebrate ours a little more," Argullin said.
Florence Mayor Diane Whalen said Argullin's efforts have had a positive impact on the department and the community.
"Adam has a true passion for what he does and in the manner in which he delivers it," Whalen said. "We are very fortunate that he is able to make that connection with the kids through his teaching as well as his music."
Drug Abuse Resistance Education, or D.A.R.E., was launched in Los Angeles in 1983 to prevent the use of drugs, membership in gangs and violent behavior among youths. While domestic participation has declined in recent years (the Cincinnati Police Department is among those that have discontinued the program), 36 million children worldwide and 26 million kids in the United States are part of D.A.R.E.
Argullin teaches the D.A.R.E. program at six schools located in the city of Florence.
"I love when people say D.A.R.E. doesn't work because I don't believe that's correct," Argullin said. "They just didn't have the right person in the classroom and if you make that personal connection with those students, it absolutely works."
He calls his D.A.R.E. job the most rewarding position he has ever had in law enforcement.
"You are a police officer teaching in a school and doing something not every law enforcement officer or every teacher can do," Argullin said.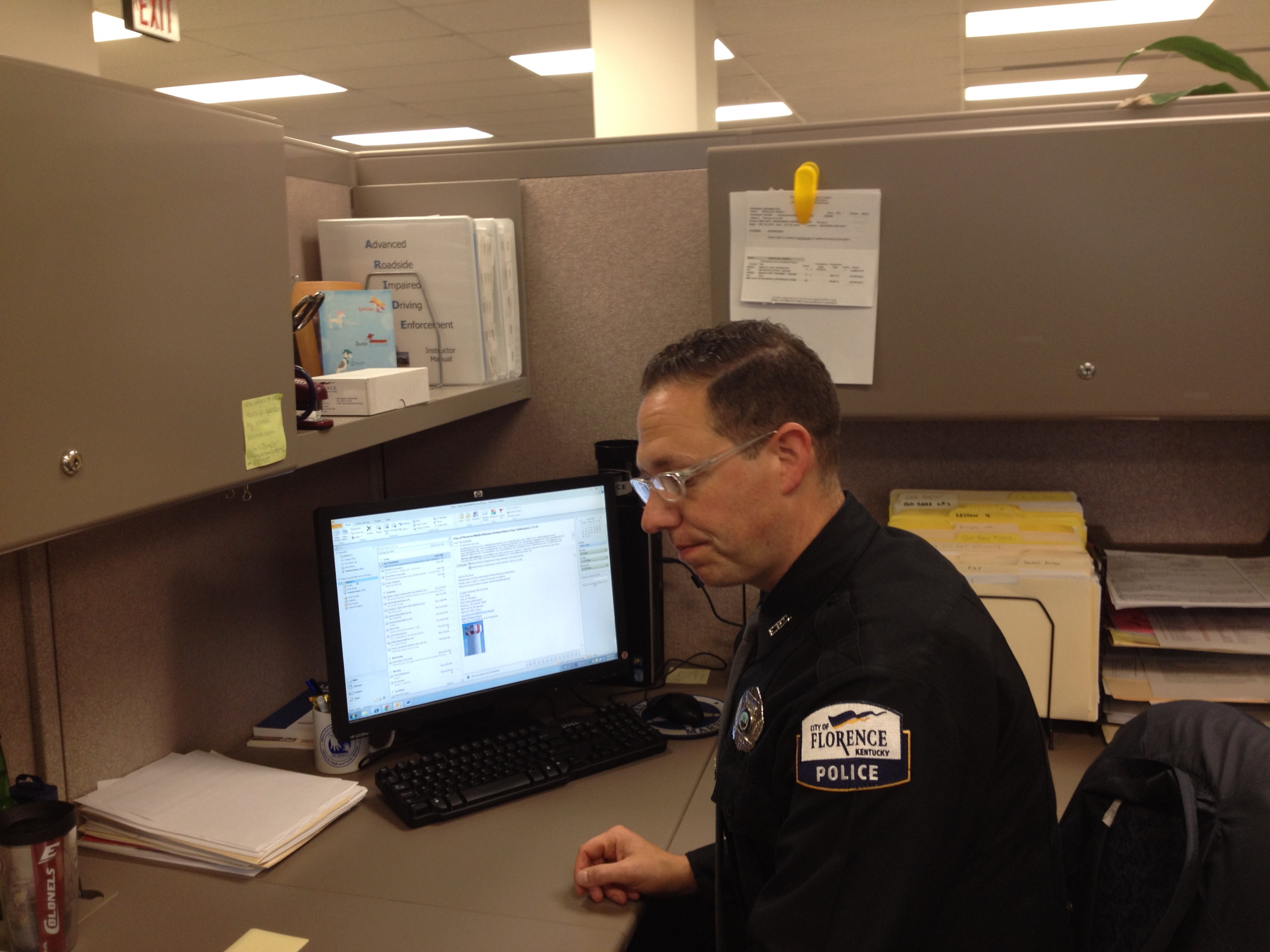 Argullin began his law enforcement career as a mounted officer at Kentucky Horse Park in Lexington. He said the diverse job provided him with a wealth of experience.
"What's great about the Horse Park is that it has two halves," Argullin said. "One side is like a museum with the beautiful pastures, and the other side is a campground. The campground is like a community with domestic issues and things like that, but the other side is like an amusement park with a security officer, which wasn't a big stretch for me."
At just 11-years old, Argullin's first job was as an entertainer at Guntown Mountain, which was located in Cave City in western Kentucky, where he grew up.
"I guess that's why public speaking has never been an issue for me," he said.
Argullin, 36, began playing the drums at five years old and also got his first gig as a studio musician at 11 years of age. His father is also a musician who plays steel guitar.
"Music was it for me," he said. "I played through elementary and high school and I got a scholarship and went to Eastern Kentucky University as a music merchandising major."
By the summer of his junior year, however, Argullin learned what many musicians before him found out the hard way, that the music business is more about who you know than how much talent you have.
"I just kind of felt like I needed to do something that would be steady work and I liked the history of law enforcement, Argullin said. "In the fall of 1998 I switched my major to police administration.
That doesn't mean Argullin abandoned his musical ambitions.
He continues to perform live and recently sat in on drums with the popular local group, the Billy Brown Band, while its drummer was on vacation.
"I prefer doing sub work because you get a chance to gel with guys you don't normally play with and for me, it's a challenge," Argullin said.
He also started a business making handmade marimba mallets while in college, which he still owns and operates. The marimba is a percussion instrument, similar to a large xylophone, that consists of a set of wooden bars struck with mallets to produce musical tones.
The marimba has gained renewed popularity, especially in country music, and Argullin has an impressive client list that includes Jason Aldean's drummer, Rich Redmond and Sean Fuller of Florida Georgia Line.
"A lot of companies make them, but they do it by machine and I do it by hand, so I can wrap them in any color they want."
He recently completed a very special item for Fuller to use on tour.
"He wanted a gong mallet that that he could swing with two hands, so I made it for him and that was probably the most personal thing I have made so far," Argullin said "I just did a special order for Lady Gaga's drummer, who wanted something that would glow in the dark, so I got him something that would fluoresce under a black light,"
Argullin left the Kentucky Horse Park to join the Florence Police Department in 2003, working on patrol and in traffic enforcement. He was also assigned to the FBI NKY Safe Streets Task Force, which was essentially undercover drug work.
As part of his training for that role, he became one of about 60 drug recognition experts (DREs) in the state of Kentucky. DREs are officers that have special training on how to spot someone who is impaired from something other than alcohol, which Argullin said has been very helpful in D.A.R.E.
"When I went into that training I had no idea I was going to be a D.A.R.E. officer, but it's nice when I go into a classroom and a student asks me a question about a drug, I'm confident I can explain what it will do to a body long term," Argullin said. "It's one thing to be able to tell them not to do drugs, it's another to say 'drugs are bad for you and this is why.'"
Argullin started teaching D.A.R.E. in 2011 and learned early on that he needed to make a personal connection to get his message across. The program features a D.A.R.E. box that gives students a chance to ask questions that the instructor answers at the end of a session.
"The first semester I did a program I played it straight and I got the questions you would expect, such as have I ever been shot or have I ever shot or tased anyone," Argullin said. "The second semester, when it came time to tell them something interesting about me, I told them I started playing drums when I was five years old and the questions in the box were more personal. I have tried to humanize this profession because when I go home at night and take this uniform off, I am just a person."
D.A.R.E. is a program with an established curriculum, but Argullin has personalized it to help drive the messages home.
"This may be the first positive interaction with law enforcement and I want them to understand that not every interaction has to be a bad thing and that they can approach me," Argullin said. "I have students now that still recognize me as Officer Adam, and what's great is that they know me in uniform, but they still recognize me in plain clothes."
Argullin is engaged and has two children, a daughter who is eight-years-old and a son, 6, from a previous marriage. Both attend Boone County Schools so they will not be able to participate in the D.A.R.E. program, but they have the opportunity to hear their father's message in a different format.
Argullin has developed a school assembly program called "Stay Tuned," that combines elements of his police training with his love of music to help students and parents understand the dangers associated with drug use. He uses current music that is school-appropriate as the hook to gain the attention of students.
"Stay Tuned is a drum-infused, motivational anti-drug experience," Argullin said. "During my show I go in and I play music and talk about the harmful effects of drugs with a motivational spin, but I'm not dressed as a police officer. I personally feel that if I went in wearing my uniform, they wouldn't retain as much."
Argullin also oversees the Florence Police Department's "Teen Academy," a diversionary program that youths can be assigned to after criminal offenses. The court-ordered program for first-time offenders explains how drugs can negatively impact a person's life and is designed to cut down on recidivism.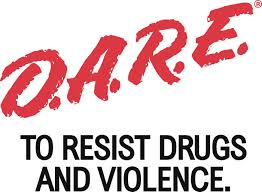 In the letter nominating Argullin for the D.A.R.E. honor, Florence Police Sergeant Craig Burris said the combined impact of the officer's programs have helped educate and engage students throughout the state.
"Officer Argullin's desire and effort to educate through the D.A.R.E. program, coupled with his personally developed school assembly program and drug certifications reflect an ongoing and outstanding commitment to educate the youth, community groups and citizens of the Commonwealth of Kentucky."
In the last year, Argullin has traveled more than 25,000 miles and talked to almost 400,000 people at 24 shows and 44 speaking engagements.
At the D.A.R.E. conference this year, he presented the assembly program as one of the keynote speeches and taught classes to school administrators, school resource officers and other D.A.R.E. officers.
"I always thought that one day I'd like to find a way to reintroduce music into law enforcement, but I never thought it would take 15 years to do it," Argullin said.