(This is part of a regular series especially for the NKyTribune on local history by three distinguished historians, Paul Tenkotte of NKU, James Claypool, NKU professor emeritus of history, and David Schroeder of Kenton County Public Library. They are co-authors of the new "Gateway City," a 450-page history of Covington, marking its 200th birthday.)
By Paul A. Tenkotte
Special to NKyTribune
Cincinnati Chili is a fun food.
For example, when I was a professor at Thomas More College, I directed an annual Summer English Language Program. Each year, we provided English lessons for international students, as well as a vast array of American cultural experiences. And every year, I knew that a visit to Skyline Chili near Thomas More would always be a crowd pleaser.
The international students were intrigued with everything about this Cincinnati food tradition—from its taste to its history and even its own vocabulary. In fact, Professor Jim Schuttemeyer would introduce them to the specialized chili language beforehand. They learned all about three-ways, four-ways, and five-ways. They also learned that Cincinnati chili was invented and perfected by Greek immigrants to the area.
According to Dann Woellert, author of The Authentic History of Cincinnati Chili, this regional favorite is similar to goetta in that both were ways for people to stretch their food budgets.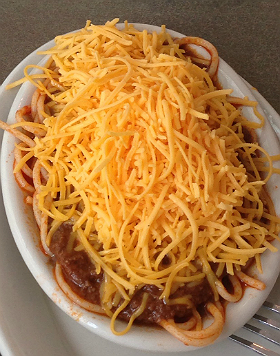 Woellert traces the lineage of many of Cincinnati's chili families to the area that gave birth to Alexander the Great—Macedonia. In the early 20th century, the Balkan Wars of 1912 and 1913, and the First World War, spelled an end to the old Ottoman Empire. Subsequently, Macedonia was divided between Greece, Albania, Serbia, and Bulgaria. Thousands of Macedonians immigrated to the United States.
They included the Kiradjieff brothers, who established Empress Chili in Cincinnati in 1922, and invented what we know today as "Cincinnati chili." Similar to some lamb stews of Macedonia, it included spices like cloves, cinnamon, and nutmeg, but used beef instead of lamb.
Nicholas Sarakatsannis, also of Macedonia, opened Dixie Chili in Newport, Kentucky, in 1929. Soon, Newport, Covington, and all of Northern Kentucky were peppered with chili parlor restaurants. You can learn more about these in Woellert's fascinating book, and in a special sidebar in chapter 9 of the new book, Gateway City; Covington, Kentucky, 1815-2015.
Cincinnatians take their basketball and their chili seriously. Some of us are UC Bearcats fans (my alma mater), and others are devoted to UK, UofL, Xavier, UD, OSU, etc. Likewise, when it comes to chili, we're generally fans of at least one of the most popular parlors: Camp Washington, Covington, Dixie, Empress, Gold Star, Price Hill, Skyline, etc. (I'm no fool—I listed these alphabetically so as not to offend my prized readers).
True aficionados of Cincinnati chili, however, don't merely accept other people's opinions. No, they have to try all of them and perhaps even conduct their own "scientific surveys."
Such was the case with my good friend and colleague, Dr. Ray Hebert of Thomas More College. With five other colleagues a few years ago, he visited eight different Cincinnati and Northern Kentucky chili parlors. The group devised a rubric to rate two menu items, three-ways and cheese coneys.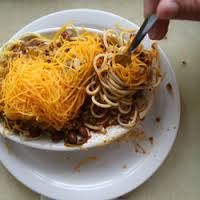 After exhaustive research, these chili gastronomes rated Dixie Chili as their #1 choice, followed closely by a tie (so they claim) between Skyline, Empress, and Camp Washington.
As I was not a member of this epicurean elite, I won't weigh in on their findings. Rather, I encourage you to experiment on your own. You'll have a lot of fun doing so.
Paul A. Tenkotte is Professor of History and Director of the Center for Public History at NKU. With other well-known regional historians, James C. Claypool and David E. Schroeder, he is a co-editor of the new 450-page Gateway City: Covington, Kentucky, 1815-2015, now available at your local booksellers, the Center for Great Neighborhoods in Covington and online sellers.
Other Our Rich History columns: