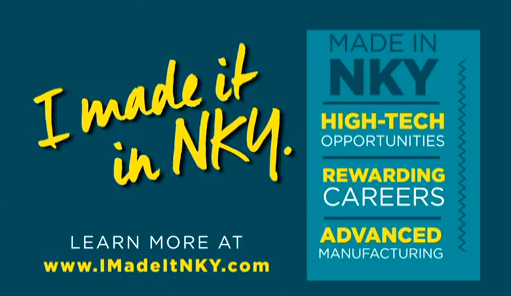 The Advanced Manufacturing Workforce Development Coalition unveils today its campaign to promote careers in the field of advanced manufacturing.
Fresh with the faces of millennials who work right now in Northern Kentucky companies, the new campaign resonates with individuals' pride in their chosen careers. The campaign's anthem is "I made it in NKy." The campaign calls people to learn more at www.IMadeItNKY.com. #IMadeItNKY
The $110,000 campaign includes extensive digital advertising, radio and TV commercials, advertising on TANK buses and Pandora Internet radio, as well as T-shirts, posters, and other materials. The campaign is launched by the coalition, which is co-chaired by industry leaders and includes many regional entities involved in workforce development. It is supported with $80,000 in funding through a grant obtained by Gateway Community and Technical College.
The target of the initial campaign is 18- to 30-year-old men and women who live in the region. The campaign shows the pride of real people in that age group on the job at Northern Kentucky advanced manufacturing companies. The vibe of its "I Made It" anthem is reflected in their faces.
The campaign design also includes a "product tag" ‒ much like a label seen on an article of clothing. The tag claims "Made in NKY" and carries the sub-themes of the campaign: High-Tech Opportunities, Rewarding Careers, Advanced Manufacturing.
The themes came directly from the voices of young men and women currently working in Northern Kentucky's firms. Their thoughts and attitudes ‒ what motivated them to choose a career in advanced manufacturing ‒ were shared in surveys conducted by the coalition's marketing agency, Rose Communications.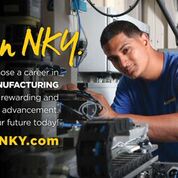 "What our team learned through these surveys is that these young men and women working in advanced manufacturing see great opportunities for themselves to have rewarding careers," said Mike Vogt, Vice President of Human Resources and General Affairs for Mazak Corporation and co-chair of the Coalition. "They said the potential for career advancement attracted them. They said they enjoy the high-tech challenges and the fact they continually get to learn something new. And one of the highest motivating factors for them, they told us in these surveys, was the fact they get to 'make something' on their job."
Through its new Internet URL, www.IMadeItNKY.com, the coalition's campaign lands visitors directly onto special pages embedded in the Gateway Community & Technical College website where they can learn more about educational programs and career pathways in advanced manufacturing, and where they can directly contact an advisor.
"An initial campaign goal is to increase awareness of and enrollment in Gateway's advanced manufacturing training and education programs," said Ed Ratterman, director of the coalition. "The long-term goals of the campaign are to raise awareness of opportunities in the field of advanced manufacturing, to change perceptions about employment in today's manufacturing environment, and to help drive more qualified workers to apply for advanced manufacturing positions in Northern Kentucky."
Northern Kentucky is experiencing what nearly all other regions across the United States are: a concern about having enough skilled workers to fill high-tech jobs in advanced manufacturing. Companies are seeking workers to fill current open positions and to ensure a sufficient supply of talent for the future. Advanced manufacturing is a growing industry. In Northern Kentucky, it is projected that there will be more than 6,000 open manufacturing positions by the year 2022.

Northern Kentucky leaders stepped forward to make a collective impact on this issue when they formed the Advanced Manufacturing Workforce Development Coalition in 2014. The Coalition's approach is a model for creating better coordination, greater accountability and more employer involvement in workforce training and development ‒ goals noted in a new report by the Kentucky Chamber released last week.
The coalition is co-chaired by Rhonda Whitaker of Duke Energy, in addition to Vogt. It includes representatives from the Northern Kentucky Chamber, Impact NKY, Northern Kentucky Tri- County Economic Development Corporation, Skyward, Gateway Community & Technical College, Partners for a Competitive Workforce, the NKADD/Workforce Investment Board, Brighton Center, and the Northern Kentucky Education Council.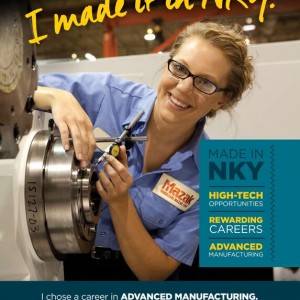 "Advanced manufacturing will continue to be a growth industry in Northern Kentucky if we can work together to meet the industry's workforce needs for educated, well trained workers for these high-tech opportunities," Ms. Whitaker said.
The Advanced Manufacturing Workforce Development Coalition is a collaboration of employers, educators, economic development professionals, the workforce investment system, and community agencies to address occupational shortages in the industry while providing career opportunities for job seekers and incumbent workers and career exposure opportunities for youth.
****
View the TV commercial at: https://www.youtube.com/watch?v=VgV54UWlvto