When it comes to roadway hazards, making a lefthand turn into an intersection is one of the most dangerous driving decisions you can make. Statistics indicate some of the most deadly traffic accidents occur in intersections where lefthand turns are occurring.
According to published reports, 53.1 percent of crossing-path crashes involve left turns, but only 5.7 percent involve right turns. That's almost 10 times as many crashes involving left turns. A study by New York City's transportation planners concluded that lefthand turns were three times as likely to cause a deadly crash involving a pedestrian as righthand turns. And 36 percent of fatal accidents involving a motorcycle involve a lefthand turn in front of a motorcycle.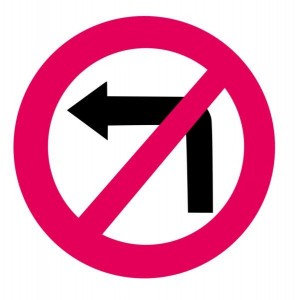 Lefthand turns are demanding mentally and visually, as drivers have to absorb their moving surroundings while simultaneously coordinating their decisions based on other drivers' actions and decisions. Then when you factor in the potential for distracted driving – you could have a very deadly situation.
As a young man earning my way through college delivering pizzas in 30 minutes or less, I very quickly learned that lefthand turns negatively affected my earning potential. I learned quickly that by voiding left-handed turns at busy intersections, I could very easily increase the number of deliveries, make multiple deliveries on the same run and more importantly beat other drivers back to the store to get that big-tipper delivery that was waiting for the next driver.
Back then it was all about economics for me, as I was able to increase my take-home pay and save fuel costs because I wasn't sitting idol at intersections waiting for a light to turn red. Unfortunately I also earned a couple of well-deserved expensive reckless driving tickets in a six-month time period, which also very quickly altered my driving habits.
Today many delivery companies have not only discovered improved safety performance but also the efficiency of avoiding lefthand turns. UPS, for example, directs its drivers to avoid lefthand turns whenever possible on busy highways, and they have since saved hundreds of millions of dollars.
UPS engineers found that lefthand turns resulted in long waits in turn lanes that wasted time and fuel. A residual effect of this decision is that they also have lowered their emissions into the environment and reduced their carbon footprint in this world.
Of course, you can't eliminate all lefthand turns. There are occasions when a left turn is fast, safe or just plain necessary.
To help keep our roadways safe, traffic engineers use techniques to achieve the safest and most efficient movement of people and goods. In this profession, they focus primarily on research, factoring in road geometry, sidewalks, crosswalks, cycle paths, traffic signs, road surfaces markings and traffic lights.
Obviously, those engineers could restrict left turns, but as a nation it's doubtful we are willing to sacrifice this convenience. So instead they have developed some alternatives, including installing more roundabouts and double diamond intersections. If designed correctly both options eliminate left turns and increase safety, efficiency while reducing congestion.
In the meantime, the law of probability is going to be on your side and you will arrive at your destination sooner if you learn to travel in a righthand pattern. Those are the facts. Some 30 years removed from my Domino Pizza days I still live by the same principles and purposely avoid left turns whenever possible.
Be safe, my friends.

Keven Moore works in risk management services. He has a bachelor's degree from University of Kentucky, a master's from Eastern Kentucky University and 25-plus years of experience in the safety and insurance profession. He lives in Lexington with his family and works out of both the Lexington and Northern Kentucky offices. Keven can be reached at kmoore@roeding.com.