By John Schlipp
Special to NKyTribune
Hollywood's classic silver screen era still resounds in popular culture. Even contemporary films continue to pay homage to it.
For example, director Robert Altman's Gosford Park (2002) is a classic British "whodunit" plot set in 1932, where guests and servants fill a grand English country home. The ambiance oozes with 1930s-era Hollywood glamour. There is the ubiquitous tension between the British socioeconomic classes, and, of course, an inevitable murder. One of the characters, a Hollywood film producer, refers to actress Una Merkel as the story unfolds.
Some may ask "Who is Una Merkel?" Many classic film fans and regional media buffs recognize her name as one of Covington, Kentucky's most famous Hollywood supporting actresses. She is documented, in a full-length biography for the first-time, by Larry Sean Kinder, entitled Una Merkel: The Actress with Sassy Wit and Southern Charm.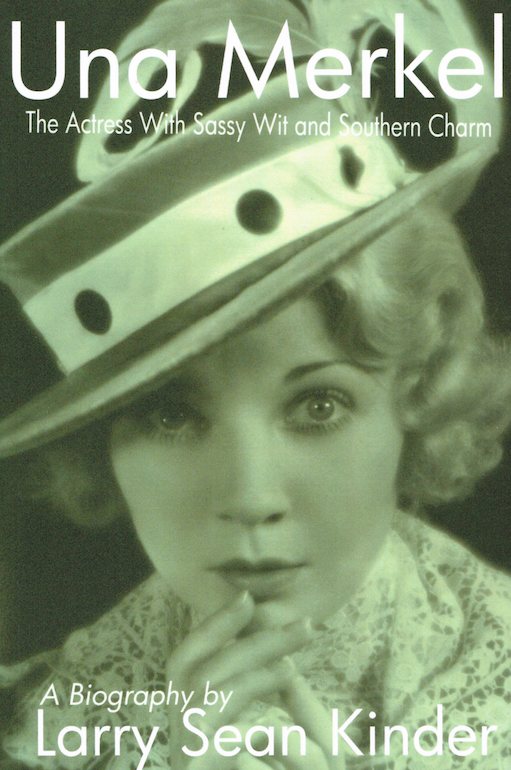 Merkel was born in Covington on December 10, 1903. She was the only child of Arno and Elizabeth Merkel. Her birth home (demolished) was located at Fourth and Greenup Streets. During her childhood years, Una toured the South with her father, a travelling salesman. She attended many theatrical plays in Cincinnati. Afterwards "she would memorize some of the dialogue and invite family members over to watch her act it out," (pg. 6) as reported in Kinder's biography.
Merkel eventually took acting lessons from Patia Power, mother of famous Hollywood matinee idol Tyrone Power. She also became an active member of the church choir at Union Methodist Episcopal Church (later First United Methodist Church) in Covington. 

The Merkels moved to New York City while Una was a teenager. There she could develop her acting talents, enrolling in the Alviene School of Dramatic Art.
After many small parts on the New York stage, in 1927 Merkel garnered a supporting role in the play Coquette, starring her acting idol, Helen Hayes. During the successful run of Coquette, Una's father, an inventor with a patent for an electrical audio phonograph amplifier (US Patent 1,856,922) and promoter of early sound film technology, alerted Una of an opportunity to screen test for famous film director D.W. Griffith (another Kentuckian). Griffith was auditioning for his new Universal film, Abraham Lincoln. Una was cast as Ann Rutledge, the first love of young Lincoln, played by Walter Huston.
Merkel's film niche was as a wisecracking supporting actress to many of Hollywood's best-remembered stars, ranging from Clark Gable and Jean Harlow to Jimmy Stewart and Spencer Tracy. She appeared in 100 movies, nearly 60 during the 1930s, as a contract player at Metro-Goldwyn-Mayer (MGM). She performed in a number of MGM musicals, including two with Eleanor Powell, an in-vogue, vivacious tap dancer of the 1930s.
Una's iconic film moment was her famous feisty brawl scene with Marlene Dietrich in the western-comedy Destry Rides Again (1939) at Universal Studios. During this film period, Merkel also supported comedians, such as Jack Benny, W.C. Fields, and Bob Hope.

During World War II, Una lifted the morale of US soldiers by touring the South Pacific with Gary Cooper. She was truly touched by their dedication and bravery, noting that "If you had seen those boys over there when we said goodbye to get home for Christmas, you'd do anything to get this war over." (pg. 252).


Una performed on many radio comedy and variety programs in the 1940s. She made a lasting impression as a supporting Southern character, Adeline Fairchild, in the radio classic sitcom The Great Gildersleeve, starring Harold Peary. Merkel's network broadcasting work transitioned into the early years of live television. For instance, she appeared regularly with Vincent Price on the game show, Pantomime Quiz.
Merkel returned to the New York stage as her film career waned. Approaching middle-age, she took on more mature dramatic roles for both stage and television. Hollywood beckoned again when Burt Lancaster offered her a supporting role in the film, The Kentuckian (1955), shot on location at Cumberland Falls State Park (Corbin) and Levi Jackson State Park (London). The following year, Una returned to Broadway to perform in The Ponder Heart, receiving a Tony award for best supporting actress.


In the decade of her final film phase, she returned to light comedy roots, playing middle-aged favorites such as the mother of Debbie Reynolds in The Mating Game (1959). Merkel was the loving housekeeper in the Disney classic The Parent Trap (1961), starring Haley Mills. She was honored with a Best Supporting Actress Oscar nomination for her performance in Summer and Smoke (1961). Her final film role supported Elvis Presley in Spinout (1966).


Kinder's biography notes that, shortly after Merkel retired from films, she told a radio interviewer that, "It's awfully nice to be remembered."(pg. 350)
Today Una's legacy lives on. Many of her films are available as commercial video recordings and are also regularly aired on television's Turner Classic Movies. She was recognized with a star on the Hollywood Walk of Fame in 1960. There is a flagstone at the front entry of the First United Methodist Church in Covington acknowledging her financial support. A historic maker honoring Merkel is displayed in Covington's Goebel Park.
Una Merkel passed away in Los Angeles on January 2, 1986. She was laid to rest next to her mother and father in Highland Cemetery in Ft. Mitchell.
In addition to Una Merkel fans, Kinder's new book will appeal to anyone interested in the Hollywood movie sound era, from its early days during the Great Depression through the 1960s. In addition to impressive research, the book offers a list of credits for her stage, film, radio, and television appearances. Over 100 photos, as well as chapter endnotes, a bibliography and an index, are also included. Una Merkel: The Actress with Sassy Wit and Southern Charm (2016), written by Larry Sean Kinder, is a fine biography that classic movie and regional history readers will savor from cover to cover
John Schlipp is an Associate Professor and Intellectual Property Librarian at NKU's Steely Library. He also directs the Intellectual Property Awareness Center (IPAC) at NKU, assisting everyone from inventors to musicians in becoming aware of their intellectual property. The IPAC is an official Patent & Trademark Resource Center (PTRC) of the U.S. Patent & Trademark Office. See http://ipac.nku.edu for details about this free community service.