At the Thomas More College Ohio River Biology Field Station, on the banks of the Ohio River near California, Kentucky, a strange looking contraption with a solar panel is attached to a tall pole.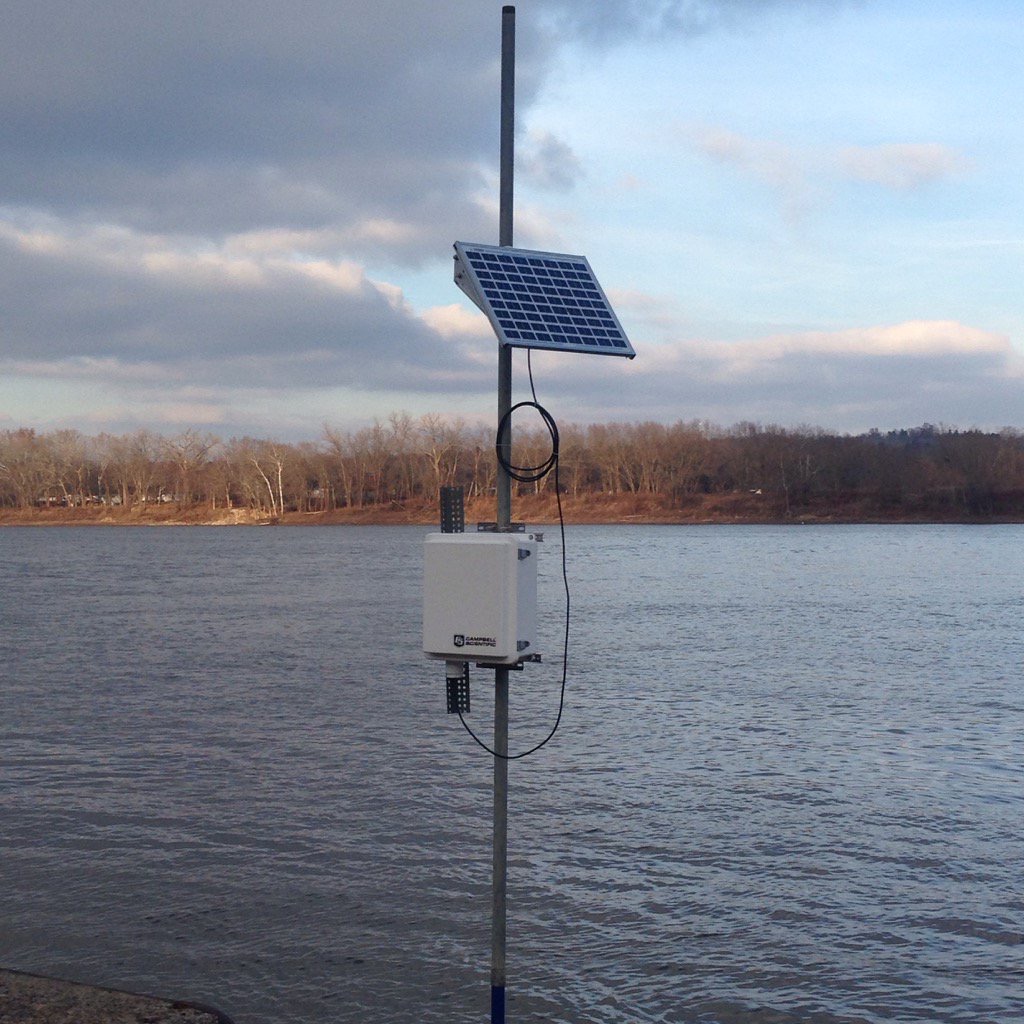 It's part of an important project to protect the drinking water source for the Greater Cincinnati community.
Similar systems are being deployed elsewhere in the Ohio River watershed.
The installation includes a wireless camera, powered by the solar panel and a rechargeable battery.  The camera snaps a photo every hour and transmits it to the Field Station's website.
Based on the pixels in the photo, an application developed by Dr. Mike Waters, a TMC alumnus and an NKU Mathematics professor, determines the ratio of green to blue-green algae in the water.
When abundant, blue-green algae produces toxins harmful to humans and wildlife.
This project aims to provide an early warning detection of blue-green algal blooms to then alert the drinking water authorities of potential health concerns.
In 2015, the Ohio River experienced a major blue-green algal bloom, similar to those seen on Lake Erie and to the one that shut down the drinking water supply for Toledo. It spread from Huntington, West Virginia to Louisville, and caused the states to issue health advisories.
This project was implemented as a result of that incident.
The Thomas More College Ohio River Biology Field Station will mark its 50th anniversary in 2017.
TMC acquired the 25-acre site of the former Lock and Dam 35 from the federal government in 1967.  Research studies for private and public corporations, institutions and agencies are conducted at the Field Station. In addition, students are offered real-world experiences in the fields of microbiology, water chemistry, fish surveys, biological assessments, and toxicology.
Spearheading the project at the Field Station are Dr. Chris Lorentz, Director of Thomas More College's Environmental Science Program and Director of the TMC Ohio River Biology Field Station, along with Dr. Waters.
In addition to Thomas More College and Northern Kentucky University, the project is being carried out in collaboration with Dr. James Lazorchak and Dr. Joel Allen from the United States Environmental Protection Agency as well as the Ohio River Valley Water Sanitation Commission (ORSANCO) and the Foundation for Ohio River Education.
Thomas More College