By Mark Hansel
NKyTribune managing editor
This story has been updated
Amazon will develop a $1.49 billion air cargo hub to service its Amazon Prime customers  at Cincinnati/Northern Kentucky International Airport.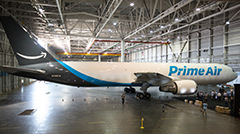 The Kentucky Economic Development Finance Authority today gave preliminary approval for incentives that clear the way for the game-changing project.
The Kenton County Airport Board met simultaneously to approve the land terms of the project, which will be located on 900 acres of CVG property.
Dan Tobergte, president and CEO of the Tri-County Economic Development Corporation (Tri-ED), said the project is the largest, in terms of investment, in Northern Kentucky in at least the last 30 years. The deal came to fruition at a remarkable pace for a project  of this scope, with preliminary discussions beginning in October.
"There still have to be other steps taken to get this finally approved, but this paves the way for the company to go ahead and make its announcement," Tobergte said. "This meeting has to occur before the announcement for the incentives to work. "
Amazon has been an active member of the business community in Kentucky for nearly 20 years, employing more than 10,000 people in full-time jobs across 11 fulfillment center locations.
The company issued a statement formally announcing the project late Tuesday.
Today, (Amazon) announced it is creating new jobs and investing even further in Kentucky with plans to build a centralized air hub to support its growing fleet of Prime Air cargo planes. At the site when it opens, the company expects to create more than 2,000 new jobs.
"As we considered places for the long-term home for our air hub operations, Hebron quickly rose to the top of the list with a large, skilled workforce, centralized location with great connectivity to our nearby fulfillment locations, and an excellent quality of living for employees," said Dave Clark, Amazon Senior Vice President of Worldwide Operations. "We feel strongly that with these qualities as a place to do business, our investments will support Amazon and customers well into the future," "We couldn't be more excited to add 2,000-plus Amazon employees to join the more than 10,000 who work with us today across our robust operations in Kentucky."
Last year, Amazon entered into agreements with two carriers to lease 40 dedicated cargo airplanes to support Prime members with fast, free shipping. Today, 16 of those planes are in service for Amazon customers with more planes rolling out over time. Amazon's Prime Air hub at CVG will support Amazon's dedicated fleet of Prime Air cargo planes by loading, unloading and sorting packages.
There is no question CVG is on a roll.
After Delta Airlines abandoned CVG as a hub, cutting about 600 flights since 2005, the region's airport was in decline.
DHL, however, moved its U.S. air cargo and package sorting operations back to the CVG from Wilmington, Ohio, in 2009. Since that time, the company has invested an estimated $280 million in expansion projects that have seen its workforce grow to nearly 2,000.
The renaissance continued with the addition of low-cost carriers Frontier, which began flying out of CVG in 2013, and Allegiant Air, which launched its first flights a few months later, giving air passengers increased, affordable local flight options.
Earlier this month, Southwest Airlines announced it would begin flying out of CVG. Frontier also announced three additional CVG routes Tuesday.
CEO Candace S. McGraw said the Amazon announcement is the latest, and largest, example of CVG's successful transformation.
"We've worked hard to ensure CVG is a great place to do business and we couldn't be more pleased that Amazon recognized those efforts with plans to build a top-in-class air cargo hub at our airport," McGraw. "A vibrant airport improves the economic vitality of the region and adding thousands of new jobs through establishing this hub at CVG will certainly be transformational for the local economy and local businesses."
Wilmington, unfortunately, will take another hit as a result of CVG's good fortune. Amazon is expected to eliminate the air-transport network it has operated with Air Transport Services Group in Wilmington for more than a year.
The Amazon project is eligible for up to $40 million in tax incentives over a 10-year period. Taxes include local occupational license (payroll), state personal income, and state corporate income taxes.
Amazon would need to hire 600 employees to meet the maximum incentives, but sources say it plans to hire at least 2,700.
"Boone County Judge-Executive Gary Moore has indicated he'll support a 75 percent abatement of the local occupational license fee, for this project," Tobergte said. "That has to be ultimately approved by Boone County Fiscal Court commissioners."
Moore called Amazon's plans "transformational."
"We are extremely excited to celebrate this announcement for Boone County and Northern Kentucky. Amazon is an internationally recognized brand and service that is transforming the global aviation and logistics industries, and we are very proud that they have chosen Northern Kentucky for the Amazon Prime Air hub," Moore said. "I congratulate Candace McGraw and her team at CVG, the Northern Kentucky Tri-ED team and Governor Bevin's team for their efforts in securing Amazon for our region."
Bevin said Amazon's Prime Air hub promises to revolutionize the fulfillment industry worldwide.
"Kentucky is excited to partner with them as they embark on this disruptive, transformative and exciting venture," said Gov. Bevin. "Kentucky's ideal location, proven workforce and an already extensive shipping and logistics industry have been the backbone of our relationship with Amazon for nearly 20 years. This new project will pay dividends to both the company and our state, and we are truly grateful for the jobs and economic impact it will bring to the commonwealth."
Tobergte said the project, when fully built out, will be "significantly larger" than the DHL hub currently located at CVG.
A better comparison, he said, would probably be the UPS Worldport Hub, located at the Louisville International Airport.
Mazak Corporation on Industrial Road was the local host for the stream of the KEDFA meeting in Frankfort, where the economic incentives were approved.
Michael Vogt, Vice President of Human Resources and External Affairs for Mazak, is a KEDFA Board member and said the announcement is exciting for the region, and the state.
"What it comes down to in the end is good job creation," Vogt said. "Those employees spend money in the state, raise families, buy houses, pay taxes. It's a win-win situation."

The project will be developed along Aero Parkway in Boone County in land adjacent to the DHL hub.
Moore and the Boone County Fiscal Court identified projects in the air cargo industry as a primary potential use for the land adjacent to the aptly named Aero Parkway when it was dedicated in 2012.
"I'm happy to see the land developed in the way we envisioned it, with such a spectacular project," Moore said.
Construction is expected to begin later this year. The project will be constructed in stages and is expected to take five to seven years to completely build out.
Contact Mark Hansel at mark.hansel@nkytrib.com