Northern Kentucky's travel and tourism industry continued to boom in 2016, generating nearly $1.7 billion of total economic impact including $388 million spent by visitors to Boone, Kenton and Campbell counties, it was announced Thursday at the meetNKY/Northern Kentucky Convention and Visitors Bureau annual meeting.
The theme of meetNKY's annual meeting – "Catalyst – Igniting Growth Together" – reflects the stellar elements impacting travel and tourism in Northern Kentucky, including new hotels, recently opened attractions, expanded air service and more in the three-county area as well as beyond to the entire Cincinnati USA region.
"Our industry works," said Eric Summe, president & CEO of meetNKY. "One in ten jobs in Northern Kentucky is involved in the travel industry. This number continues to grow as new hotels like the Aloft open, new attractions continue to open and we fully define the activation of our Kentucky bourbon culture with the new distilleries opening in NKY. These catalysts are building a reaction of excitement in our region."
During the meeting, meetNKY celebrated the opening of new riverfront hotels – including the Aloft at Newport on the Levee, which hosted the event – and the more than 39,000 people that work in the tourism and travel industry in Northern Kentucky, a number that continues to grow.
The annual meeting included remarks by meetNKY Board Chair Jack Brandt, General Manager of the Marriott Kingsgate Hotel; keynote speaker Mark Looy, founder & CCO of Answers in Genesis, who gave an update on the impact of Ark Encounter on the region; Linda Antus, President & CEO of the Cincinnati USA Regional Tourism Network, who gave an update on the regional Cincinnati initiatives and Eric Summe, who led the event and shared details of this year's stellar report.
As Brandt begins his first year as CVB chair, he laid out strong priorities for his term as chair and celebrated all of the impressive accomplishments in the region in 2016.
"Amazing things have happened in Northern Kentucky and Cincinnati in 2016," Brandt said. "From the Amazon announcement to Southwest starting operations at CVB, the incredible increase in demand from the Ark Encounter opening and CTI moving to the RiverCenter towers, you can say that there is a lot of excitement in our region."
"A big focus of our organization is continuing to be a strong promoter and advocate for an expansion of our regional convention center," he said. "Our center is undersized and we are becoming uncompetitive in the marketplace. A strong and fully utilized expanded convention center benefits the entire region, creates jobs and opportunity."
Highlights of the meetNKY 2016 results included:
* The total impact of visitor spending in Boone, Kenton, and Campbell counties increased by $23 million from 2015 to $389 million.
* meetNKY provided convention services to more than 143 groups, totaling 27,850 attendees.
* The average daily rate for hotel rooms increased 4.73 percent to $95.81 per room.
* $15 million of future convention business booked into the regional hotels and convention center.
* Hotel occupancy levels are in their seventh consecutive year of growth, increasing 3.5 percent to 68.96 percent in 2016, ranking above the national average and all regional destination averages.
* meetNKY — along with the best group of hospitality partners in the business — continues to receive outstanding feedback for the service provided to group and convention customers, with an overall satisfaction score of 98 percent and an intent to return to NKY of 92%.
* meetNKY continues to maximize its operational acumen with customer facing and impacting marketing results that return $22.07 of impact for every $1.00 spent.
During Thursday's meeting, meetNKY presented its Star of Tourism award to Answers in Genesis in recognition of its dedication to promoting Northern Kentucky as a showcase for faith based tourism and events.
"Since it's opening in July 2016, the Ark Encounter has introduced Northern Kentucky and Cincinnati USA to thousands of new visitors," Summe said. "We are delighted to celebrate the success of both the Ark and the Creation Museum as well as Answers in Genesis' dedication to bringing first-time and repeat visitors to NKY. They are also phenomenal partners in assisting our growth in the faith meetings industry."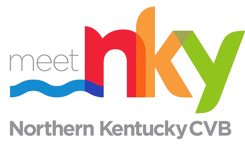 In addition to the Star of Tourism Award, the CVB also announced the Legend of the Year award. The CVB's Legend program, recognizes a regional resident or organization that made a strong economic impact in Northern Kentucky by promoting the destination for a meeting, convention or event.
Boone County Judge-executive Gary Moore, joined Summe and Brandt in announcing the meetNKY Legend of the Year – Tony Lamb and Kona Ice. Since 2015, Kona Ice has hosted their annual "Konvention" at the Northern Kentucky Convention Center. The group has grown to over 1,000 room nights annually and generated more than $2 million of economic impact to Northern Kentucky.
Summe closed the meeting by recognizing the visitor industry as a catalyst for job creation.
"Almost 40,000 people work in the travel and meetings industry in Northern Kentucky and almost 75,000 throughout the region," Summe said. "Tourism is a vibrant and growing industry in our area and the state of Kentucky. Tourism is the third largest revenue generator in our state and continues to grow with all of the phenomenal development here and throughout the Commonwealth."
The mission of meetNKY is to serve as an aggressive destination sales, marketing, and service organization whose primary responsibility is to positively impact the Northern Kentucky economy through conventions, meetings, and visitor expenditures. The tourism industry in NKY is a vibrant part of the regional economy in Cincinnati USA that generates more than $4 billion of economic impact and supports over 74,000 jobs. Learn more at www.meetNKY.com.
meetNKY