L'Oréal USA has announced major milestones in its sustainability efforts and a solar project at its facility in Florence was a key contributor to the accomplishment.
The company has achieved 100 percent renewable electricity for its U.S. manufacturing, reducing its carbon emissions by 84 percent, water usage by 52 percent, waste per finished product by 43 percent, and making considerable improvements in package design.
Key projects across the country included massive solar projects in Florence, Kentucky and Little Rock, Arkansas, wind turbines in Texas, and an eco-design tool used across the company to assess the environmental impact of each product's life cycle.
These efforts helped the company achieve a 67 percent reduction in carbon emissions worldwide from a 2005 baseline – a global goal exceeded four years ahead of schedule through its sustainability program, Sharing Beauty With All. This reduction was achieved while the company simultaneously increased its production by 29 percent.
The company released details of the Florence solar project and other sustainability efforts in September .
L'Oréal USA officials said the 84 percent reduction in its U.S. emissions was made possible directly because of the Florence solar plant.
Construction begins this week on the solar array in Florence and is scheduled for completion by the end of summer. This will be the largest commercial solar array in Kentucky, providing 1.42MW of power through 4,140 solar panels, and saving 1,324 metric tons of CO2 per year
L'Oréal USA was able to make these reductions while growing its production by 29 percent, demonstrating that sustainability and profitability do not have to be mutually exclusive.
In L'Oréal's 2016 Progress Report, just released today, Chairman and CEO Jean-Paul Agon speaks to the importance of these milestones and the impacts of climate change.
"We have achieved and even exceeded our target of a 60 percent reduction in CO2 emissions, four years ahead of schedule. This is the result of an immense amount of work by all the teams concerned. It also sends out a strong signal: we are continuing to dissociate our growth from our environmental impact," he said. "While climate change is a major challenge, and we are already seeing its effects on the most vulnerable populations, our commitment is stronger than ever."
In addition to substantial carbon improvements, 2016 was a pivotal year for the worldwide program, marked by a 48 percent reduction in water consumption and a 35 percent reduction in waste per finished product from a 2005 baseline.
"As the worldwide leader in beauty, we have a responsibility to lead, and our efforts in 2016 demonstrate an unprecedented level of commitment," said Alexandra Palt, Chief Sustainability Officer for L'Oréal. "The progress made by our Sharing Beauty With All sustainability program reflects the innovative spirit that is hard at work at L'Oréal, especially in the United States. We remain committed to being a sustainability leader here and around the world, and look forward to exceeding our goals in the future."
L'Oréal has made the following progress in its ongoing commitment to implement sustainable business practices across its value chain:
Sustainable Product Innovation  
L'Oréal has pledged that 100 percent of its new or renovated products will have an improved environmental or social profile by the year 2020 and as of 2016, 82 percent already showed such an improvement.  The company also piloted a proprietary eco-design tool to assess the environmental impact of each product's life cycle. To date, L'Oréal has screened more than 40,000 formulas, gaining valuable insights about the environmental profile of each type of formula while maintaining the product efficacy and consumer benefit. An example of sustainable innovation in the U.S. is the development of the Biolage R.A.W. line:
L'Oréal's Biolage R.A.W. line now boasts a 100 percent recycled plastic bottle and uses a 98 percent biodegradable formula.The product line, manufactured in Florence, Kentucky, has set a new standard in haircare. Other products manufactured in the U.S. now use bottles with 50 percent recycled plastic, including Pureology Pure Volume Conditioner and Garnier Fructis.
Carbon Reduction Initiatives
L'Oréal's U.S. operations played a considerable role in exceeding the program's 2020 carbon reduction goal. In 2016, the company added three renewable energy projects – among the largest in Kentucky and Arkansas – to its existing U.S. portfolio, which now totals 17 installations:
L'Oréal USA's Florence facility will host the largest commercial solar array in Kentucky,providing 1.42MW of power through 4,140 solar panels, and saving 1,324 metric tons of CO2 per year. The 686,000 sq. ft. plant, where haircare products are made for the Garnier, L'Oréal Paris, Matrix, and Redken brands, is the company's largest manufacturing site in the U.S. and its largest worldwide by tonnage of products produced.
L'Oréal USA's North Little Rock plant will house the third largest commercial solar array and the fourth largest solar project in Arkansas.The 3,600 solar panel installation will provide 1.2 MW of renewable energy and reduce carbon emissions by 556 metric tons per year. The 450,000 sq. ft. factory has operated in the state for over four decades, and is home to cosmetics production for brands including Maybelline, L'Oréal Paris, Essie and Lancôme.
L'Oréal USA installed 12 wind turbines to help power its distribution center in Dallas, Texas. The facility handles distribution of L'Oréal Paris and Garnier hair color products as well as SkinCeuticals products.
These projects, alongside the purchase of locally-sourced renewable energy certificates, helped the company to achieve 100 percent renewable electricity for its U.S. operations in 2016.
Water & Waste Reduction
The company has continued on a path toward reaching a 60 percent reduction in water and waste per finished product globally by the year 2020. L'Oréal USA has made notable progress in this area through the following local projects:
Its North Little Rock, Arkansas plant reduced water use by 82 percent from a 2005 baseline by implementing key changes like dry vacuum pumps and air-cooled chillers.  Its Franklin, New Jersey Plant reduced water consumption per skid by 30 percent on average by installing optimizing vessel cleaning systems.
All L'Oréal USA operations facilities achieved zero waste to landfill in 2016 and continue to lower overall waste. For example, it's Florence, Kentucky facility reduced their waste in 2016 by 65 percent(from 2005) by transitioning from recyclable materials to returnable packaging for a majority of their incoming components.
Today's announcement builds on the company's environmental leadership in the U.S. and around the world. Since 1996, L'Oréal has been an Energy Star Partner with the U.S. Environmental Protection Agency (EPA) and a member of the EPA's Green Power Partnership.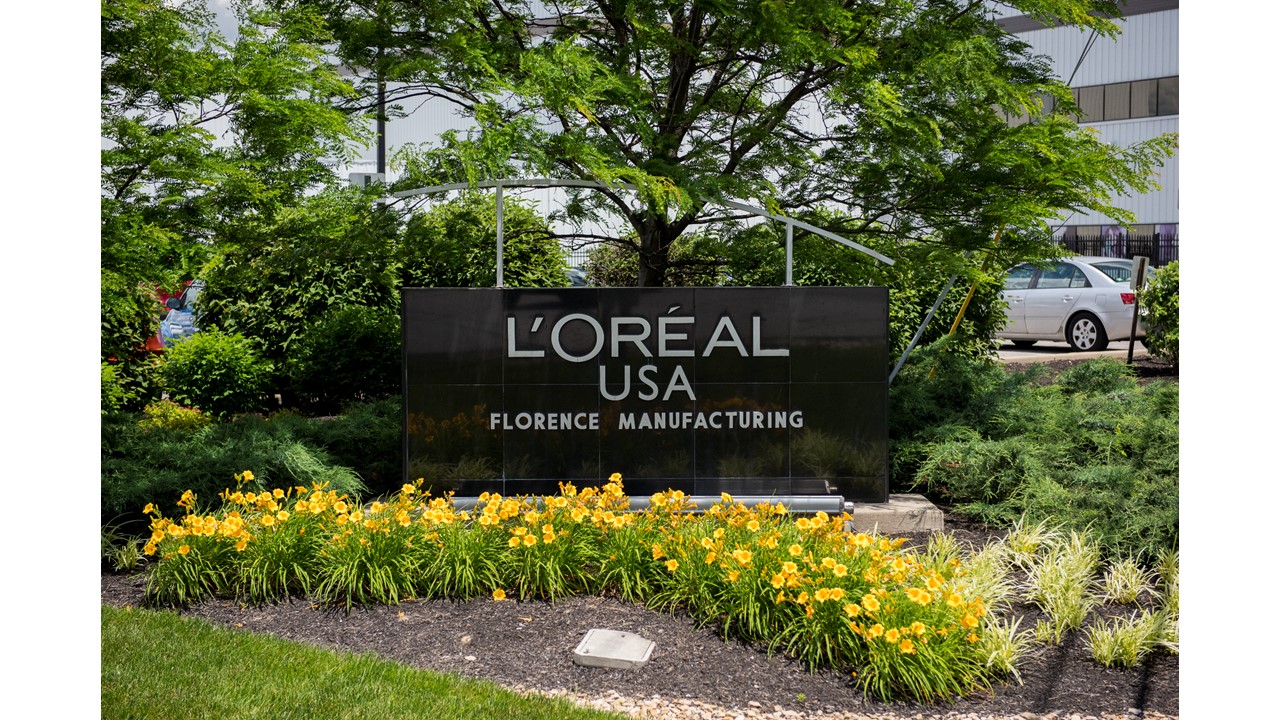 The company was awarded the "Star of Energy Efficiency" award by the Alliance to Save Energy in 2015, and became a member of the U.S. Department of Energy's Better Buildings, Better Plants Partnership that same year.
The company was also a signee of the White House American Business Act on Climate Pledge in 2015 and the CERES Climate Declaration in 2013. Nationwide, L'Oréal is continuously ranked among the top 25 companies for U.S. solar capacity by the Solar Energy Industry Association (SEIA).
In 2017, L'Oréal also became a founding partner of the "Women4Climate" global initiative to contribute to the empowerment of women leaders in fighting climate change through C40 Cities, which connects 90 of the world's biggest cities and represents more than 650 million citizens and one quarter of the global economy.
Globally, the L'Oreal Group was awarded a triple "A" score by the CDP, an independent international organization which evaluates the environmental performance of companies. Only two companies in the world obtained the triple "A" score, representing top ratings in climate protection, sustainable water management and the fight against deforestation.
L'Oréal USA is the largest subsidiary of the L'Oréal Group, the world's leading beauty company. L'Oréal USA manages a portfolio of more than 30 iconic beauty brands, including Garnier, Giorgio Armani Beauty, Kérastase, Lancôme, La Roche-Posey, L'Oréal Paris and Yves Saint Laurent Beauté.  L'Oréal USA also serves as the international hub for the product development and marketing strategy for L'Oréal's 18 American brands.
L'Oréal USA has operated in Kentucky for more than 25 years and now has more than 400 employees. In 2012, the company invested $42 million to expand its production facility in Florence, with plans to create 211 jobs.
For more information on the L'Oréal USA's sustainability program and its Sharing Beauty with All objectives, commitments and achievements, please visit www.sharingbeautywithall.com.
L'Oréal USA