By Mark Hansel
NKyTribune managing editor
The 2017 Kentucky Federation for Advanced Manufacturing (KY FAME) Summit is underway today at Gateway Community & Technical College in Florence.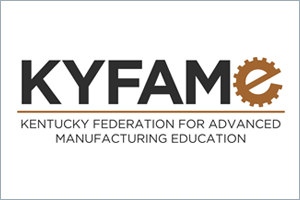 The summit precedes the National AMT Conference, which also takes place in Florence this week at the Cincinnati Airport Hilton on Turfway Road.
KY FAME is a partnership of regional manufacturers whose purpose is to implement dualtrack, apprenticeship-style training that will create a pipeline of highly skilled workers. The primary method to achieve this goal is through partnerships with local educational institutions to offer the Advanced Manufacturing Technician (AMT) Program.
Regional KY FAME chapters connect manufacturers with high-achieving high school students and veterans to ensure the qualified workforce that will allow advanced manufacturing to remain one of the state's leading industries for years to come. Participating companies provide part-time, hands-on work experience while local community colleges reinforce necessary skills with classroom experience specifically chosen by employers.
At the end of the program, students will have earned an associate degree in Applied Science in Industrial Maintenance Technology-Advanced Manufacturing Technician Track, certification as an Advanced Manufacturing Technician (AMT) and two years of work experience and are ready to enter the wokforce.
KY FAME is a leader in the AMT program and a breakout session at this year's conference will feature the comprehensive AMT management activity of the Northern Kentucky chapter.
The summit will focus on learning best practices and discussing challenges with FAME partners from around the Commonwealth.
Today's morning activities included a series of panel discussions on student recruitment strategies and utilizing community partners for chapter sustainability.  Afternoon sessions focused on succession planning and upskilling incumbent employees, student mentoring and in-house training and company engagement and outreach.
Discussion participants included chapter leaders from throughout the state.
A tour of Gateway Community College & Technical Center Technical Training Center will be followed by a reception to recognize the 2017 graduates from the KY FAME Advanced Manufacturing Technical Program.
Guest speakers at the banquet include Garrett Smithley, a professional stock car driver in the NASCAR XFINITY Series, who will discuss keys to developing a winning program and Mark Simendinger, general manager of Kentucky Speedway.

AMT is a nationally standardized program driven by employers to produce the global best technicians. Those in the network will keep up with the latest developments and the best practices through the conference. A go-and-see experience at AMT sites enables educators who provide the academic program and the manufacturers to see and understand what other programs are doing.
Providers (employers and schools) take a go-and-see approach to enable educators to experience and understand the successes of other programs, thus supporting the elevation of standards and best practices for all programs.
The annual conference is the key activity to keep AMT moving forward on a common path with common practices and standards. It is the one point where all AMT programs come together in-person.
It is also a primary activity to further develop AMT students to support achieving global-best outcomes.
This year's conference includes:
– The Parade of Programs Presentations by the attending teams of each AMT program, reporting the status, practices, and highlights of their local programs.
– Go-and-See Benchmarking of the KY FAME/Northern Kentucky chapter's College Partner, offering a close-up of the program, campus, students, faculty, and signature AMT practices.
– Best Practice Highlights. Selected presentations from the best practices nationally.
– College Partner Round Table for attendees from the AMT College Partners.
– Economic Development Round Table for those driving local economies.
– Employer networking for attendees from the collaborating FAME companies in the AMT and AMB Programs.
– Future Direction and Development for the North American AMT Program.
– Updates on AMB (Business) and AME (Engineering) programs.
– Diversity session on strengthening female retention and success in the AMT Program.– For FAME Employer groups, a special highlight session featuring the comprehensive AMT management activity of the Northern Kentucky chapter.
AMT has four primary stakeholders, the sponsoring companies (employers), who own and drive the program, community college partners who offer the degree portion of the program in partnership with the employers, Toyota NAPSC, the program developer and common element to all programs and the students, who are the product of the program.

Contact Mark Hansel at mark.hansel@nkytrib.com