By Paul A. Tenkotte
Special to NKyTribune
Dr. Don Tolzmann always delivers — whether in book or lecture format. Well-known nationally for his dedication to German Americana, Tolzmann's new book, entitled John Hauck, Cincinnati's West End Beer Baron: The Man and His Brewery (Little Miami Publishing, 2017), is a pleasure to read. Further, it adds to our understanding of both Cincinnati's German-American and beer heritage.
John Hauck (1829-96) was born in Mühlhofen in the Palatinate area of Bavaria (now Germany). At age twenty-two, in 1852, he immigrated to the United States, arriving at New Orleans aboard the Chesapeake, a sailing ship. Two weeks later, he moved to Cincinnati, where his uncle, George M. Herancourt (1807-1880), operated a brewery. After a short relocation to Philadelphia, where he also worked in a brewery, Hauck returned to Cincinnati.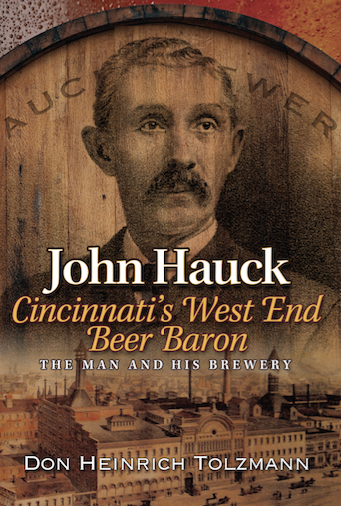 Hauck's 1858 marriage, to Catherine Billiods, made him the son-in-law of Cincinnati brewer, Friedrich Billiods (1796-1862). For four years, Hauck worked at his father-in-law's brewery, and then, in 1863, opened a brewery of his own with business partner Johann (John) Ulrich Windisch (1830-1879). Originally known as the Dayton Street Brewery, it later became Hauck and Windisch Brewing Company. With the death of Windisch in 1879, Hauck purchased his partner's interest in the brewery.
John Hauck loved his adopted city of Cincinnati. He belonged to the German Protestant St. John's Church at Twelfth and Elm Streets in Cincinnati, which "has recently been renovated as a reception and party center." (p. 21) Of particular importance, however, was Hauck's support of the Cincinnati Zoo and Botanical Garden. When an economic panic struck the United States in 1884, the zoo found itself in bad financial straits. Hauck saved it by loaning the zoo "$135,000 at a low interest rate," secured by a title to its property. Hauck also sponsored summer concerts to raise money for the zoo.
For a short time, John Hauck also owned the Cincinnati Reds baseball team, a consequence of financially assisting a cousin who had owned the team and had experienced bankruptcy. Hauck's son, Louis, additionally served in the management of the Reds team. Tolzmann provides an interesting baseball tidbit, stating that the American League was established in 1881 to allow the sale of beer during games. To some, it was known as the "Beer Ball League," or the "Beer and Whiskey League." (p. 31)
John Hauck died in June 1896, aged sixty-seven. He was buried in Spring Grove Cemetery. His son, Louis, operated the family brewery, which closed during Prohibition.
A sprightly written account, Tolzmann's biography of John Hauck, one of Cincinnati's German-American beer barons, is also generously illustrated. Featuring appendices, a bibliography, and an index, it captures you from the first page to the very end. I literally could not put the book down, reading it in one sitting. Kudos to our friend and colleague, Don Heinrich Tolzmann, for yet another great contribution to German Americana!
We want to learn more about the history of your business, church, school, or organization in our region (Cincinnati and Northern Kentucky). If you would like to share your rich history with others, please contact the editor of "Our Rich History," Paul A. Tenkotte, at tenkottep@nku.edu. Paul A. Tenkotte, PhD is Professor of History and Director of the Center for Public History at NKU.