By Steve Flairty
Special to NKyTribune
I sure got excited several years ago when a trip to my mailbox netted me a large, white and black certificate that had Governor Beshear's name on it, along with these words neatly printed below his: "Honorable Steve Flairty is commissioned a KENTUCKY COLONEL." To this day, I don't know who made the nomination, but it sure was a gesture I'll always appreciate. I do know that the individual, by the rules, had to be a Colonel first.
I'd like to report that becoming a Kentucky Colonel changed my life in amazing ways, but that would be a stretch. In fact, I suspect that if I'd take the certificate to my local coffee shop today and show it as I order my coffee, the cost would still be $1.90 and not discounted.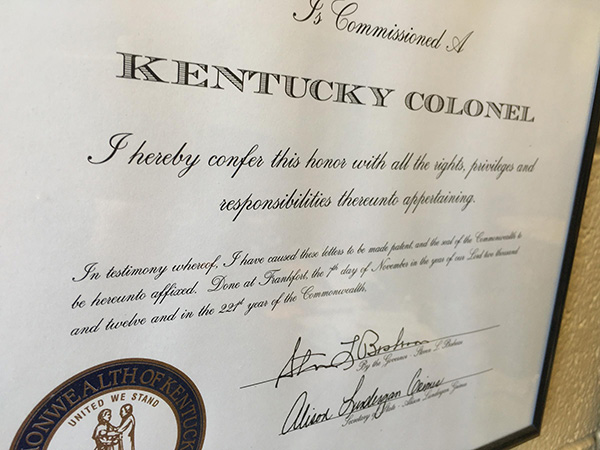 But maybe that's the wrong way to approach the honor.
I pondered my Kentucky Colonelship and its meaning recently after pulling the piece of paper out of the bottom of the trunk sitting next to my small couch in the study. What is the piece of paper all about and what does it mean to me personally?
After some quick research, I became a bit surprised about the issue. First, the nominations and awarding of the honor are processed through the governor of Kentucky's office. I knew that, but I then found that there is a follow-up part of the process. According to information on the Kentucky Colonels website and confirmed later by my talking to its executive director, Sherry Crose, one who receives the recognition is "commissioned a Kentucky Colonel for life." However, to be considered an active Kentucky Colonel, an annual financial gift to the "Good Works Program" of the 501(c)3 non-organization is required.
The money donated to the Good Works Program is used to help vetted charitable agencies around Kentucky carry out their good works. In 2017, about $1.5 million were granted in the form of real, or "tangible" gifts to 171 agencies around Kentucky, noted Crose, with about 50,000 active members contributing through their annual contributions.
With that information absorbed, I notified the Kentucky Colonels organization in Louisville that I wanted activation status and promptly delivered my contribution online, a relatively easy process. Being an active Kentucky Colonel now feels, for me, like an investment in the state's goodwill. I look forward to staying active in the future and keeping watch over the good the program does.
Curiosity also spurred my interest in checking others' experiences regarding what is often termed "The Honorable Order of Kentucky Colonels." I received some interesting reactions.
David Greene, Winchester, was recognized last year as a Colonel after being nominated by a Future Farmer of America officer and State Representative Donna Mayfield. The U.S. Army veteran received the recognition for coaching youth baseball for 20 years and leading a ministry program at his church that helped feed underprivileged children in his community.
Though he believes it often is an "over-issued" award, David appreciates his. "I'm proud of mine and the fact I was recognized for service to my community. I always admired my grandfather's as a child. It was a lifelong goal for me, personally."
Another Winchester resident, Carolyn Prince, sees the award as a family affair. "My husband Jim and I are Kentucky Colonels," she said. "When the boys went to Frankfort for a day, Paul Richardson, state representative from our area, made us both one," she said. "My brother was made one for his 40th birthday!"
Chris Burchett's full embracing of his work and mission with Goodwill Industries caught the eye of a customer at the Brannon Crossing store in Lexington. He was commissioned a Kentucky Colonel because of it. "I was quite surprised when she approached me and told me she had done the paperwork," he explained. "She told me she made me one for always going out of my way to be helpful to the people I worked with and that shopped the store."
Chris is now the manager of the Bellerive Goodwill in Lexington, and he's excited about the positive influence he can exert "to be more impactful in helping those who worked for me to see the good their hard work does and really make them feel that they, too, are positively impacting the community."
Being a longtime advocate for our country's military veterans has encouraged Ballard County resident Sandy Hart's friends to nominate her as a Kentucky Colonel more than once. She received the recognition after being nominated by a local businessman in 2004 when she organized 17 busloads of individuals, mostly veterans, for a memorable trip to the World War II Veterans Memorial in Washington, D.C. Afterward, she kept getting more Colonel certificates through the mail.
"After about six," she noted, "I called the Governor's Office to see what was up. The lady chuckled and said they just kept getting notifications from WW II veterans from around Kentucky wanting me to be made a Kentucky Colonel." Sandy is the founder and director of the Kentucky Veteran and Patriot Museum (http://kygrro.org/kvpm/) in Wickliffe.
"Col. Bob" Thompson, Louisville, takes his radio show persona on the Kentucky Homefront Radio show from his honorary title bestowed on him over four decades ago as a young engineer at the University of Kentucky, where he was heavily involved in the completion and fit-up of Commonwealth Stadium. "My father, also Bob Thompson, was also a Colonel," said Thompson. "It was given to him for his 25 years of service to the McCracken County Road Department."
A long-time technology teacher in Kentucky still proudly holds on to his Colonel designation as a retiree living in Knoxville. He recalls with amusement the circumstances involved when he was notified of his honor in 2009. Andy worked to have a Colonel nominate and confer the commission on a dignitary in his national technology association during an important conference–a big surprise. But something unexpected, and positive, happened to Andy also.
"We managed to pull off the surprise, but the larger surprise was that I was called backed up on the stage and was conferred as well for my work in two other associations." Paying it forward, it seems, may well bring good returns.
Steve Flairty grew up feeling good about Kentucky. He recalls childhood day trips (and sometimes overnight ones) orchestrated by his father, with the take-off points being in Campbell County. The people and places he encountered then help define his passion for the state now. After teaching 28 years, Steve spends much of his time today writing and reading about the state and still enjoys doing those one-dayers (and sometimes overnighters). "Kentucky by Heart" shares part and parcel of his joy. A little history, much contemporary life, intriguing places, personal experiences, special people, book reviews, quotes, and even a little humor will, hopefully, help readers connect with their own "inner Kentucky."
Some Colonels have mixed feelings about the program. Sheila Shain, from Shepherdsville, gained her certificate as a founding member of the Borrowed Angels Charity Riders (BACR), a group of women motorcyclists that advocate for causes such as helping military veterans and supporting anti-child abuse programs. "I have to say that I'm proud for the honor," said Shelia, "however, I find any membership which is renewed only by financial donation somewhat disappointing. I give a few bucks every year to keep my name in the ranks because a mutual dear friend spent time and energy nominating me for the title for my work in the BACR."
Berea resident Landra Lewis perceives the commission of the award in a light-hearted way, "a tongue-in-cheek humor thing." She added this: "When I was going to Hazard Community College and living in Hazard, I was appointed a 'Duchess of Hazard' by the mayor."
And though no program like this is without a need to improve, I get the feeling that people in the Bluegrass are generally happy that it exists…and wouldn't mind having Colonelship on their resume. Doris Settles of Lexington shed some interesting light on her experiences.
"My father was so proud of being a Kentucky Colonel (that) he had a nameplate, "Col. W.H. Dearen," made for the inside of each car. I think everyone in my family is (one). We recently had our daughter-in-law made one and were stunned the certificates had changed. Now their certificates don't match. Our son took his to his office a while back in Pittsburgh, and shortly a consultant they hired went by and stopped, greeting him as a fellow Colonel. Now everyone in the office uses 'Colonel' as his name."
Count me as glad to wear that designation, too, and I'm planning to nominate another deserving person or two soon who can add to the mission of the Good Works program.
For more information, visit governor.ky.gov or www.kycolonels.org.
Steve Flairty is a teacher, public speaker and an author of six books: a biography of Kentucky Afield host Tim Farmer and five in the Kentucky's Everyday Heroes series, including a kids' version. Steve's "Kentucky's Everyday Heroes #4," was released in 2015. Steve is a senior correspondent for Kentucky Monthly, a weekly KyForward and NKyTribune columnist and a member of the Kentucky Humanities Council Speakers Bureau. Contact him at sflairty2001@yahoo.com or visit his Facebook page, "Kentucky in Common: Word Sketches in Tribute." (Steve's photo by Connie McDonald)