By Mark Hansel
NKyTribune managing editor
St. Elizabeth Healthcare announced today it has joined the Markey Cancer Center Affiliate Network, further expanding its relationship with the University of Kentucky.
The UK Markey Cancer Center is the only National Cancer Institute-designated cancer center in Kentucky. By joining the UK Markey Cancer Center Affiliate Network, St. Elizabeth Healthcare will now be able to further enhance care available to patients in Northern Kentucky, while allowing patients to stay closer to home and their support systems for most treatments.
"We are proud to team up with the University of Kentucky Markey Cancer Center, which is recognized as one of the leading cancer care and research centers in the country," said Garren Colvin, president and CEO of St. Elizabeth Healthcare. "This affiliation fits well with St. Elizabeth's vision of leading Northern Kentucky to become one of the healthiest communities in America. We expect this affiliation to enable us to deliver truly exceptional cancer care and better the lives of our patients, their families, and the greater community we serve."
In 2013, St. Elizabeth joined the Mayo Clinic Care network and at the beginning of this year, announced the development of a cancer center that is envisioned as unlike any other in the region. The establishment and overall approach at the center is expected to move the needle on cancer care and treatment in the region.
The affiliation with the Markey Cancer Center moves the health care network another step closer to achieving that healthiest region goal.
"Along that journey there's some obstacles, there's some challenges and we know the biggest of those challenges is cancer," Colvin said. "We know that collaboration is the best way for our teams to improve health care for our regions in the commonwealth. Together we are able to accomplish more than we could ever do alone. Our affiliation with the UK Markey Cancer Center will offer patients additional resources, while they continue to receive care from their trusted Physicians at St. Elizabeth."
St. Elizabeth Healthcare operates six facilities throughout Northern Kentucky and more than 115 primary care and specialty office locations in Kentucky, Indiana and Ohio. St. Elizabeth serves more than 315,000 patients annually, 10,000 of which seek treatment for cancer.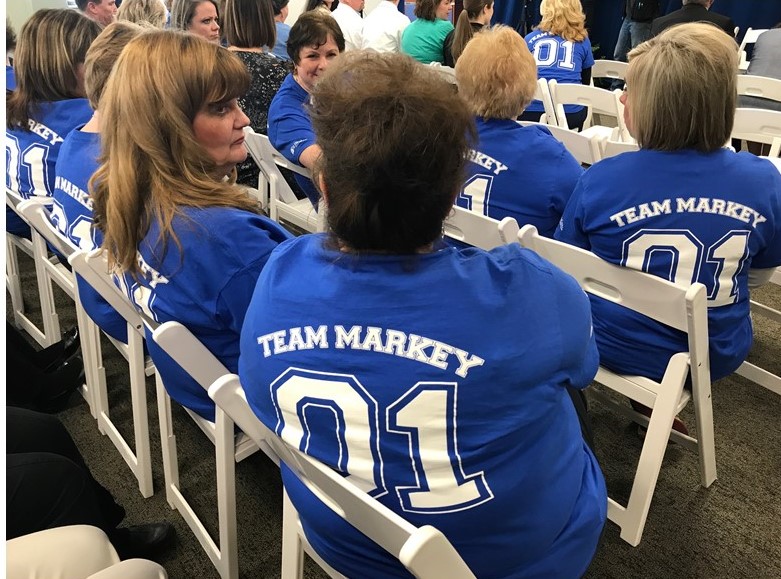 The new affiliation is the second major collaboration between UK and St. Elizabeth Healthcare. In 2017, the UK College of Medicine announced plans to develop a regional medical school campus in Northern Kentucky for a four-year medical degree via a partnership with St. Elizabeth Healthcare and Northern Kentucky University. The medical school expansion will increase the class size of the UK College of Medicine, allowing more physicians to receive education and training here in Kentucky.
 "Kentuckians face a host of serious health problems, including cancer," said Dr. Mark F. Newman, UK executive vice president for health affairs. "Building relationships with strong healthcare providers like St. Elizabeth Healthcare is important to both of our institutions and to the patients here in the Commonwealth. We look forward to working together with the team at St. Elizabeth Healthcare to improve access to high-quality healthcare, with the goal that no Kentuckian should have to leave the state to receive treatment for complex diseases like cancer."
The UK Markey Cancer Center Affiliate Network was created to provide high-quality cancer care closer to home for patients across the region, and to minimize the effects of cancer through prevention and education programs, exceptional clinical care, and access to research. The affiliate network is especially important for Kentucky, where cancer rates are the highest in the nation.
The network started in  2006 with three hospitals and, with St. Elizabeth's inclusion, has now grown to 20 programs across the Commonwealth.
Newman said one of the benefits of his position is that he gets to work with dedicated health care professionals statewide. It has also allowed him to see some of the challenges the Commonwealth faces.
"We know what some of our health problems are and some of our dismal statistics, but they are now, they don't have to be our destiny," Newman said. "The way that we can work through that and work toward that next level is working together. I think what we started here today, with the great team at St. Elizabeth and the great team at the Markey Cancer Center is how we work together to synergize in such (a way) that we truly believe we make a difference in the lives of our patients, and the lives of your patients."
The 20 hospitals that comprise the UK Markey Cancer Center Affiliate Network across the Commonwealth of Kentucky:
Clark Regional Medical Center, Winchester
Frankfort Regional Medical Center
Georgetown Community Hospital
Hardin Memorial Hospital, Elizabethtown
Harlan ARH Hospital
Harrison Memorial Hospital, Cynthiana
Hazard ARH Regional Medical Center
Highlands Regional Medical Center, Prestonsburg
King's Daughters Medical Center, Ashland
Lake Cumberland Regional Hospital, Somerset
Methodist Hospital, Henderson
Norton Cancer Institute, Louisville (Norton Healthcare-UK HealthCare partnership)
Our Lady of Bellefonte Hospital, Ashland
Owensboro Health Regional Hospital
Rockcastle Regional Hospital, Mt. Vernon
St. Claire Regional Medical Center, Morehead
St. Elizabeth Healthcare, Edgewood
The Medical Center at Bowling Green
TJ Samson Community Hospital, Glasgow
Tug Valley ARH Regional Medical Center, South Williamson
"Kentucky is home to some of the worst cancer rates in the country," said Dr. Tim Mullett, medical director of the UK Markey Cancer Center Affiliate Network. "The affiliate network provides a way for us to directly address this problem by providing access to programs and services that each hospital needs to fight cancer in their own region. We want patients to receive treatment close to home if they can, but Markey is here to provide advanced care and clinical trials for patients who have more complex cancers."
Mullet is in active practice as a thoracic surgeon and said just Thursday, he removed cancer from a patient. He said the individual efforts of doctors throughout Kentucky are impressive, but that needs to be transformed into a campaign focused on eradicating cancer.
"Leveraging all of this together is how we are going to affect the incidents of the disease by working on what causes these cancers," Mullett said. "The success that we have with treating these cancers across the Commonwealth by taking the science that we have at Markey Cancer Center and delivering that to other programs across the region and being able to say that there are specialty care areas (will allow us) to have a bigger impact."
Dr. Douglas Flora, St. Elizabeth Physicians medical director, said he is excited to see the momentum shifting as everyone "is rowing in the same direction" to eradicate cancer in the region, and the state.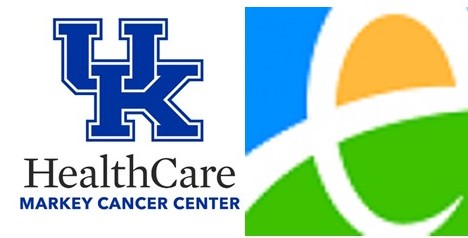 "From a doctor's standpoint, from a person who touches patients…each individual life matters," Flora said, "This is not an affiliation of convenience, this is physicians sharing information – this is staff members going back and forth between facilities weekly to train each other, to share best practices. This is how we establish guidelines that make sure all of our physicians and nurses share common goals and common values and we produce common outcomes, which is ultimately shooting for a cure and prevention and screening."
The UK Markey Cancer Center is one of only 69 medical centers in the country to earn an NCI cancer center designation. Because of the designation, Markey patients have access to new drugs, treatment options and clinical trials offered only at NCI centers.
Moving forward, the UK Markey Cancer Center is working toward the next tier of designation – an NCI-designated Comprehensive Cancer Center. Currently, 45 of the 69 NCI-designated cancer centers in the country hold a comprehensive cancer center status. The UK Markey Cancer Center Affiliate Network will play a large role in bringing that next level of cancer funding to Kentucky.
Contact Mark Hansel at mark.hansel@nkytrib.com