April 8-14 is National Public Safety Telecommunicators Week, a time to recognize the efforts of more than 200,000 police and emergency service dispatchers throughout the U.S. The Kentucky State Police employs 187 telecommunicators at its 16 posts throughout the state.
In 2017, they handled 519,474 calls. The following is a story about one of those calls.
Quick thinking by a Kentucky State Police radio dispatcher during an August 2017 incident illustrates the vital role of telecommunications professionals in modern law enforcement operations.
His actions led to the swift apprehension of a wanted suspect and contributed to public safety in one northern Kentucky community.
It was early in the morning shift at Kentucky State Police Post 6 in Dry Ridge when Police Telecommunications Shift Supervisor Christopher Mills received a broadcast teletype from the Erlanger Police Department. "It was an 'attempt to locate' request involving a male subject wanted for kidnapping and assault," he recalls.
Police dispatchers often see a variety of similar requests during their shifts. Mills made note and continued with his duties.
A few hours later, Mills received a call from a motorist traveling southbound on I-75 near Crittenden. "He was an off-duty Michigan police officer," Mills remembers. "He was reporting a suspected impaired driver who was unable to maintain his lane of travel. The caller was able to provide a vehicle description and license plate number and I immediately realized it was the suspect from the Erlanger Police Dept. request."
Mills acted quickly, dispatching units to the area where the suspect vehicle had exited the interstate. He then started researching the subject online through the National Crime Information Center and CourtNet.
"I located a prior address for the suspect in rural Grant County and directed sheriff's department and KSP units to the scene," said Mills. "Minutes later,we received a 911 call from a woman advising that her son was trying to force his way into her house. The address she gave matched the suspect's prior address I had located online."
To watch a short video about KSP telecommunicators, click on or visit the following link: http://www.youtube.com/watch?v=NzGOaQDdXfw&feature=youtu.be
Due to his efforts, sheriff's deputies and KSP troopers were already en route to the location. They arrived five minutes after the initial call and the suspect fled on foot into a wooded area.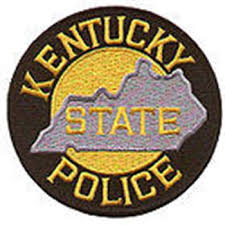 Officers conducted a primary search of the immediate area and called in KSP canine units to help search a larger area that contained barns and other abandoned buildings.
"After consulting topical maps of the area, we directed other units to check other nearby roads the suspect could have used to escape," notes Mills.
Despite an extensive search, the suspect could not be located.
A few hours later, Mills and fellow dispatcher Rebecca Henry started receiving separate calls from patrons inside a fast food restaurant in Dry Ridge.
"They reported that a male subject matching the description of the suspect was in the restaurant and appeared to have cuts all over his face," says Mills. "While on the call, I notified Grant County sheriff's deputies and KSP units. As they arrived, the suspect was exiting the restaurant and they were able to apprehend him."
Lt. Rodney Wren of KSP Post 6 in Dry Ridge said Mills' actions illustrate the positive impact dispatchers have on law enforcement and public safety on a daily basis."
"If it hadn't been for Dispatcher Mill's quick thinking and determination to locate a possible destination, the subject may have harmed family members or used the vehicle he had stolen to leave the area and harm others," Wren said.
As for Mills, a 12-year veteran of the agency who used to dispatch for a privately-owned ambulance service in eastern Kentucky, his motivation is simple: being able to help people in a time of need is its own reward.
"I have talked with people who wanted to harm themselves and kept them talking until help arrived," he said. "I've talked with people who walked in and found their loved one not breathing and walked them through CPR. I've talked with the frightened homeowner who was awakened in the middle of the night by a potential intruder and kept them calm until help arrived," he continues. "It's those things that I look back on and realize I may have made a difference in someone's life just by being there to answer the phone."
For more information or to apply for a telecommunication position with KSP, log on to the state personnel website here.
Kentucky State Police