By Mark Hansel
NKyTribune managing editor
Kids Voting Northern Kentucky switched things up with its annual event honoring future civic leaders.
Traditionally, the event honored a civic leader and future civic leaders, nominated by their high school, at a luncheon that featured a keynote speaker.
This year, the organization hosted a panel discussion with young professionals in the region, who serve in public office. Tuesday's late afternoon event was designed to allow more students to attend.
The program began with an introduction from Kids Voting NKY president Cathy Stavros and the recognition of 13 high school future civic leaders from throughout Northern Kentucky.
"We wanted to have an event to recognize the many deserving students and provide a forum that everyone can enjoy," Stavros said.
Stavros said her daughter began helping her collect ballots when she was three year old and her son joined in a couple years later.
"Now, 12 years later, election night is a family event," Stavros said. "We have increased that now, we take all her friends and his friends, and we go around collecting ballots. It is so vital to teach our youth the importance of voting."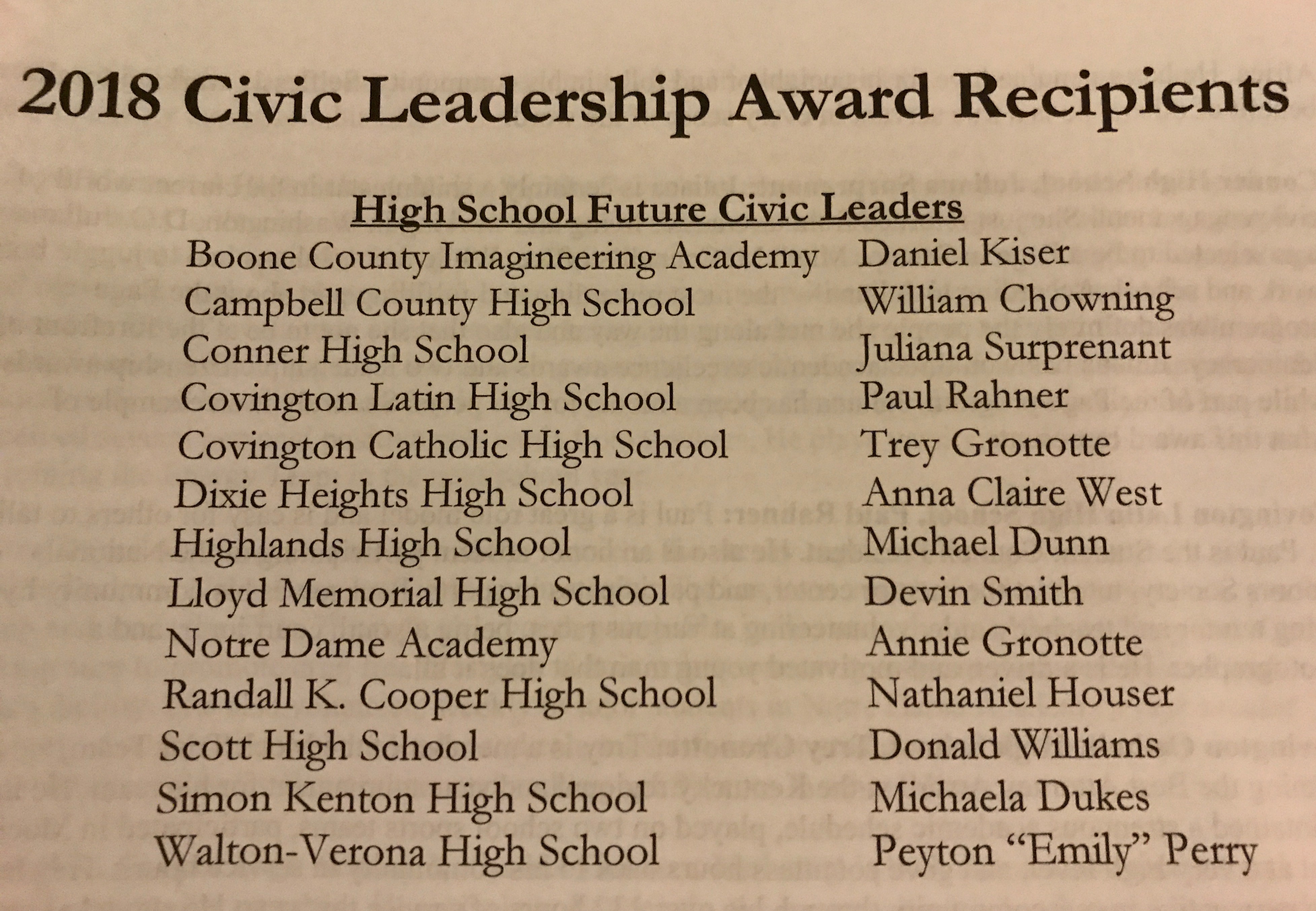 Panelists included Brian Padilla, a Conner High School student who serves as the Student Representative on the Boone County Board of Education, Ryan Salzman, Bellevue City Councilman and a special guest from Frankfort, State Treasurer Allison Ball, who encouraged students to get involved with the political process.
Stacy Tapke, Kenton County Attorney, served as moderator for the panel discussion, which took place in the recently completed meeting space at the Kenton County Public Library-Erlanger Branch.
Tapke began by asking the panelists what motivated them to get involved in politics.
Ball said she didn't have a clear answer, but started to get interested in politics at about 11 years of age and got to see how state government works firsthand while in high school.
"If I had to pinpoint a time when I really got interested in it was when I got to page in Frankfort," Ball said. "It is a great window into how government works in Kentucky. You see the legislative process, you actually have a role and you get to help out."
Also in high School, Ball and other members of the Latin club realized that Kentucky didn't have an official state motto.
The group developed a Latin motto, which in English translates to "With gratitude to God," from the Preamble to the Constitution. They then convinced a legislator to introduce a bill adopting it as the official Latin motto of the State of Kentucky and were charged with the task of lobbying for the legislation.
"I learned, number one, I liked being involved in decision-making in politics and I learned, number two, that I didn't have to wait until I was older to be involved," Ball said. "It's probably why I ended up running for office young. I was the youngest woman elected to a statewide office in the country and I ran for statewide office without having won anything before."
Padilla said teachers, peers and mentors persuaded him to pursue politics.
"I didn't know my position existed until I got asked to run for it," Padilla said. "I didn't want to do it at first, it seemed like a lot and I definitely had a lot of other things I was pushing myself toward."
Planning a career as an engineer, and now headed to MIT, Padilla didn't see how the position would move him closer to that goal.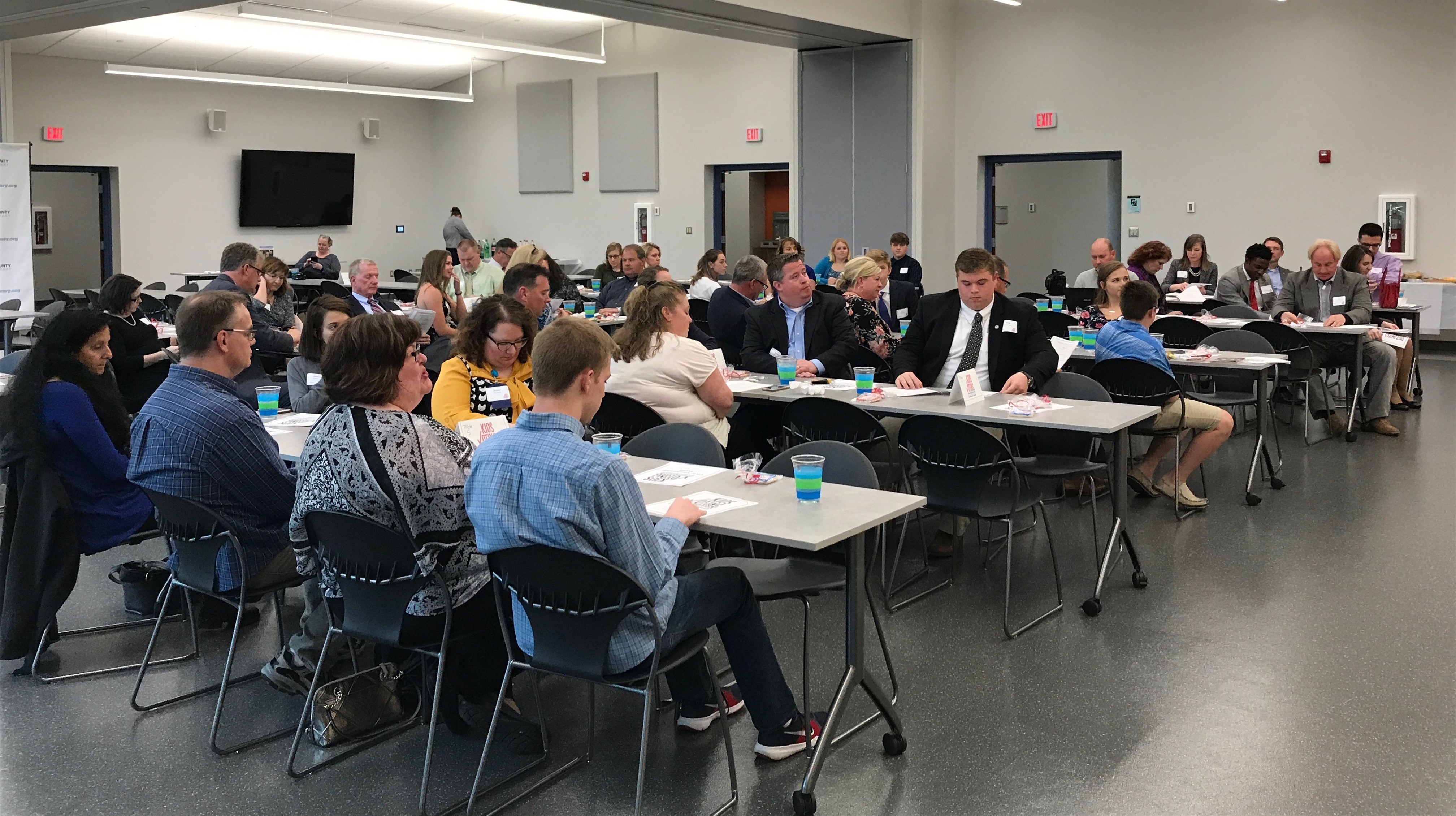 I don't regret getting involved at all and I would certainly encourage any of you guys," Padilla said to the students on hand. "If a position like this doesn't exist…that doesn't mean it can't. You might be the person to create that position, you might be the first person to sit there."
Salzman, originally from Texas, said he grew up in a very politically active family.
My parents were in the nuclear nonproliferation movement in the early 1980s, I remember protests happening, bike rides across Texas and we would let people sleep at our house. Politics were very ingrained in my life, (but) not like the traditional politics."
When he got into high school Salzman was very interested in being politically active, but learned early on that he "did not win elections."
"Before I was elected to Bellevue City Council I'm pretty sure I lost every election for student government, or everything else I ever ran for," Salzman said. "So those of you out there who have tossed their hat in the ring and lost, just know that there is another day."
In response to the question of what characteristics they look for in a candidate, Salzman said he is looking for someone who shows up.
"Whatever the public event is – if it's outside of my own community – sometimes I'm frustrated with my colleagues that they don't ever venture beyond Bellevue," Salzman said. "I want people who are constantly striving to learn…because if they are learning, then they are willing to change. When I'm talking to anybody who is running for office, or seeking any kind of leadership position, I want to know a time that they learned something and changed their minds."
Padilla said that plays into what he looks for in a future leader as well.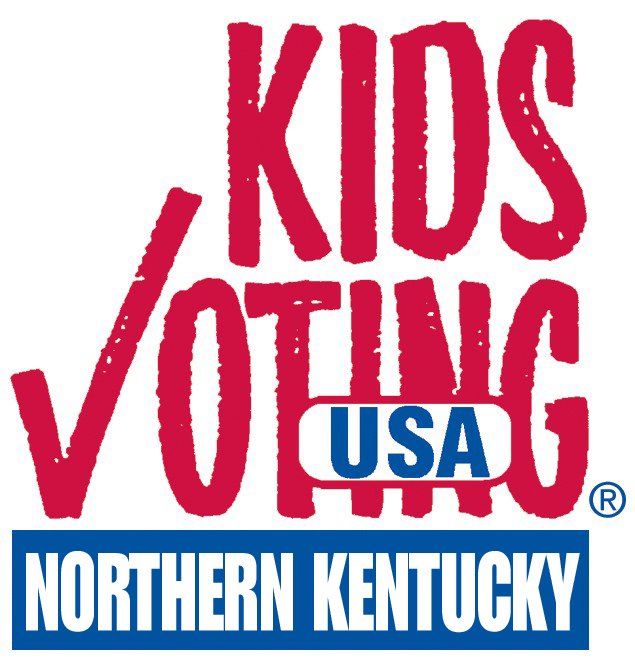 "You're always a student, no matter what, you should go into everything with that mentality," Padilla said. You have a lot to learn from places outside of Northern Kentucky. You're never a master at anything and to keep that mentality is how you continue growing."
Ball said she looks for someone who knows what they believe in and their actions are consistent with those principles.
"Once you know what the right thing to do is, that you actually do that thing," Ball said. "As anybody knows, if you watch the news at all, it's very hard to have a backbone and actually do the things that you have been elected to do."
Formed in 1995, Kids Voting Northern Kentucky is a non-profit, non-partisan organization focused on teaching young people the importance of, and helping them develop, the habit of voting.
It is an affiliate of Kids Voting USA. For more information on the organization and its guiding principles, click here.
Contact Mark Hansel at mark.hansel@nkytrib.com