Is the Greater Cincinnati region prepared to respond to a changing climate? How are other cities making sure they are resilient in the face of extreme weather events? At the 4th annual Midwest Regional Sustainability Summit, 350 attendees explored how local municipalities, businesses and peer regions are adapting to climate change and other environmental challenges.
Participants discussed how to work towards shared goals by advancing regional agendas like Cincinnati USA Regional Chamber's The Connected Region, the City of Cincinnati's Green Cincinnati Plan and Green Umbrella's 2020 Goals. Nine breakout sessions dove into topics such as extreme weather preparedness, green jobs, reducing food waste, local food systems, and sustainable business practices.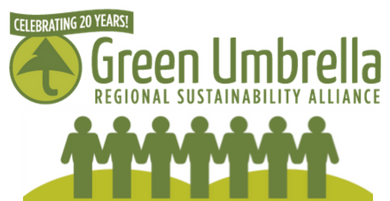 To underscore the theme of resilience, the keynote speaker was Katharine Hayhoe, director of the Climate Science Center at Texas Tech University. Hayhoe's current focus is on modeling regional to local impacts of climate change, and how we can fix this together using many of the solutions already in our backyards.
She shared best practices on communicating around complicated and polarizing issues like climate change.
"Climate change is not simply an environmental issue. Climate change is a threat multiplier," said Hayhoe.
"It's an economics issue, a jobs issue, a health issue. The reality is that it's a human issue. And the last time I checked, we're all humans."
Chief Resilience Officers from Pittsburgh and Louisville joined Dr. Hayhoe for a plenary panel to discuss how the cities and businesses in our region can best adapt to climate change. These cities are part of the Rockefeller Foundation's 100 Resilient Cities program, which helps urban municipalities prepare for a variety of shocks and stresses.
One breakout session, "A Sustainability District in Downtown Cincinnati," announced the launch of a 2030 District, which will set targets for reduced environmental impacts from downtown buildings in energy, transportation and water. The team debuted a trailer for a documentary that is chronicling the collaborative process to develop the Cincinnati 2030 District.
"The Summit is about bringing the region's sustainability advocates together to share best practices, celebrate accomplishments and identify areas for future collaboration," says Ryan Mooney-Bullock, Executive Director of Green Umbrella.
The event also featured a lunchtime awards ceremony honoring leaders in regional sustainability. Winners were:
• 2018 Largest Solar Power Installation: Duke Energy Kentucky
• 2018 Top Transit-Friendly Destination: Nielsen
• 2018 Local Food Purchasing Hero – Education: Dayton Independent School District
• 2018 Local Food Purchasing Hero – Business: Spectra at the Duke Energy Convention Center
• 2018 Sustainability Advocate of the Year: Carla Walker – think BIG strategies, llc
The Midwest Regional Sustainability Summit was presented by Green Umbrella in partnership with the City of Cincinnati and The Brueggeman Center for Dialogue at Xavier University.