Dear Editor:
On average, the American people are under the impression that the United States gives approximately 20 percent of its available funds to Foreign Aid. In reality, it is closer to one percent. In order for there to be change, we as citizens need to increase public pressure on our politicians.
I am a Project Ambassador with the Borgen Project. This organization uses advocacy, mobilization, education, and awareness campaigns to reach people all over the United States in the hopes of encouraging citizens to reach out to their local politicians to make their opinions heard about ending poverty around the world.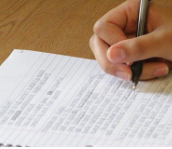 Though there has been success in lowering global poverty, there is still much work to do. The real success cannot occur until we have completely eradicated poverty, not just made it better for a few. It is important to not overcomplicate a simple mission: to improve living conditions for people living in poverty.
Beyond the humanitarian initiative, there is evidence that increasing the amount we spend on Foreign Aid can improve our economic, diplomatic, and national security endeavors. Think of funding for poverty as an investment for future consumers. More consumers of American goods will grow our economy exponentially and allow more growth for their own economy.
Research also shows that impoverished and underdeveloped nations are an easy target for terrorists to spread their doctrine. With proper funding for Foreign Aid, we can provide more access to education and a defense for diplomats against terrorist rule.
I urge readers to take 30 seconds out of their day to reach out to their local leaders and let them know they support funding for The Foreign Affairs Budget. Finally, I call on Senator Mitch McConnell and Senator Rand Paul to co-sponsor the International Affairs Budget which seeks to improve the conditions of people living in poverty and empower them with the opportunity for education as well as improved safety. Visit The Borgen Project action center to make your opinion heard.
Kelli Ryan
11085 Paddock Dr.
Walton