Agriculture Commissioner Ryan Quarles has declared Aug. 5 through 11 "Kentucky Farmers' Markets Week" and invites Kentuckians to celebrate all month long by visiting their local farmers' market and posting photos to Instagram for a prize.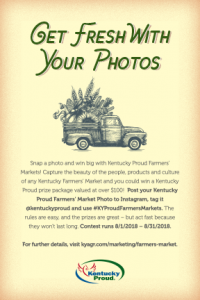 "Kentucky's farmers' markets give consumers the opportunity to buy farm-fresh products directly from local producers. I am proud to declare Farmers' Markets Week," Commissioner Quarles said. "During the month of August, we will carry out an interactive promotional campaign to encourage Kentuckians to visit their local farmers' market. We invite Kentuckians to snap photos of colorful, delicious Kentucky Proud items while supporting their local farm economy. Join us in celebrating the bounty of Kentucky's hard-working producers."
In order to be eligible for the contest, entrants must post a qualifying picture on Instagram with the hashtag #KYProudFarmersMarkets and tag their photos with the Kentucky Proud profile @kentuckyproud. Posts and profiles must be public in order to be eligible for prize consideration. All posts must be submitted by 11:59 p.m. EDT Aug. 31, 2018.
Winners will be chosen at random and awarded Kentucky Proud gift baskets with items valued at more than $100. The baskets are sponsored by contributing farm-impact Kentucky Proud members.
Kentucky has more than 165 farmers' markets, with WIC and Senior Farmers' Market Nutrition Programs available in nearly 90 counties.
For more information, including contest rules, click here.
To find a farmers' market near you, visit kyproud.com.
Kentucky Department of Agriculture