Jim (Jimmy) Gilliece, former owner of Chez Nora restaurant in Mainstrasse, died on Saturday at his home. He passed away in his sleep.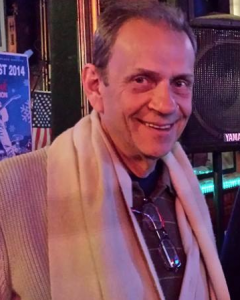 The popular Gilliece also performed as a comedian. He studied drama at Thomas More College, went to Covington Latin School and lived in Ludlow.
He celebrated his 61st birthday on June 10. He was born in 1957.
After closing Chez Nora four years ago, Gilliece was guest service agent and concierge at Marriott RiverCenter.
His ex-wife Patricia Kloeker Gilliece posted on Facebook that Gilliece had been diagnosed with stage 4 lung cancer in June.

Mass of Christian burial will be at Mother of God Church at 12:05 p.m. on Saturday, Aug. 18. 
Visitation will be for one hour before mass.
Additional information from the funeral home (added August 14):
Aubrey James 'Jimmy' Gilliece, 61, of Ludlow, passed away on August 11, 2018 at his home in Ludlow, KY. Jimmy was the owner of Chez Nora's Restaurant in Main Strasse, Covington, Ky with Pati Gilliece. He was the Past President of the N. KY. Restaurant Association, the Past President Main Strasse Village Association, and a former Stand Up Comedian. He was preceded in death by his mother, Rose Marie Gilliece, his father, James Joseph Gilliece, and his half-brother, Larry Gilliece. Jimmy is survived by his stepbrothers, John Perez, Luis Perez, and Peter Perez. Visitation will be from 10:00 A.M. to 12:00 P.M. Saturday, August 18, 2018, at Mother of God Church in Covington. Mass of Christian Burial will follow at 12:05 pm Saturday, August 18, 2018, at Mother of God Church. Burial will take place in the St. Mary's Cemetery Ft. Mitchell, KY. Dobbling, Muehlenkamp-Erschell serving the family. Memorials are suggested to the Charity of one's choice.