By Mark Hansel
NKyTribune managing editor
New Riff Distilling hosted what it billed as the "World's Biggest Bourbon Toast" on the Newport Southgate Bridge Tuesday evening.
More than 500 participants from Kentucky and Ohio filled the Purple People Bridge in an event that featured a preview of New Riff Bourbon, which officially launches today.
New Riff describes the finished product as a bourbon that embraces the ultimate quality standard: "Bottled in Bond Without Chill Filtration," and celebrates the American whiskey heritage shared by Kentucky and Ohio.
The goal of the event, which is expected to take place annually, was to set a Guinness World Record.
Ken Lewis, Founder of New Riff Distilling, delivered the toast. He was joined by Newport Mayor Jerry Peluso, Northern Kentucky Chamber of Commerce President Brent Cooper and local elected officials, dignitaries and a host of bourbon aficionados.
Jack Moreland, president of Southbank Partners, who emceed the event, described Lewis as an entrepreneur and someone who knows the answers to questions before they are asked.
"He's been in my office several times (to) talk about projects and when he does so, I'll say, 'Well what about the financing? Well I already had the financing before I came to you.' That's the kind of person that he is and that's the type of entrepreneurship that developed New Riff Distillery."
Lewis called the event a very proud moment for Northern Kentucky.
"I also want to acknowledge the fact, very much so, that we are part of Greater Cincinnati," Lewis said. "That's the point of being here on the bridge, we are one community working together to increase tourism and increase the well-being of our respective communities."
Cooper said he was extremely proud to be standing next to Lewis at the event.
"Other parts of the state have bourbon, for sure, but what they don't have is this," Cooper said. "They don't have lines of folks slapping high fives, celebrating New Riff Bourbon as they are coming in. This is an exciting time in the region; the hotel demand right now in Northern Kentucky is four times the national average…and Ken Lewis and New Riff has been a big part of that."
Eric Summe, president of meetNKY, the Northern Kentucky Convention and Visitors Bureau, extended a welcome to the guests and praised Lewis and his team for their perseverance.
"I know it's been years in the making, but they've done a lot of hard work," Summe said.
Newport Mayor Jerry Peluso welcomed everyone to the city he loves.
"Because of New Riff, I think I love it even more," Peluso said. "Kentucky Bourbon is big business in Kentucky and New Riff is going to be a major player on the Bourbon Trail. We're going to have a lot of people from up north…travel down I-75, and I-71 to New Riff, because it's going to be their first 'shot' at Kentucky's Bourbon Trail."
Campbell County Judge-executive Steve Pendery delivered what may have been the best lines of the day, when talking about the four years it took to bring New Riff Bourbon to market.
"Think of the anticipation, the torture, the difficulty that would be involved if children gestated as long as bourbon before they are born," Pendery said. "Bourbon has more complexities in its gestation than our children."
He then got serious, but only for a moment.
"We are all about economic development and in the last 25 years, there have been more net new jobs produced in Northern Kentucky than anyplace else in the state," he said. "I want to offer my congratulations and the congratulations of all Campbell Countians. Thank you so much for investing in Campbell County and thank everyone so much for being here.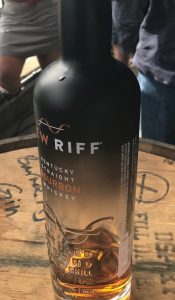 "New Riff Bourbon, as a product, is now the place where economic development and sublime good mental health come together," he continued. "I'm looking forward very much to getting better adjusted not only tonight, but in the future, with the addition to my diet of New Riff Bourbon."
The highlight of the event (aside from Pendery's quips) was Lewis's toast:
"This toast is to honor the 150-year-old Cincinnati bourbon tradition that New Riff now builds upon. We further raise our glasses standing on this bridge, spanning Kentucky and Ohio to our common effort to embrace bourbon tourism for our entire region. To Northern Kentucky, to Cincinnati, to bourbon!"
Lewis acknowledged that developing a product that takes four years to get to the market is probably not the best business plan.
"It's a stupid business model, a terrible business model," he said. "If I just wanted to make money, I was the owner of the Party Source, I never would have sold it to my employees.  This is about passion and about building a brand, and a legacy for the next generation."
As with the bourbon itself, Lewis said the four year wait for the finished product just makes its arrival that much sweeter.
In addition to its location across from the Party Source in Newport, New Riff is also developing its Distilling Whiskey Campus,  a $7.5 million project on the city's west side
"We're at the beginning of the journey," Lewis said. "This will get older, we have hundreds and thousands of more barrels to come out and we have other interesting iterations to come out."
New Riff bourbon goes on sale at noon today in the distillery gift shop in Newport.
For more information about New Riff Bourbon, click here.
Contact Mark Hansel at mark.hansel@nkytrib.com