Sixty-seven local veterans and their guardians will take an Honor Flight from Cincinnati/Northern Kentucky International Airport (CVG) today.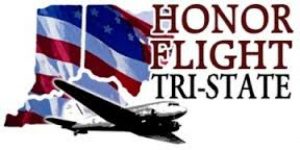 The group, 85 percent of which are also veterans who work at Nucor Steel in Ghent, are destined for Washington D.C. to see memorials and participate in ceremonies that honor their service to their country.
A 5:45 a.m. send-off ceremony is scheduled, with a 7:30 a.m. flight departure.
Honor Flight Tri-State's sole mission is to fly veterans 65+, who served stateside or overseas, to their memorials in Washington, D.C. at no cost.
"Our goal is to honor as many veterans as we can," said Cheryl Popp, director of Honor Flight Tri-State. "If you want to meet and thank the veterans — please come to the airport at 5:45 a.m. or be among the hundreds of locals welcoming them home at 8:15 p.m. the same night."
The trip will include visits to the World War II Memorial, Korean War Memorial, Vietnam War Memorial, Iwo Jima, Tomb of the Unknown Soldier, the US Air Force Memorial and other Washington D.C. sights.
The flight will depart CVG at 7:30 a.m. It will be preceded by bag pipes from the Hamilton County Sheriff's Department, a TSA color guard ceremony and other special remarks in the area near the east end of the security checkpoint, all beginning about 5:45 a.m.
"These events are always so touching and unique to witness," said Candace McGraw, chief executive officer, CVG. "We feel privileged to assist with such a special program honoring the veterans in our region."
The return flight to CVG will arrive at 8:15 p.m. Members of the public are invited to attend the welcome celebration at the welcome point in the main terminal.
This is the fifth of six Honor Flight Tri-States of the year. The final flight takes place October 23.
To contribute or volunteer for Honor Flight Tri-State, click here. honorflighttristate.org