By Tom Latek
Kentucky Today
A proposal for an outer loop around Northern Kentucky, which was first floated in the 1990s, is being revived.
The Kentucky Transportation Cabinet has launched a new website to gather public comment regarding new transportation options for those who travel throughout Northern Kentucky.
The Northern Kentucky Outer Loop Study will examine potential alternatives for new transportation connections in the southern portions of Boone, Kenton, and Campbell counties, as well as the northern portions of Gallatin, Owen, Grant, Pendleton and Bracken counties, specifically potential east-west alternatives that connect I-71 and the AA Highway (KY 9).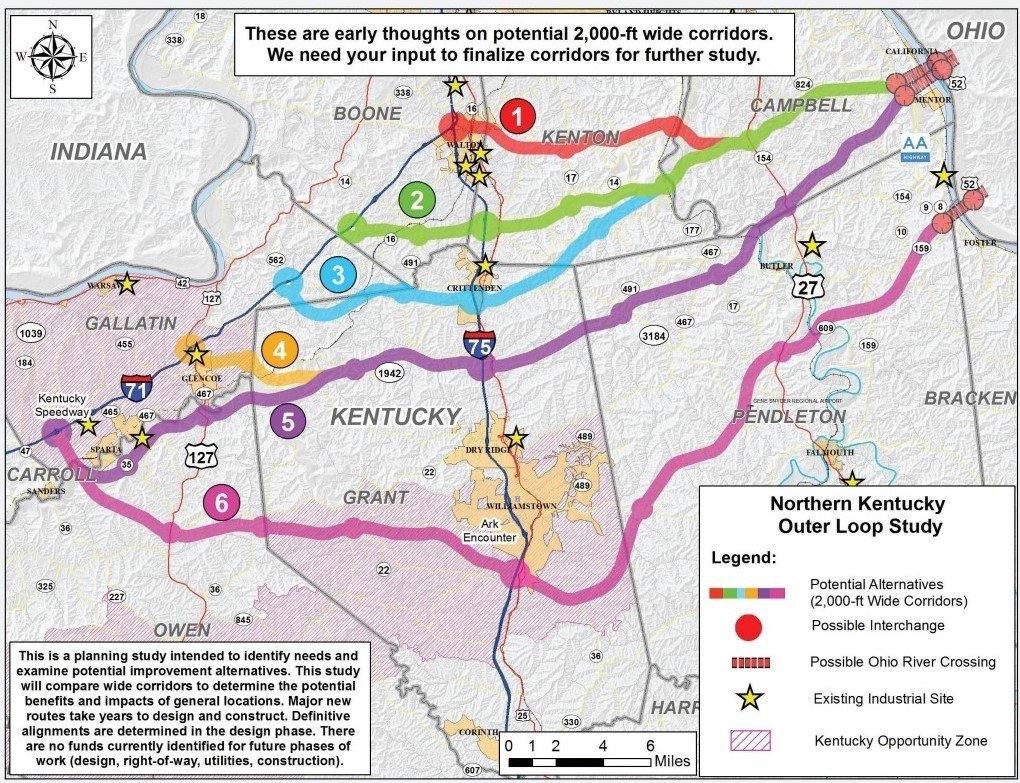 "The public will play a critical role in the KYTC study process by reviewing our early information on potential roadway concepts and providing us with feedback," said Bob Yeager, Chief District Engineer for KYTC, District 6, which covers northern Kentucky.
"Our team is currently studying potential improvements that would create additional transportation options and stimulate economic development within our region, but we need the public to weigh in as we move throughout our study process."
There are six potential corridors as shown on the accompanying map.
Alternative 1 is the shortest and would stretch approximately 20.5 miles, from the existing I-71/75 interchange in Boone County to the AA Highway near milepost 2.6 in Campbell County.
The longest is Alternative 6, which would run 48.4 miles, from I-71 near the Kentucky Speedway in Gallatin County, through Owen, Grant and Pendleton counties, to the AA Highway, near the Pendleton-Bracken County line.
A new road project typically advances through the following phases: planning, preliminary engineering and environmental evaluation, design, right of way and utility coordination, and finally construction.

The Northern Kentucky Outer Loop Study is part of the planning phase.
The study's scope will include:
— Forecast traffic volumes of potential roadway alternatives
— Evaluate the impact of potential roadway alternatives on surrounding routes
— Define socioeconomic impacts and benefits
— Develop initial right of way, utility relocation and construction cost estimates
— Perform a financial study and review funding options
— Identify environmental features and impacts
— Receive public input.
The Transportation Cabinet says there is a good reason for the study.
"Northern Kentucky is one of the fastest growing regions in the state. Significant commercial and residential development is occurring in Boone, Kenton and Campbell counties. The region has excellent interstate access through I-71, I-75, I-275 and I-471. Major north-south routes such as US 27, US 127 and the AA Highway (KY 9) are also present.
"Missing, though, is adequate east-west access south of I-275. This hampers future economic growth outside of the three northernmost counties. Access from the AA Highway to I-71 and I-75 is essential to this growth," officials said.
According to the website Kurumi.com, there was an even more ambitious proposal, including Kentucky, Indiana and Ohio, more than two decades ago. It was even given a proposed designation of I-875.
"A proposed $1.6 billion, 225-mile outer beltway around Cincinnati, concentric with I-275. The proposed route would pass through Brown County, Ohio, crossing into Kentucky via the new Maysville-Aberdeen bridge, along KY-9 near Brooksville, then intersecting the cities of Falmouth in Pendleton County, Williamstown in Grant County, Owenton in Owen County, through Carroll County and into Gallatin County. The road would connect with the Markland Dam near Warsaw before crossing into Indiana," states the website. "There has not been much buzz about this route since 1997, however."
The current Northern Kentucky Outer Loop Study does not include segments in Indiana and Ohio.
To find out more about the new study and to provide input, go to https://nkyouterloopstudy.org/.
Send comments and questios to info@NKYOuterLoopStudy.org