Northern Kentucky University students continue to dominate the Collegiate Cyber Defense Competition, winning for the second straight year. NKU's Cyber Defense team came in first place in the state Cyber Defense competition held on Feb. 2.
It was more than just a victory in Kentucky; NKU outscored all teams competing from Ohio, Indiana, Wisconsin and Missouri as well.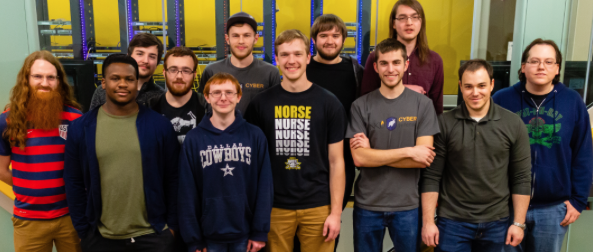 Collegiate Cyber Defense Competitions (CCDC) stage multiple challenges that students must navigate. As cyber defense teams work to create and secure their systems, professional "hackers" are given the goal to breach the systems and take them offline. CCDC judges send out business tasks and upgrade challenges. Teams are scored on their performance juggling all of these factors.
 
NKU's Cyber Defense Team is made up of students from the College of Informatics Computer Science Department. Dr. Yi Hu, professor of Computer Science, started NKU's team in 2009. The team competed online in the JRG Cyber Threat Intelligence Lab, the region's premier cybersecurity learning space.
 
"Each week, our students are immersed and prepared in the cyber threat lab, so they understand the situations that are presented to them," said Dr. Hu. "I'm very proud of this team, but now we prepare for regionals."
 
NKU's Cyber Defense team will represent Kentucky in Chicago as part of the Midwest regional competition. For more on NKU's team, visit their website.