The following is the first in a series of articles on the importance of education in Northern Kentucky. The series is produced by the Advancing the Big Picture Coalition of the Northern Kentucky Education Council. Education is vital to the success of our region, our residents and our workforce. Each article will focus on a particular aspect of education, will provide data and information from the community and its leaders and will end with a call to action.
One of the best investments we can make for our future is to invest in our children. "Quality early learning and development programs for children can foster valuable skills, strengthen our workforce, grow our economy and reduce social spending," states James J. Heckman, a Professor of Economics at the University of Chicago, and an expert in economics and human development.
Did you know?
Only 50% of students in Northern Kentucky are ready for kindergarten. (Source: KY Department of Education)
Currently, Kentucky only provides funding for public preschool for 3 and 4-year-old children with disabilities or those that meet specific income requirements.
Kentucky only provides funding for half-day kindergarten, 3 hours of class time, leaving districts to cover the second half of the day on their own.
High-quality birth-to-five programs for disadvantaged children can deliver a 13% return on investment. (Source: The Lifecycle Benefits of an Influential Early Childhood Program, James J. Heckman)
For children to reach their highest potential we need all children to have access to public preschool and full-day kindergarten. "Providing state funding for full-day kindergarten and full-day public preschool would promote Kentucky as a forward-thinking state that puts children first," said Dr. Henry Webb, Superintendent, Kenton County School District. "This would also be the beginning of closing the achievement gap."
What's Happening in Northern Kentucky?
Erlanger Independent Schools has practically tripled their enrollment in high-quality preschool by collaborating with local childcare providers and HeadStart to deliver an all-day program for 4-year-olds.
Jay Brewer, Superintendent of Dayton Independent Schools reports a 15% increase in kindergarten readiness numbers due to their focus on recruitment to early childhood centers. 
"We believe the 15% increase is a major contributor to our growth because we see a very clear correlation between readiness and our students who attended a quality early childhood setting. Based on our most recent data, kindergartners who attended a quality early childhood setting were almost three times more likely to be ready for kindergarten than not."
Kenton County School District just adopted full-day kindergarten. Why? The full-day kindergarten students in their pilot program scored higher in reading and math than the half day students.
Northern Kentucky school districts have stepped up. Nearly all of 18 school districts offer full-day kindergarten. However, they must cover costs for the second half of the day on their own.
"High-quality early childhood programs are more than just an investment in the future of our community and children, it is critical to empowering parents to join the workforce today," said Brent Cooper, President or the Northern Kentucky Chamber of Commerce. "They need full day wrap around child development services they can count on."
Early Childhood Education has the potential to reduce educational gaps and therefore educational attainment and income, which impacts health status. According to Dr. Lynne Saddler, District Director of Health for the Northern Kentucky Health Department, "Enhancing opportunities for early childhood education especially in areas of vulnerable populations provides a targeted approach to break the cycle of poverty and improve lifelong health."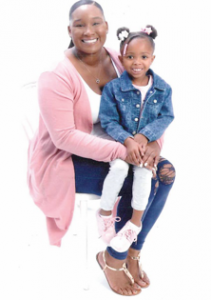 Testimonials
"My daughter has been attending a high-quality child development center for 3 ½ years," said Sequoya, a Northern Kentucky parent. "Over that time, she has flourished in fine motor skills, cognitive learning, and social and emotional development. The center has provided a structured learning environment that embraces diversity, individuality and self-sufficiency"
"My youngest started at the Child Development Center at about 18 months old and continued through preschool," said Rose, mother of three daughters. She was able to gain early start to kindergarten and she is thriving in first grade and began fully prepared. She learned so much about herself and gained social skills and emotional insight. It's a warm, loving environment that has been so supportive and positive for our family. I'm so grateful for the convenient hours, the support on snow days and school holidays, and that there's plenty of space indoors and outside for the children to play and learn."
Call to Action – How You Can Help
There's a growing recognition of the value of investing in quality early childhood programs. It's time to act on the evidence. The sooner we do, the more likely we will be to put our region on the road to greater prosperity that is shared by all.
* Parents- Raising children is both rewarding, and really challenging. Information found on MyPreK.com is designed to connect you to lots of great resources in your community. You will find ideas that can help prepare your son or daughter for school. You will also find information provided by your local school district—your partner in preparing your child for future success! To find out more, check this website.
* Business- Supporting family-friendly policies and benefits is a proven strategy to attract talent, increase retention, and reduce absenteeism. Visit the US Chamber Foundation Business Engagement toolkit for practices you can put into action!
* Community Residents and Leaders- Communities who work together in supportive and innovative ways can change the outcomes for children and families. Ready to step forward and make an impact? Visit National League of Cities for ideas you can put into action!
We can increase access to and improve the quality of early childhood education in Kentucky. Contact your local legislators to ensure our state and federal budgets include the dollars to make it happen!
Our thanks to the Northern Kentucky Education Council, Dr. Henry Webb, Tess Brown, Tammy Weidinger, Amanda Greenwell, Polly Lusk-Page and Dave Schroeder for helping with this series.