Special to NKyTribune
Many students in Northern Kentucky school districts experience poverty.
Additionally, many are facing homelessness.
When you consider college and career readiness rates as low as 35% in some districts, most students will likely never get out of poverty.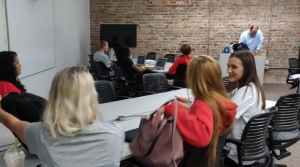 Leaders with the six school districts in the River Cities — Bellevue, Dayton, Covington, Erlanger/Elsmere, Ludlow, and Newport — are working deliberately and directly with businesses, NaviGo/Children Inc., Gateway Community and Technical College and the Life Learning Center to create the training hubs and network to address these problems students face.
The River Cities Training Hub Network will engage schools and businesses to prepare students for their career choices.
Through the network, industry-specific training hubs are being established and will be housed at the Gateway Urban Metro Campus. NaviGo In-School Coaching and Summer Melt programs are available to all six districts through this initiative.
The goal of this initiative is to prepare students in the River Cities – Bellevue, Covington, Dayton, Ludlow, Newport, and Erlanger – for a viable career beyond high school.


This is being accomplished by leveraging strong partnerships with Gateway Community & Technical College (GCTC) to offer students from the River Cities Schools dual credit opportunities. These dual-enrolled students will complete credits towards a work-ready certificate/degree or general education credits which count toward a college credential and their high school requirements.
The River Cities Training Hub Network and Gateway partnership value dual credit/enrollment because
 Courses provide highly relevant and academically sound courses for high school students, especially in areas of high-skill, high-wage, and high-demand programs.
 These programs add value to the high-school experience by enhancing the college and career readiness of secondary students.
 These programs increase student matriculation from secondary school to college.
 These programs reduce the time and cost to attain a postsecondary credential.
 These programs increase completion rates and decrease remediation rates for secondary and postsecondary students.
On Monday, August 19, dual-enrolled students from the River Cities high schools arrived at both the Covington and Edgewood Gateway campuses to start college life.
On the two campuses, Computer & Information Technology (CIT), Supply Chain Management (SCM) and Gen-Ed students arrived to start their studies. Between both campuses, there will be 52 students completing SCM, 9 completing CIT, and over 70 completing general education courses of study.
NaviGo, Gateway, Life Learning Center and the River Cities schools/families including business partners have worked diligently over the last number of months to make this network happen during the 2019-2020 school year.
This strong, collaborative partnership will continue to grow and strengthen to ensure that the goals of the training hubs are realized, meeting the needs of students, families, communities and local business, and laying the foundation for many families becoming self-sufficient.