Part 2: More ways to plan your BLINK experience
BLINK's inaugural four-night event in October 2017 spanned 20 blocks and was experienced by more than one million visitors, the largest gathering of people ever in downtown Cincinnati and Over-the-Rhine.
This year expect bigger and better as BLINK expands into Covington, thanks to a grant from Corporex. It will span 30 city blocks from downtown Covington, crossing the river at the Suspension Bridge, through downtown Cincinnati and into Over-the-Rhine and the Findlay Market neighborhood.
It will take place October 10-13.
ENHANCE YOUR EXPERIENCE. VIP TICKET PACKAGES
See BLINK in a whole new way. Get exclusive BLINK merchandise, drink tickets, unique access to the BLINK hospitality areas and Future City Light Spectacular Parade, and much more. Visit shop.BLINKcincinnati.com to order your BLINK VIP Ticket Package.
 

GEAR UP. OFFICIAL BLINK ®MERCHANDISE
Make sure to get your BLINK® t-shirts, sweatshirts, caps, bags, stickers and more. Order now at shop.BLINKcincinnati.com.

BE A LIGHT. COMMUNITY CELEBRATION KITS
A limited number of Community Celebration Kits are now available at www.BLINKcincinnati.com.  Retailers, businesses, and BLINK champions are invited to become an official partner and community light. Community Celebration Kits support the region's largest-scale free community event while helping visitors find their way through BLINK and its surrounding neighborhoods.
NEW FOR 2019. DAYTIME PROGRAMMING

Enjoy the Cincinnati region before the sun sets. Learn more about BLINK, explore Architects of Air, enjoy local attractions or take in the regional art scene. Learn more at www.BLINKdaytimeguide.com. 

GUIDED TOURS BY ARTSWAVE
Artswave is offering guided walking tours, October 10-13 – on a first come first serve basis. Five tours will focus on blink's projection mappings and art installations. A sixth will feature the new murals being created for BLINK. For times, prices and availability, please visit www.artswave.org/tours. Proceeds will benefit more than 100 organizations and arts projects, like blink, and others that help drive overall economic vibrancy of the region.
BLINK FUTURE CITY SPECTACULAR PARADE, PRESENTED BY SKYLINE CHILI
The BLINK Future City Spectacular Parade will kick-off the BLINK art, light and culture event, Oct.10, 7:30 p.m. The Parade will move south on Vine Street in Downtown Cincinnati, from Eighth Street to Rosa Parks and Freedom Way at The Banks. The 2019 Parade grand marshal will be Jean-Robert de Cavel, world-renowned chef and humanitarian. 3,200 individuals and 85 groups are scheduled to participate.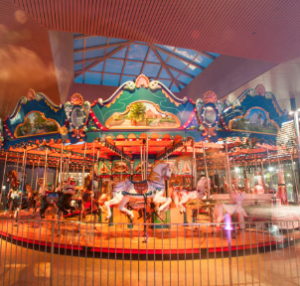 BLINK ART & LIGHT INSTALLATIONS

BLINK will feature 39 projection mappings, 45 interactive installation locations and 16 new murals. A total of 100 installations will be featured at BLINK. Featured installations include:
 
· High Voltage – With generous support from Corporex, Cincinnati-based Xylene will paint a new mural on the north side of Covington's TANK garage and Brave Berlin will bring it to life for BLINK through projection mapping. Xylene and Brave Berlin previously partnered for Huetopia at BLINK in 2017.
· Lightbattle -Sponsored by UC Health and Red Bike, Lightbattle is a unique interactive bicycle fueled installation that allows BLINK attendees to take a seat on a bicycle and unleash the epic challenge for red and blue. While pedaling they expand their own arch of light and attempt to out cycle their opponents. The winner will be doused with a dazzling waterfall of light.
· Rainbow Bridge – Rainbow Bridge is 27 feet high and 15,000 pounds of steel painted with iconic colors and emblazoned with over 25,000 individually addressable LED lights. That is nearly one mile of total LEDs. It is sponsored by the generosity of Procter & Gamble as well as individual donors from the Jewish Federation of Cincinnati and the Jewish Community Relations Council.
· re:FRACTION – re:Fraction, the first ever architectural surface mapping projection of its kind, will illuminate Cincinnati's Fountain Square and take visitors on a light filled journey. Presented by Fifth Third Bank and created by Brave Berlin, Fraction will transform all of Fountain Square into a massive object of immersive art via light, color, animation and sound.
· Rumble, a contemporary bridge that sings – In addition to lighting the John A. Roebling Suspension Bridge, BLINK will provide a soundtrack to the iconic structure by making music from samplings of the sounds on and near the bridge. Attendees can enjoy it by watching the full show, walking the bridge or taking transit across the bridge. A collaboration of Brave Berlin, MASARY Studios, Vincent Lighting and Brave Berlin, Rumble is a "contemporary voice for the bridge that sings."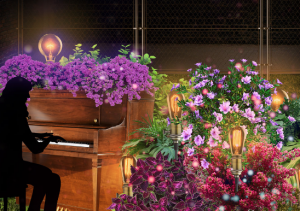 BLINK will feature entertainment, all four days, throughout the event. The line-up includes a free Saturday night concert by national recording artist Grouplove, presented in partnership with the Kroger Wellness Your Way Festival and Corporex.

Other featured acts include Redfoo, Pomegranates, Dudley Taft, Ernie Johnson from Detroit, The Cincinnati Opera, Willie Jones, Sun Seeker, Bendigo Fletcher, Young Heirlooms, Telehope, Rob Fetters, Harbour, Jess Lamb, JSPH, Carriers, Maria Carrelli, All Seeing Eyes, Lauren Eylise, Multimagic, Elementz, Dinosoul, Cincinnati Music Accelerator Buskers and many more.

For the full schedule, visit www.BLINKcincinnati.com.
 
BLINK 2019 by the numbers
·       October 10-13
·       4 nights
·       7-11 p.m. each night
·       5 zones
·       30 city blocks, 2 states, 1 river
·       100 installations will be featured at BLINK
o   The BLINK installations will be created by 90 artists or artist groups
o   Artists represent 12 nations and 15 U.S. states
o   50 artists/artist groups are from the Cincinnati and Northern Kentucky region
o   39 projection mappings will be created (nearly double the amount of 2017), curated by Brave Berlin
50% of projection mapping installations are either led by or exclusively produced by female artists
o   45 interactive installation locations will be created curated by ArtWorks
42% of the interactive installation locations are either led by or produced by female artists
o   16 new murals will be created, curated by The AGAR
The new murals join the 9 created for BLINK in 2017
39% of the mural projects are either led by or produced by female artists
o   3,200 individuals will participate in the BLINK Future City Spectacular Parade
o   85 groups will participate in the Parade
o   55 groups are brand-new to the Parade
o   7 marching bands from around the region will participate in the Parade