By Maridith Yahl
NKyTribune reporter
A quirky, self-described nerd, who likes to have fun is one way to describe Gary Bertsch of Gary Bertsch and the Blamers. This dynamic group, all Northern Kentuckians, release their new album, The Bear, this Saturday, October 12. It's as fun, upbeat and light-hearted as he is and the release show will surely be the same.
This self-taught drummer — yes self-taught — had a fascination with drums. So if you don't know how to do something, you teach yourself.
Right?
When asked how, Gary tells one of many entertaining stories. "The Black Crows are my favorite band of all time. I would sit on the edge of my bed at my parents' house and I would put on my favorite Black Crows song and just play in the air. I would get drumsticks, I knew the movements from watching other drummers, and I knew where the high hat would be and the snare drum, and I just keep at it in the air," Gary says.
It's just that easy.
As a teacher for over 20 years, Gary inserts a lesson for his students.
"I tell my students all the time — and my sons — if you're passionate about something you're going to figure out how to do. Just keep at it. So I did."
In 2010 Gary wanted to begin writing his songs. So he picked up a guitar, taught himself some chords, which gave him the tools he needed to write songs. Then came Blame Bertsch.

"It was the Blame Bertsch Band; it was a joke with my students. I was kind of funny with my students where I would be sarcastic and joke, I would say, 'don't take responsibility for your grades, just Blame Bertsch, just Blame Bertsch.' It kind of had a nice ring to it so I just named the band that too," — along with his fourth album. 
The Bear is a fresh start for Gary.
"It's been a true labor of love that's taken every bit of three years just to get it together. I'm really excited about it," he said.
Writing and playing his music is a dream.
"There's nothing more rewarding than playing your own songs. For a while, when I was younger, I was just really nervous about playing my own music, now that I'm a little bit older, it's what I want to do."
The teacher in him cannot stop. "I tell my students if you're artistic, if you're into music, art, drawing, sculpture, put it out there. Don't be afraid. A lot of them feel like they're not good enough. Embrace and love it. I wish I would have had that 20 years ago."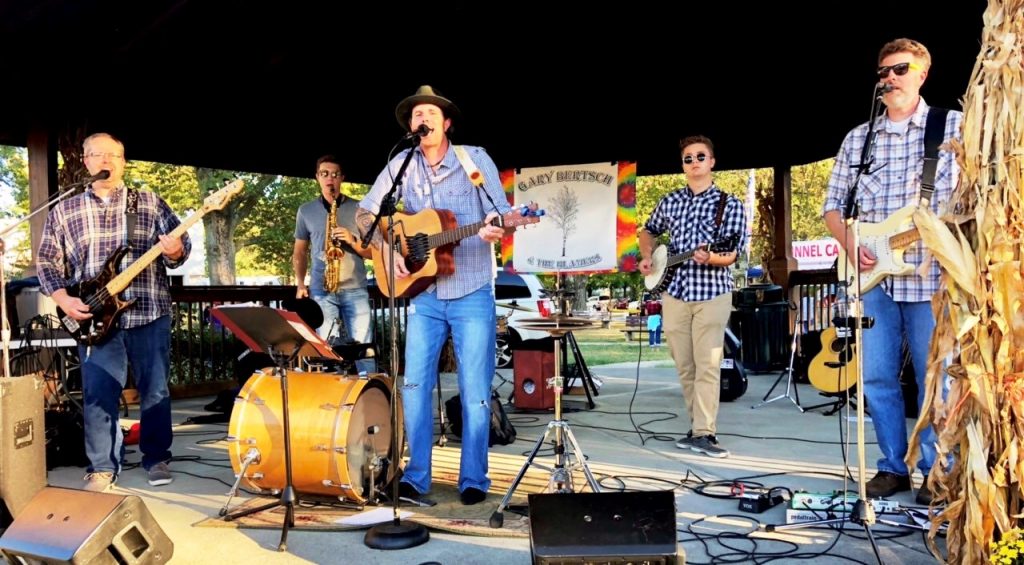 About the music, he says, "It's just a cool vibe and I just wanted to do something different." Gary has developed a unique blend of what he calls Folk Rock and Roll and Americana. It's easy to hear both influences in the sweetly blended styles. The different styles beautifully together create something special for this special man, teacher, father, husband, and musician.
1970s influencers like Ray LaMontagne, Amos Lee, and Little Feat helped shape who he is as a musician today and on this album. 
His beginning years he was all rock. Think Beatles and Black Crows. Then, Gary admits that as years went on, his musical tastes changed. Plus, "As I grow older I don't want to be screaming into the microphone all the time," Gary shares, always turning everything to fun.
The Bear, as his students found out, is not about a grizzly bear, but a metaphor. The theme thread through the album is redemption. "When you screw up or you fall on hard times are you going to do something about it, or are you just going to sit back, or are you going to redeem yourself, make amends." The songs, The Bear, The Mend, and Rubble and Mortar are about these things, destruction and rebuilding.
The album has serious redemption songs but also light-hearted tunes. Gary describes Sugar as a "fun to dance to, be-bopping song." As his quirks come out, he admits he is a huge fan of pioneer Simon Kenton. After reading a book about him he wrote the song Mountain Air.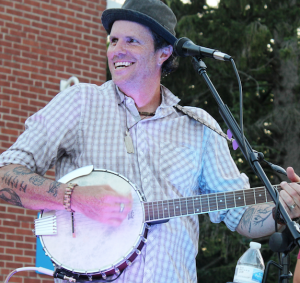 As an admitted nerd, every time he goes over the Licking River Gary tells his family that Simon Kenton was on that river. He chuckles as he shares that his family loves to hear it, so they can make fun of him.
His buddy Dan Walsh has been a huge influence on Gary's music. "He's just been my right-hand man for 20 years. He's a phenomenal guitar player, he has pushed me to get better," in a moment of all seriousness, Gary says.
The only thing making this new collaboration and album better is having his oldest son playing the saxophone by his side.
"It's really rewarding, looking over and seeing him on stage with me," the proud papa beams.
Join Gary Bertsch and The Blamers for his new album release on Saturday, October 12 at the York Street Café in Newport at 8 p.m. Enjoy the music and laughter sure to come with Gary at the mic.