NKyTribune staff
The Northern Kentucky Tribune Newsmaker Awards celebrated the people who bring the region its news and some of those who make it. 
The sixth annual event, at Receptions event center in Erlanger Wednesday, brought together many of the region's influential stakeholders to recognize this year's recipients.
This year's NewsMakers included:
Rich Boehne, retired CEO of the E.W. Scripps Company, who devotes a lot of time and support to Northern Kentucky University, his alma mater, and to plenty of community-good organizations, like the Horizon Community Foundation. He is a generous philanthropist who supports an array of nonprofit service organizations in NKY.
Karen Finan, who as head of the Regional Alliance, is engaging the community in conversations about what it wants to be and how it can get there as a united regional voice. She leads a passionate leadership group committed to strategic change through action and a healthy community, a growth-oriented regional economy, educational excellence and a united view of the future.
Dr. Doug Flora, a caring, patient-centered physician, and an oncologist who is heading the new Cancer Center at St. Elizabeth Hospital. He aims to beat cancer and is laser-focused on making the $130m facility underway now on the Edgewood campus a world-class cancer treatment center.
David Spaulding provides the energetic leadership for Turner Construction which is building some of the most significant and transformational projects in NKY, including NKU's Health Innovation Center and College for Informatics, the St. Elizabeth Cancer Care Center — and adds value to each one of them. He gives his time and talent to a number of nonprofit groups that enhance the quality-of-life in NKY.
Rhonda Whitaker is the face of Duke Energy in NKY — and much more. She is past chair of the Northern Kentucky Chamber where she distinguished herself as a leader and a doer. She has been instrumental in the development of workforce initiatives, like Grow NKY, to grow, attract and retain a globally competitive workforce.
The Northern Kentucky Tribune also celebrated its successes, which include exponential growth of its online product and the distribution of its first-ever print edition.
The Northern Kentucky Tribune print edition was delivered to 160,246 mailboxes, or every residential address in Boone, Campbell and Kenton counties, free of charge. 
Northern Kentuckians let the Tribune know that many of them still like to read news in print and we listened. The goal for next year is for six print editions, or one every other month, to be delivered to our readers.
The Tribune can achieve this goal with continued support from its sponsors and contributions from readers.
This year's NewsMaker event was bittersweet as the Tribune bid farewell to co-founder Michael Farrell.
Farrell, a journalist and educator, died after a long illness in August.
A Covington native who still lived in the Latonia neighborhood where he grew up, Farrell had a distinguished career in journalism, having served as a reporter, city editor and managing editor of The Kentucky Post for nearly 20 years.
The Tribune will miss the man whose inspiration helped bring comprehensive daily news back to Northern Kentucky, but will continue every day to dedicate its efforts to the principles of fair, honest, ethical journalism he espoused.
The Michael Farrell Memorial Scholarship Fund has been established at the Horizon Community Funds of Northern Kentucky. Support for educational expenses or internships will go to journalism/communication students in the three NKY counties, Boone, Kenton and Campbell counties, who are attending Northern Kentucky University or the University of Kentucky.
The NewsMaker event also included a nonprofit showcase, which allowed some of the organizations working to benefit our region to provide information about the good work they are doing.
The Northern Kentucky Tribune Newsmaker Awards and Nonprofit Showcase at Receptions in Erlanger

Posted by Mark Hansel on Wednesday, October 30, 2019
The Northern Kentucky Tribune Newsmaker Awards and Nonprofit Showcase at Receptions in Erlanger. The day in pictures.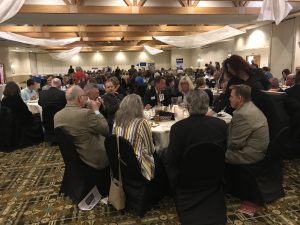 The nonprofit showcase included:
*Brighton Center
*Redwood
*Behringer-Crawford Museum
*Society of St. Vincent de Paul Northern Kentucky
*Children, Inc.
*Northern Kentucky Community Action Commission
*Horizon Community fund
The event was emceed by Terry Foster, a critical care nurse, who is head of the St. Elizabeth Healthcare Emergency Departments and an ambassador for the St. Elizabeth Foundation.
The Northern Kentucky Tribune is a nonprofit publication that truly belongs to the community. It's business model includes a four-legged funding plan: sponsorships and advertising from the business community, foundation grants, individuals, and the annual NewsMakers celebration.