Three projects currently underway or just completed in the cities of Covington, Newport, and Dayton are bringing a complete Riverfront Commons project several steps closer to reality.
Riverfront Commons is the signature project of Southbank Partners, an economic development agency that is working with its partner cities – Bellevue, Covington, Dayton, Fort Thomas, Newport, and Silver Grove — to construct an 11.5-mile walking, running, and biking trail along the Ohio River through these cities. 
Covington's "crown jewel" project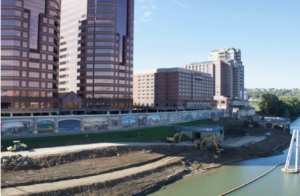 In Covington, construction is currently underway on the riverbank between the foot of Madison Avenue and Greenup Street on what city officials are calling the "crown jewel" of the 2.7-mile section of the trail in that city.
This $6.54-million project, which is expected to be completed in October 2020, includes a 1,350-seat amphitheater where crowds can watch musicians and performances with the Cincinnati skyline as a backdrop, a cobblestone "pier" jutting into the river that will serve as a kayak and canoe launch and fishing spot, and two new concrete paths running along both the water's edge and the floodwall murals and connecting with other sections of Riverfront Commons.
Prus Construction has been doing prep work at the site since Sept. 3, primarily demolition and grading work. Work over the first two months consisted of clearing the bank of debris, concrete, fill, riprap, and the vestiges of former projects like stanchions, fences, garbage cans, etc. 
Prus recently installed a "sheet pile" along the river's edge, essentially a below-ground retaining wall, and riprap across the bottom edge of the site, which will serve to reinforce the shoreline and stabilize the hillside. The prep work will continue through the end of the year, at which time Prus will work with Duke to put utilities underground at the foot of Greenup.
Covington Mayor Joe Meyer said he was thrilled to see the transformation of the riverfront beginning to take shape after many years of delay and debate.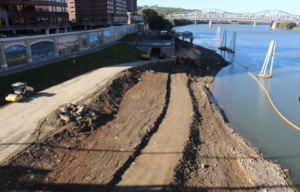 "Covington is a 'river city' that really hasn't been connected to its river in a meaningful way for a long time," Meyer said. "This project will reintroduce us to what essentially was our roots. For too long, we've enjoyed the river only by looking at it from afar. When Riverfront Commons is finished, we'll be able to walk it, bike it, listen to music while its waves lap at the shore, and immerse ourselves in it."
"When you consider that a major part of what makes Covington so attractive to prospective businesses, workers, and visitors is its walkability and 'vibe,' a major investment to make our riverfront more inviting is absolutely an economic development project."
Southbank Partners President Jack Moreland said the new amphitheater and other amenities on Covington's riverfront will draw both local residents and tourists to the area for concerts and festivals. "It's a prime addition to the Covington riverfront and important connector to not just Riverfront Commons but downtown Covington, too," Moreland said.
Construction of the structural base for the amphitheater, the hardscape paths, and other components of this project will begin next year, said Prus Construction project manager Jared McFaddin.
"We'll be proceeding with work all winter as long as the river doesn't chase us away," McFaddin said. "It usually starts rising now, and we'll be maneuvering around that."
He said Prus is on pace to meet the Oct. 1, 2020, deadline called for in its contract with the city. "We're moving right along; we're ahead of schedule at the moment," he said.
Pedestrian walkways to Taylor-Southgate Bridge in Newport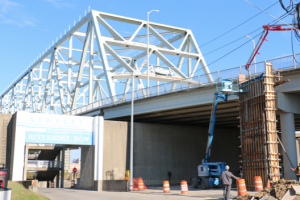 In Newport, construction is currently underway on two pedestrian walkways that will connect Riverfront Commons to the sidewalks on east and west side of the Taylor-Southgate Bridge. Sunesis Construction is currently working on the $1.2-million project. 
The Riverfront Commons trail section in Newport was one of first full sections of the trail to be completed. The Newport trail runs from on top of the riverfront levee from the Fourth Street bridge to Bellevue and it connects with the Purple People Bridge via pedestrian walkways.
However, people on the trail who want to use the Taylor-Southgate Bridge, a popular route for Reds games and other event and activities in Cincinnati and Newport, must now descend the trail by steps to the roadway below, cross the street, then ascend an additional set of steps up to the bridge level.
"The new pedestrian walkways will make it much more convenient for walkers, runners, and bikers to access the Taylor-Southgate Bridge," Newport City Manager Tom Fromme said.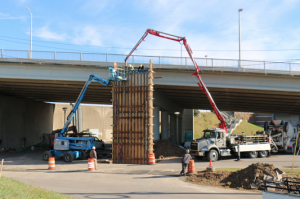 "These new walkways, along with existing pedestrian connections at the Purple People Bridge, will make our community even more walkable than it already is."
Newport Mayor Jerry Peluso said the project is important for not only Newport but also for people who live and work in Cincinnati.
"These new walkways, which people have been requesting for a long time, will not only benefit our residents and visitors, but they also will make it even easier for people in Cincinnati to visit our community and enjoy the entertainment, recreation, music, delicious food, and beautiful panoramic views found here," Peluso said.
Phase I of Dayton Riverfront Commons project now complete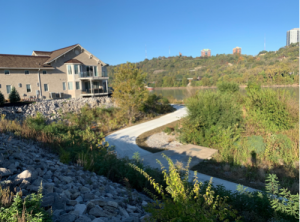 In Dayton, the city is in the process of constructing a new section of the Riverfront Commons trail running along the river's edge, which will complement an existing trail section that has run on top of riverfront levee in Dayton for many years. 
This summer, Phase I of the river's edge trail – a one-half mile section between the Ohio River and the new homes on Manhattan Blvd. — was constructed east from Dayton's western boundary with Bellevue near the Queen City Riverboat to an area on the river behind these homes. This phase of the construction cost $560,000, Dayton City Administrator Michael Giffen said.
"The Riverfront Commons project is so important for the future growth of Dayton," Giffen said. "This pedestrian network will be an asset to our community for generations, allowing residents and visitors to take in the beautiful scenery and navigate into our thriving business district and historic neighborhoods safely."
Phase II and III of Riverfront Commons in Dayton will add another one mile to the trail along the river. When finished, this river's-edge trail will stretch one-and-one-half miles long, creating a three-mile loop when combined with the one-and-one-half mile upper trail, he said.
Phase II is currently in the design phase and bids for construction are expected to go out early next year, with construction expected to start and end by the end of the year, Giffen said. The final Phase III is scheduled to start in 2022.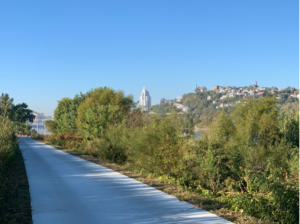 Currently, two apartment developments are being developed along the trail. Tapestry Apartments, a $30-million development with 267 units when completed, is expected to start leasing in December 2019. The $18-million Gateway Apartments project, which will have 76 units, will start leasing early next year. 
In addition to these apartment developments, three other new housing developments are expected to break ground at Manhattan Harbour next year:
Waterfront. This project will have 98 for-sale units when finished, with an estimated total value of $41.5 million.
The Lookout. This project will have 72 for-sale units when finished, with an estimated total value of $25 million.
Boulevard Flats. This project will have 70 for-sale units when finished, with an estimated total value of $25 million.

Moreland said the Riverfront Commons project in Dayton is helping to transform that city.
"When these final two phases are finished, 95 percent of Riverfront Commons will be completed in the City of Dayton and this trail system will provide a great addition to the homes and apartments that are being constructed or will soon be constructed in the Manhattan Harbour development," he said. "When this project is finished, people will be able to travel on a three-mile circular trail without having to leave the city."
Southbank Partners, Inc. is a community and economic development organization that coordinates activity within the seven river cities in Northern Kentucky – Bellevue, Covington, Dayton, Fort Thomas, Ludlow, Newport, and Silver Grove. The organization promotes and coordinates development activities in these cities, fosters teamwork and collaboration, and provides a unified voice in advocating for common positions to state and federal governments and other communities and organizations.
Southbank Partners