Staff report
Alice Steven Sparks died Thursday night at Christ Hospital after nearly two months in the ICU suffering from COVID. She was on a ventilator until being moved to Hospice for the last several days. She was 86.
Sparks was the widow of D. Joseph Sparks, who owned the Hebron-based highway construction firm The Harper Company. Her two children, John and Sally, and two grandchildren survive her. She lived in Fort Mitchell.
She led a full and productive life, not easily summed up. She was a friend to everyone, supported causes too vast name in full, was a generous philanthropist, loved horses and racing, politics — and education. She was known for her laughter and wit and friendships and love of a good time.
"Northern Kentucky has lost a grand lady," said her friend Kathy Groob. "She will always be remembered for her generosity and the impact she made on education, nonprofits, and in politics. I will remember the fun times we had together and pray for her family whom she loved so much. She was deeply loved."
Over the years, she showed a commitment to impacting education issues at both the state and national levels, serving as legislative chair of the Kentucky PTA, as well as advocating tirelessly for the Kentucky Education Reform Act. She's been recognized by a number of educational groups for her work improving education, from kindergarten to university, in statewide education reform efforts. She served on the board of the Govern's Scholars program and on the boards for the University of Kentucky, Thomas More College and Northern Kentucky University where she was elected chair in 1994.
She was the first woman to chair a public university in the Commonwealth.
She was a true trailblazer. Her dedication to public service and philanthropy can be traced back decades to when, at a young age, she worked as an intern to Kentucky's first lady Mildred Chandler during her husband Albert "Happy" Chandler's second term as 49th governor of Kentucky (1955-59).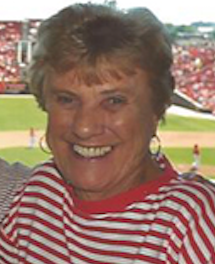 Sparks served on the executive board of NKU's Go Norse Fund Board, supporting NKU Athletics, and was a regular sponsor of athletics events. The Alice Sparks Ticket Office in BB&T Arena was named in honor of this support of NKU Athletics and the home of NKU basketball. In addition to Athletics, Sparks has also funded a wide variety of scholarships providing support for NKU students, including the D. Joseph Sparks Memorial Endowed Scholarship for student leaders, scholarships for student-athletes, support for graduate students in the College of Education and Human Services, and the Distinguished Scholarship for academically talented students. She has also supported the Chase Tort Room Fund for NKU's law students and the Judge Judy M. West Scholarship within Chase College of Law.
She received an Honorary Doctorate in Education from NKU in 2018.
Sparks' accolades include the Devou Cup from the Northern Kentucky Fund of Greater Cincinnati Foundation, being one of the 100 Women of Distinction on the 100th anniversary of the Girl Scouts, honors and recognitions from WKET and WCET, Hospice of the Bluegrass and the Northern Kentucky Chamber of Commerce, and the Lincoln Award from NKU.
She once offered this bit of advice to women: "Decide on your passion, pursue it and do your best with every detail. You will be recognized. Remember: the cream always rises to the top."
Funeral arrangements will be announced.