Paul Hornung called me early in 2004 to ask if I would be interested in doing a book with him. As somebody who had followed him since his days at Louisville Flaget High (now defunct) and written much about his iconic career with Notre Dame and the Green Bay Packers of Vince Lombardi, I quickly agreed and we set up a meeting to go over the details.
I found out later that Paul had received an advance from Simon & Schuster for nearly $350,000 to do the book. Their only caveats were that he pay a ghostwriter out of the advance, and that he tell everything, including the titillating stuff about his gambling, drinking. and womanizing.
He immediately signed up the nationally known Dick Schaap for a third of the advance. He had gotten to know Dick from his work with Packer teammate Jerry Kramer on a book named "instant Replay," which sold well enough to be made into a movie. Dick had accompanied Paul on some of his adventures with Kramer and other Packers.
Billy Reed is a member of the U.S. Basketball Writers Hall of Fame, the Kentucky Journalism Hall of Fame, the Kentucky Athletic Hall of Fame and the Transylvania University Hall of Fame. He has been named Kentucky Sports Writer of the Year eight times and has won the Eclipse Award three times. Reed has written about a multitude of sports events for over four decades and is perhaps one of the most knowledgeable writers on the Kentucky Derby. His book "Last of a BReed" is available on Amazon.
However, before Paul and Schaap could get to work, Schaap went into a hospital for hip surgery and died suddenly on the operating table. Shocked, Paul put the book project on hold. In his preface to "Golden Boy," the book we did together, he wrote about how he got me involved:
"I met with various talented writers who wanted to do the book with me, but they either didn't know me well enough or I didn't feel comfortable with them. Just when I was about to give up, I remembered there was a good writer who lived in my neighborhood, less than 100 yards from my home.
"Billy Reed remembers getting autographs from me and my friend, Sherrill Sipes, when we were playing basketball for Flaget High in Louisville in the winter of 1951-'52. He spent 29 years writing for Sports Illustrated under the byline William F. Reed. He also campaigned hard for my induction in the Pro Football Hall of Fame when he was sports editor of The Louisville Courier-Journal in the early 1980s, and he testified on my behalf in 1985 when I sued the NCAA for keeping me off college football telecasts.
"Besides that, Billy knew Dick Schaap very well. He once was a guest on Dick's TV show, and he had talked with Dick about Dick's latest book only a few months before Dick died. When I contacted Billy, he said it would be an honor to fill in for Dick, whom he admired greatly, and a pleasure to work with me because of our long-standing friendship.
"Writing this book with Billy has been the only real job I've ever had. I mean, EVER. I provided the words and the stories, and Billy polished them for me. We pored through the scrapbooks that my mom had kept all these years (thanks, mom) and we went over the record books to make sure we had all the names and dates right. Of course, if you find a mistake, it's Billy's fault. Let me know and I'll make him run up and down the hill between my house and his.
"It was a labor of love…I know that Billy joins me in dedicating this book to Dick Schaap, our friend and the all-time No. 1 fan and friend of Lombardi's Green Bay Packers."
As you might imagine, all this and more came flooding back to me when I heard on Thursday that Paul had died at the age of 84. We hadn't seen each other in recent years because of his creeping dementia and I'll always be sad about that. I always wanted to tell him that I wasn't about to run up and down hills because he had paid me $25,000, or far less than he was going to pay Dick. But that was OK. Like any gambler, Paul always had to have the edge and I understood that.
I enjoyed being a part of Paul's "entourage" from time to time. Anytime he walked into a room, he immediately owned it. He kept his Hollywood good looks and wavy hair, blond turned to gray, well into his 60s. As I watched the people surge up to him, I often got the feeling that all the women wanted to be with him and all the men wanted to be like him. There aren't too many like that.
The obits all were full of Paul's statistics with Notre Dame and Green Bay, so I'll pay that scant attention here. To this day, he remains the only player to win the iconic Heisman Trophy while playing for a losing team (Notre Dame was 2-8 in his senior year), and he still holds the NFL record for points in a season (176 in 1960).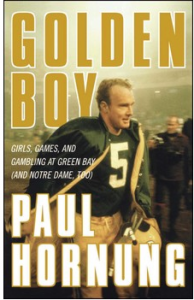 He was arguably most versatile player ever. At Notre Dame, he played both offense and defense, and with both Notre Dame and the Packers, he scored points by running, passing, catching passes, and kicking field goal. The kind of competitor Lombardi loved, Paul was especially tough inside what is now known as the "Red Zone" by somehow finding a way to score.
Lombardi loved Paul and his most notorious running mate, reserve tight end Max McGee, but they also vexed him enormously because, off the field, they completely disregarded everything Lombardi preached about discipline and duty to the team. Paul claimed they played some of their best games with hangovers.
His lifestyle caught up with Paul after the 1962 season, when NFL commissioner Pete Rozelle learned that he and Alex Karras of the Detroit Lions had been betting on their teams to win. He suspended them both for the 1963 season, when both were in their prime. Paul was never quite the same after he returned in 1964 and he retired in 1967 after never leaving the sidelines in Green Bay's win in Super Bowl I. His body battered by too many hard tackles and too many hard nights, he retired rather than accept a trade to the New Orleans Saints (Hornung a Saint? Never!)
Returning to Louisville, he went into business with good friend Frank Metts, which Hornung always said was the smartest thing he ever did, because Metts got him involved in various businesses that he made him far more money than he had ever made playing football. That left him time to work as a TV and radio commentator. He also made commercials, including one for Miller Lite that was especially memorable.
The commercial opened a voice saying, "Why is Paul Hornung successful with women?" Then the camera switches to Hornung opening the back door of a limousine, out of which comes a log female leg leading up to a short skirt. The camera then flashes back to a smiling Hornung, who said, "Practice, practice, practice."
As Paul wrote, I did campaign for his induction into the Pro Football Hall of Fame, which endeared me to his mom. When he finally made it in 1986, he invited me to join his entourage for the induction ceremony in Canton, Ohio.
Paul finally began to settle down after his marriage to Angela in 1979. She was drop-dead gorgeous and she knew how to work Paul. After they were married, he rarely made a decision of any kind without consulting her. He was very proud when she became one of the top female amateur golfers in Louisville.
While we were working on the book, Paul made a serious gaffe. He told a national TV audience that Notre Dame would never again be competitive for a national championship until it lowered its admissions requirement so it could get "some of those fast blacks" that its opponents had.
Immediately the media world blew up. When I got wind of it, I called Paul and told him he immediately had to go to every local network affiliate to apologize. I picked him up and we did it. However, the folks at Notre Dame were so angry it was too late. They kicked Paul off their radio team for football and launched a massive campaign to denounce everything Paul had said.
When the book came out, we got into more hot water with Notre Dame. Honoring his commitment to Simon & Schuster, Paul revealed that he got a girl pregnant before his senior year. He sent her off to get it "taken care of," implying an abortion. Fortunately, that fire didn't burn nearly as long as the first one.
I think it was 2006 when Notre Dame put a Heisman winner on the cover of its game programs. Every game had a different portrait on the cover and story inside (I wrote the stories for them). When it was Paul's turn, the school invited him back, which meant a lot to Paul.
He rented a motor home and invited five couples to go up and back with him and Angela. It was on the way home that I came up with the idea of a Paul Hornung Award, to be given annually to the nation's most versatile player. I ran the idea past Sherrill Sipes, his friend and teammate from Flaget High, and he loved it. But when I took it to Paul, he said, "Aw, right, that's all college football needs – another f______ award."
I slunk back to my seat and told Sherrill what Paul had said. We both thought he was wrong, but figured the idea was dead in the water. But Paul changed his mind because a couple of years later, much to my surprise, the Louisville Sports Commission announced it was starting a Paul Hornung Award. It was exactly the idea I had mentioned to Paul coming home from Notre Dame.
I enjoyed Paul's friendship enormously. I did a second book with him entitled "Lombardi and Me." Both sold well and I like to think my work is every bit as good as what Schaap would have done.
We never talked much about our mortality. So now about all I can say is "Rest in peace, my friend." He didn't lead a perfect life, but I'll always believe there was far more good in him than a lot of people ever realized.