By Judy Clabes
NKyTribune editor
Imagine this – a most perfect collaboration across multiple districts in Campbell County that pays off in the most amazing ways.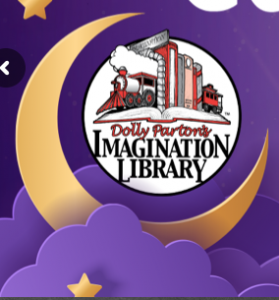 It makes for a great story if it were put into a book, but the best part is, it's real – a fairy tale come to life, as a collaborative of five school districts and the Campbell County Public Library sends 2800 new books every month to schoolchildren in the county.
JC Morgan, director of the Campbell County Public Library, got interested in Dolly Parton's Imagination Library program when Kim Fender asked him about starting the program in 2018. Fender is retired director of the Public Library of Cincinnati-Hamilton County and a school board member.
As Dolly would say the seed was sown — and JC set about to make it work.
Superstar Dolly Parton launched her Imagination Library in 1995 because "seeds of dreams are found in books" and she wanted to foster a love of reading.
And, she has. Her program gives away new, free age-appropriate books to children from birth to 5. She gave away 150 million books in 2020 — one book to a child every two seconds.
The books are free, but the delivery to a child's home requires postage — and that's what JC Morgan needed to find help with. That, and help to get kids signed up — kids who would benefit from building their own libraries with their very own books.
That's how the collaboration came about, as Campbell County Schools' Supt. David Rust, Bellevue's Supt. Robb Smith, Ft. Thomas Schools' Karen Cheser, Newport's Tony Watts, and Dayton's Jay Brewer needed little persuasion. They understood that putting books into the hands of a child from birth through 5 was a great recipe for kindergarten readiness — and life success.
"When we started the program," Morgan says, "Jay Brewer commented that we had an opportunity to be part of something that will have impact far beyond our own lives."
Becoming a literate person, Brewer says, "is having books at the ready."
His enthusiasm has not waned.
"This kind of collaboration doesn't happen often enough," Brewer says, "but the spirit of collaboration is amazing and we are all determined to make it work for our kids and families."
Under the program — really, imagine this! — means children in Campbell County who are signed up for the program get one new book a month from the time they go home from the hospital nursery for five years. That's 60 books by kindergarten.

The library takes care of the administrative operations and creates the public relations materials. The schools contribute a share of the expense of shipping the books based on the number of registered children in their service areas.
The collaborative launched the program in September 2019 — and started their first month with 1,737 registrations, an indication of the need in the region.
Today, 2800 kids are getting books every month, although 5,500 kids are eligible — and every year a new group needs to be registered so it's back to ground zero for the youngest readers.
"The need is demonstrated in the county's ready-for-kindergarten statistics," Morgan said. "Too many children take those first steps into school without having the underlying skills they need. Kids need to be exposed to reading and have their caregivers take an active interest in helping them understand the value of learning."
Yes, indeed — and can you imagine the thrill of a new book in your mailbox? Every month? For five years?
"It makes me happy," Morgan said.
Absolutely!
"The books children get each month are carefully selected to develop their skills," he said. "And most of the books also have a short list of tips for caregivers to work with their children and get them ready for learning."
The program has grown beyond expectations — but the possibilities are unlimited, and everyone wants the program to keep growing.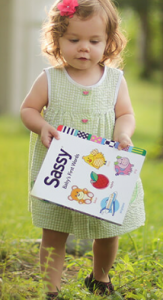 "Our partnership with the Dolly Parton Imagination and the library will give the children of our community an incredible head start on literacy and learning that will benefit them for the rest of their lives," said Supt. Robb Smith of Bellevue.
Fort Thomas' Karen Chester agrees: "This is a great example of what powerful actions can happen when all of our districts and cities — and the library — collaborate to make a dream come true for our students. This is not only a gift to our communities, but an investment in the future."
Registration is very easy. Click this link to learn more about the program and get your child registered. You can also register at any of the library branches. It's free.
If you want to sponsor books for a child, don't just imagine how wonderful that would be — make a donation for $25 to cover the mailing costs for one child for a year (or more if you can). Donate here.