By Steve Flairty
NKyTribune columnist
Always looking for stories with Kentucky connections, I recently perused Barry Horstman's 1999 book, published by the Cincinnati Post, called 100 Who Made a Difference: Greater Cincinnatians Who Made a Mark on the 20th Century.
A few things about the makeup of the book were made clear by Horstman in his introduction. First, that those included were subjectively chosen and were not ranked in any sort of manner for their "mark" made. Also, some were portrayed as somewhat negative in their influence. There were at least seven with definite northern Kentucky connections, having lived or worked in that part of the state.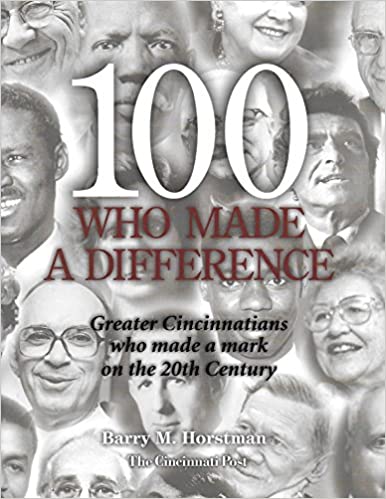 That said, I picked out Horstman's Kentucky ones profiled and will share here.
A.D Albright "guided NKU through a critical period," noted the book. He became president of the Highland Heights school in 1976, at the time Northern Kentucky State College gained university status. By the time he moved on in 1983, Albright had boosted morale in administration-faculty relations; improved the undergraduate program; enhanced studies in law, education, and nursing; promoted research and other services for the community; and experimented with innovative programs.
A man who advocated strongly for racial harmony and social justice in the Covington area was Rev. Anthony Deye (1912-1998), a longtime teacher and pastor. He has been referred to as "the conscience of the Covington diocese." He helped, among many other initiatives, establish Erlanger's long-running Camp Marydale program, which he insisted be integrated and allow for the financially challenged.
Northern Kentucky produced a renowned artist in Covington's Frank Duveneck (1848-1919), who studied in Munich in his early twenties. Interestingly, he had a profitable sign-painting business as a child and was an altar boy at Covington's Mother of God Church. His paintings gained international recognition, and the Cincinnati Art Museum has Duveneck's largest collection of oils, etchings, watercolors, drawings, and sculptures.
And who was Brent Spence more than a name attached to a bridge spanning the Ohio River connecting Kentucky and Ohio? Plenty, in fact.
Spence was, as Horstman eloquently stated, a "state legislator-lawyer-congressman-Northern Kentucky legend… son of a Confederate colonel… born in Campbell County, on Christmas Eve, nine years after Abraham Lincoln's death." He was a local officeholder and served in the Kentucky Senate, then was elected to Congress from the 5th District, for which he served from 1931 to 1963. His close ties to FDR are credited with bringing what is now known as the Cincinnati/Northern Kentucky International Airport to Boone County. Spence was also instrumental in securing federal funds for the IRS building in Covington. Much more could be mentioned but for time and space limitations.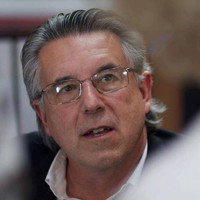 Steve Flairty is a teacher, public speaker and an author of seven books: a biography of Kentucky Afield host Tim Farmer and six in the Kentucky's Everyday Heroes series, including a kids' version. Steve's "Kentucky's Everyday Heroes #5," was released in 2019. Steve is a senior correspondent for Kentucky Monthly, a weekly NKyTribune columnist and a former member of the Kentucky Humanities Council Speakers Bureau. Contact him at sflairty2001@yahoo.com or visit his Facebook page, "Kentucky in Common: Word Sketches in Tribute." (Steve's photo by Connie McDonald)
Horstman pointed out that columnist Ellen Goodman's comment suggesting that Americans might have to reconcile themselves to regarding Larry Flynt as "the curse of the First Amendment, the asterisk on the Constitution" because, well, it means that others are allowed to say or print much of what we detest.
Larry Flynt grew up poor in the mountains of Kentucky in Magoffin County. After getting out of the US Navy, he bought his mother's bar in Dayton, Ohio, then several more in the ensuing years. He opened a go-go club named the Hustler Club. Successful with Hustler, he opened five others across Ohio. Then, Flynt published Hustler magazine and sales hit the roof.
Two people in Cincinnati fought against the obscenity Flynt featured in the magazine. Charles Keating and his Citizens for Decent Literature, along with Hamilton County prosecutor Simon Leis, wanted to see Flynt stopped. A five-week trial resulted in the jury finding Flynt guilty of pandering in obscenity and engaging in organized crime, but his conviction was eventually overturned by higher court rulings. Much more information about Flynt will go unsaid here, but his mark—many might say his negative mark—was left on Greater Cincinnati and beyond by this native Kentuckian.
Who would have ever thought that an adventurous boy growing up in Covington, Kentucky, would become the Boy Scouts of America's first high commissioner after working with two others to incorporate the great organization? That boy was Daniel Beard, and he also was a prolific author of outdoors books and wrote a popular column for Boy's Life magazine. Beard's contributions to the youth of the country are eternal.
George Ratterman is called the "man who cleaned up Newport," according to Horstman. Since the 1940s, Newport was infested with illegal gambling, enough that attracted the Cleveland syndicate and the New York mob. In 1961, concerned citizens, spearheaded by the local Committee of 500, secured the former college and professional football star to run for Campbell County sheriff. Ratterman won the race and during his four-year term, saw most of the corrupt gambling disappear, despite an effort to frame him for being with a prostitute, a charge thrown out. Also ironically, he lost elections for the Campbell County judge-executive office and to Congress and later moved to Denver.
It will be interesting in the future to see which Kentucky individuals from Greater Cincinnati will be noted for their marks in the 21st century.