People Working Cooperatively (PWC) has been awarded a $5,000 grant from the First Financial Foundation to be used for home repair and modifications for homeowners in need throughout the region.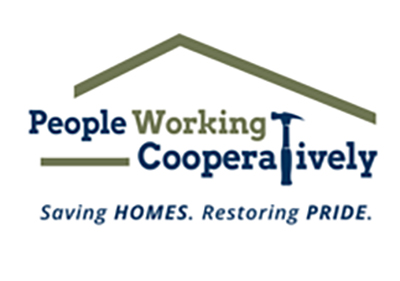 "We are incredibly grateful for the support of organizations like First Financial Foundation that believe in our mission," said Chris Owens, Vice President of Development for PWC. "Every dollar is used to help keep local residents safe and healthy in their homes, where they truly want to stay."
The First Financial Foundation was created in 2017 to support programs and organizations that enhance and develop the communities in which the bank does business, with a focus on low-income communities. The Foundation supports organizations focused on community and neighborhood development, including ones that support services to help individuals maintain their homes.
This grant will allow PWC and its professional team of technicians to continue its mission of performing critical home repairs and modifications for low-income, elderly and disabled homeowners. PWC is often the only resource for these underserved community members, and the organization is committed to providing its professional expertise and services to help these local residents remain in their homes.
To learn more about People Working Cooperatively and who is eligible for services, visit pwchomerepairs.org or call 513-351-7921.
People Working Cooperatively