By Jill Morenz
The Catalytic Fund
Covington's newest apartment community is the John R. Green Lofts in MainStrasse Village.
On this week's episode of Beyond the Curb: River City Living, viewers will peek inside two of the apartments and see more of the vibrant neighborhood.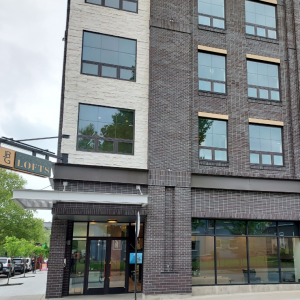 According to Valerie Bender, the tenant featured in the episode, the best parts of living at JRG are the amenities, one of which is the location. "There's always something new and fun to do" in MainStrasse, she said. "I never get in my car," she added, because everything she needs is just a short walk away.
Living in an apartment can be challenging if you love the outdoors, but that's not a problem at JRG.
The large roof deck has incredible views, as well as hammocks, sofas, grills and fire pits. Bender also enjoys walking a block to Goebel Park, where she can take a stroll, have a picnic or just sit and read under the trees.
JRG offers 20 different floorplans. The episode explores a two-bedroom/two-bath unit and a one-bedroom/one-bath. Both have the premium finishes found throughout the development.
The street level of the building houses three locally-owned businesses, including Handzy which carries women's clothing, paper goods designed by the owners and other lifestyle items, Gumdrop, a cute "shop for tots," and Neighborhood Barre, which provides judgment-free workout classes.
The residents at the John R. Green Lofts are enjoying, and adding to, the vibrancy of the MainStrasse Village neighborhood.
This is the last regular episode of Beyond the Curb: River City Living's third season. Viewers can watch all 43 episodes at www.BeyondtheCurb.org/video-tours.
The Catalytic Fund is the private sector, not-for-profit organization that provides financing assistance and related services for developers of quality residential and commercial real estate projects in Northern Kentucky's urban cities of Ludlow, Covington, Newport, Bellevue and Dayton. Its mission is to accelerate Northern Kentucky's urban renaissance through targeted investments in catalytic real estate development projects in urban neighborhoods.