Almost 44,000 people registered. More than one million sessions averaging 44 minutes each.
Since its inception in fall 2020, the free Covington Connect public Wi-Fi network has proven a godsend to families and students in Covington who have used it to access everything from schoolwork to job training to health providers. Visitors have also used it to access information about the city.
Wanting to sustain and expand the network to keep it available long-term for even more families and visitors, the City is searching for a corporate partner who will sponsor the network in exchange for naming rights, advertising opportunities on the network's landing page and elsewhere, e-mail marketing, and valuable metadata detailing foot traffic and more.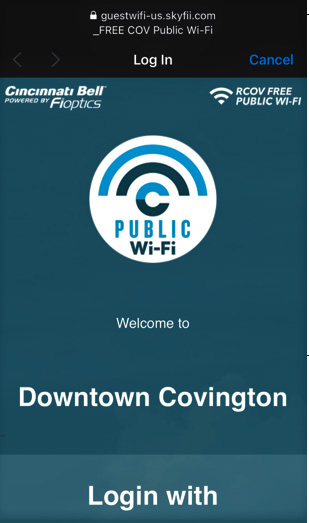 "This is a great opportunity for a local or regional company to partner with the City to help us sustain this valuable and internationally recognized service for our residents and visitors to our business districts, and we feel like the partnership will be just as valuable to our partner as to us," said Essam Elgusain, the City's IT Manager/System Analyst. "Again, there are 44,000 people registered to use it."
Companies who would like detailed information about the opportunities should email sponsors@covingtonky.gov.
The City recently engaged Poncho Digital Solutions – a company that helps organizations monetize their online presence – to help it find a partner(s). Two officials from the company gave a preliminary presentation to the Covington Board of Commissioners on their plans and expectations at the board's June 28 meeting. (Elgusain's update about Covington Connect, followed by Poncho Digital's presentation, can be seen starting at the 14:59 mark.)
The free public Wi-Fi network was unveiled to help students with pandemic-forced remote learning and to help smash the digital divide in the City. Partners in the initiative included altafiber (formerly Cincinnati Bell), the Housing Authority of Covington, Covington Independent Public Schools, local computer firms Blair Technology Group and ReGadget, and Houston-based non-profit Comp-U-Dopt.
The project included running new fiber to public housing complexes and setting up 124 Wi-Fi "hotspots" or wireless access points, that created zones of connectivity.
Elgusain told the Commission that people can access the network from only about 30 percent of Covington's geographic area. That coverage could increase to about 50 percent under an expansion opportunity, he said.
Earlier this year, the network was named one of the 50 most transformative "smart" projects in the world.
Poncho Digital co-founder Nick Zaggy said the company was looking for businesses and organizations of all shapes and sizes. While the highest priority was finding an overarching, long-term sponsor, Poncho would also be creating opportunities as small as a restaurant or bar that wanted to advertise food and drink specials for a month at a time.
"Across the network, there are many different ways we can be creative to monetize the network other than just overall sponsorship," he said. "We can help smaller companies get in front of consumers who might not be able to do so otherwise."
"We are open to discussing your organization's specific needs, so by all means reach out," Zaggy said.
Elgusain agreed.
"This will help further unlock the potential of this service," he said. "We think the partnership will be able to do great things for Covington, so we're going to be as flexible as possible about everything from the 'look' of the partnership to its starting date."
City of Covington