In response to a plea for emergency assistance from the Whitesburg Police Department in Letcher County, ravaged by the recent flooding in Eastern Kentucky, members of the Fort Wright City Council unanimously voted to donate a surplus Fort Wright Police Cruiser to the agency.
The Whitesburg Police Department lost approximately seven (7) police cruisers in a recent storm that produced an unprecedented amount of flooding in the area. As a result of the loss of department equipment Chief Tyrone Fields' staff has been reporting to duty in their personal vehicles trying to conduct emergency operations and response.
The cruiser being donated was authorized to be removed from the Fort Wright Police Department's fleet in June of this year as part of a normal equipment rotation. It is a 2015 Dodge Charger. It will remain outfitted with all the necessary equipment and will help protect and assist the Whitesburg Police Department as they work to recover and protect their citizenry from the negative impacts of this natural disaster.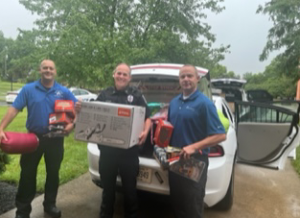 A key element of Police Officer Safety is having the essential equipment necessary to perform their work.
Support from several local businesses and individuals in response to the tragedy. They include Walmart, NKY Bargain Outlet, Bilz Insurance Company, Bernie Wessels, David Hatter, Foreign Auto Salvage and other anonymous cash contributors to stuff the donated cruiser with much needed and requested personal care items such as: non-perishable canned foods, shampoo, deodorant, baby formula, baby diapers, adult diapers, pacifiers, soap, adult and children Tylenol products, baby wipes, socks, flashlights, batteries, Gatorade, toilet paper, reading glasses, floor/window fans, etc.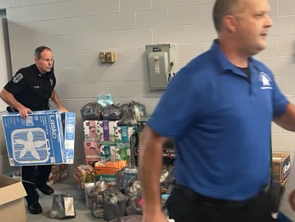 In the end, two (2) loaded vehicles were sent to deliver the donated products to Whitesburg.
Items sent included new: chainsaws with lubricants, floor fans, flashlights, baby formula, adult and baby diapers, reading glasses, batteries, Gatorade, canned goods, baby pacifiers, back packs, socks, nitrile gloves, garbage bags, hammers, pry bars, utility knives, utility gloves, first aid kits, baby bottles, bath towels, shoes, toothbrushes, tooth paste, shampoo, soap, hearing aid batteries, underwear, and numerous Walmart Gift Cards.