Market Assessment – As of Wednesday, August 24 at 12:11 p.m.
The Market (The DOW) is now up about 158 points at 12:11p.m., a great needed rally after it fell about 900 points in the last 3 days.
As we wrote on July 4th, we continue to maintain that the Bear Market ended a couple of months ago.
Lots of money was made by the traders with courage and brains. However, there are still great opportunities to make lots of money…especially buying stocks that are in a short squeeze.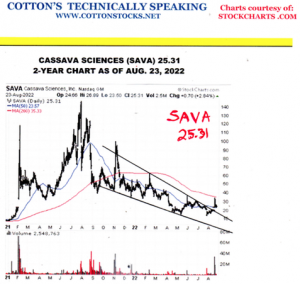 The stock we are featuring today is Cassava Sciences (SAVA). At 12:26 p.m. Wednesday, it is already up $2.63 from yesterday's close of $25.31, see chart below. We bought it last week, and think it is a prime candidate for a short squeeze.
First of all, Cassava has a drug in 3rd Phase trials that seems to have the potential to actually improve the cognition of Alzheimer's patients, not just slow the progression of the disease. Some skeptics say that the company manipulated the data, but we personally don't believe it.
Secondly, Finance.yahoo.com reports that there are only 40.1 Million shares outstanding, and only a Float of 37.4 Million shares, and 11.43 Million shares sold Short, as of July 29, 2022, which is equal to 30.20% of the FLOAT….which is a HUGE percentage for such a thinly traded stock.
And thirdly, on Aug. 16, 2022, Finance.yahoo.com reported that SAVA stock soared after it was disclosed that board member and well known investor, Sanford Robertson, just bought 100,000 shares of the stock, worth over $2 Million.
If it is a short squeeze, the stock could get back to $100 in a very short timeframe, and if the FDA approves their Alzheimer's drug, we would expect the stock to go to $300 or more.
Cassava Sciences (SAVA) is a VERY SPECULATIVE STOCK – Meaning that you are in essence "gambling" if you buy it, because you could lose part or all of your investment.
The above is my personal opinion and it is based primarily on the analysis of SAVA's stock chart. It is not investment advice, nor is it in any way to be construed as Investment Advice. For Investment Advice consult a Registered Investment Advisor or Certified Financial Planner.
Joe Cotton has won three National Stock Picking Contests with yearly percentage gains in excess of 96%. His 2020 Wall Street's Best stock contest winner was Inovio Pharmaceuticals (Symbol INO) with a 742% 1-Year return.
This article is not investment advice, nor is it in any way to be construed as investment advice. For Investment Advice consult a Registered Investment Advisor or a Certified Financial Planner. Joe Cotton's website is www.cottonstocks.net. NKY's Joseph W. Cotton is publisher of the market newsletter, Cotton's Technically Speaking. He is a graduate of Xavier University, a former bank manager and credit analyst, and a former Fidelity Investments registered investment representative. Contact him at cottonstocks@hotmail.com