By Steve Flairty
NKyTribune Columnist
Who can speak most authentically about the catastrophic flooding in eastern Kentucky? Eastern Kentuckians, of course. I had a chance to talk to a few of them this past week, and their experiences and thoughts are compelling.
For author and documentary producer Jerry Buck Deaton, the catastrophic flooding in this location is personal. He was raised in Breathitt County and has written and produced documentaries about Breathitt and other parts of the Appalachian area. His passion has passed to his offspring, too.
Jerry's daughter Sophie, who now lives in Louisville, shared some powerful words on Facebook while she and her father delivered bottles of water to those in need around Jackson and Buckhorn. She focused on the character of those in the region: "A quiet dignity. I saw that term somewhere and that is the perfect way to phrase what I saw today," wrote Sophie. "They all gratefully accepted the water we brought but what was so astounding to me was the way they were just powering through, picking up the pieces quietly, not even complaining about all they had just lost. Just determination, doing what they needed to do to move forward. I am so touched and in awe of the strength of the people of eastern Kentucky.
"They are an inspiration and a model of how to navigate tough times. They are tough as nails while remaining so kind-hearted," she said.
Lydia Jacobs, a retired teacher living in Pippa Passes, received help from a friend and neighbors when a road to her house became impassable. It was in the aftermath of her recent accident resulting in a fractured vertebra, consequences of a fall on a wet wheelchair ramp.
During the "rescue" of Lydia, age 72, her friend, Commodore Gibson, 78, fell in the flood water. "We waded, crawled, and scooted to get out. Commodore fell in the flood water and ended up in the hospital with a salmonella infected," said Lydia.
"The only positive of seeing this (flooding) situation is seeing people fulfilling God's commandment of 'Love thy neighbor as thyself,'" she said. "I've seen this in abundance of people risking their own safety and lives to help others. My emotions are overwhelmed by the loss of life and destruction in my home area. This situation is something you see on the news, not in Knott County, Kentucky."
Gayle Deaton possesses an intuitive perspective of the region and a talent to portray it in words. She talked about the difficult straits her sister and family are navigating. "When you live among the hills and hollers of Breathitt County, and specifically on a street in lower Jackson overlooking the North Fork, you know that encountering a flood sometimes is a chance you take in exchange for the joys of living there.
"This flood, with its many insidious tongues lapping up the peace of my sister and brother-in-law's lovely little home just as quickly as its muddy fingers penetrated every corner, had a really sinister feel. That other one, May 1984, had given us just enough time to get an assembly line going, to pass concrete blocks from the knee-high water in the yard, to the porch, to the door, and inside. Afterward, all the heavy furniture and Beth's beloved piano stood high and dry on their makeshift perches, serenely overlooking the brown water that flowed through the living and dining rooms, the kitchen and bedrooms, everywhere.
"But no, this was different. The water came up so quickly on July 28th. There was no time for Beth to do more than fly through the house with garbage bags, stuffing in everything in sight that was quickly deemed both important and portable, then sloshing outside to a vehicle that must soon be moved out of harm's way while driving was still possible on the flooded street.
"And this time, my sister and her husband are in their seventies instead of their thirties, and he's in a wheelchair with Parkinson's disease. And this time, their eleven-year-old, who wasn't scared at all, and his five-year-old little sister, who was, were visiting for a few idyllic days before the start of school, back home in Shepherdsville. Their mom arrived in time to help fill and tote garbage bags . . . until there was no more time. They drove to a safe place in the incessant rain."
Gayle continued.
"In the meantime, our cousin, a few houses further up a connecting street, was dealing with two leaks in her roof, where the wind had torn away shingles. As the rain poured in, help arrived, tarpaulins in tow. Terri kept her eye on the encroaching water in the street and tried repeatedly to contact her husband who was driving home from work in another county. But nobody's cellphones were working.
"By then the main road into Jackson – KY 15 – had been closed by the Highway Department. A big section of it lay on top of the Panbowl Lake dam, and the integrity of the dam had come into question. My cousin's husband turned around and drove to a motel in neighboring Wolfe County. Several frantic hours later, a passing motorist managed to get into Jackson via a backroad and got word to Terri that he was safe.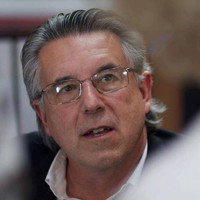 Steve Flairty is a teacher, public speaker and an author of seven books: a biography of Kentucky Afield host Tim Farmer and six in the Kentucky's Everyday Heroes series, including a kids' version. Steve's "Kentucky's Everyday Heroes #5," was released in 2019. Steve is a senior correspondent for Kentucky Monthly, a weekly NKyTribune columnist and a former member of the Kentucky Humanities Council Speakers Bureau. Contact him at sflairty2001@yahoo.com or visit his Facebook page, "Kentucky in Common: Word Sketches in Tribute." (Steve's photo by Connie McDonald)
"The water had kept rising through the afternoon and night, and by 7 on Friday morning, water stood nearly four feet deep throughout my sister's home. Mercifully, it had stopped just shy of our cousin's driveway. The issue with the dam was checked out and resolved, the road was reopened, the rain stopped at last, and the floodwaters began receding. And my sister could return to assess the damage to their home, on Sunday, the 31st. What nightmarish sights she saw on the way there. And what a nightmarish sight awaited her. It will be a good while before the house is livable again. But some of our county's folks no longer have homes at all.
"My sister's unwavering faith and strength are amazing. 'We have each other,' she says with a tired smile."
Teacher and author Judy Hensley, who lives in Harlan County, asks some probing questions about the current travail in eastern Kentucky.
"How do people prepare for such tragedy and devastation of the flooding in southeastern Kentucky?"
"How does anyone wrap their head around how life can be turned upside down in a matter of seconds in a tornado or a matter of minutes in a flash flood?"
"How do we find hope to go on?"
"In southeastern Kentucky, we go to our faith first and foremost that there is a God who loves us and is going to help us get through the struggle ahead. Then we go to family, friends, and neighbors and begin the process of surviving by saying, 'What can I do? What do you need? How can I help?'
"The people of southeastern Kentucky are made of strong stuff. The pioneer spirit remains alive and well in the hearts of people whose ancestors carved out a life in the wilderness and found ways to thrive not so many generations ago.
"This is a time when as much help as is possible to be received is needed to get up and running again. This is a time for hope and help to be delivered hand in hand. It is an opportunity for humanity to shine brightest as we do however little or however much we can to help our people recover and move beyond the devastation. It may take a while, but the strong backs and strong spirits along with faith in God will triumph in the end.
"I've often heard that the greater the darkness, the further a single flame can be seen by the human eye. There are already sources of great light beginning to arrive. May this thousand-year flood bring out the best in all of us, side by side and shoulder to shoulder to meet this incredible challenge head on."
Let our commonwealth of Kentucky, with its heart and soul, be a model for America.