By Steve Flairty
NKyTribune columnist
Northern Kentuckian Ron Ellis will be signing his new book, Yonder: Tales from an Outdoor Life, this Sunday, August 21, at the Behringer-Crawford Museum, Devou Park, Covington, from 2-4 pm.
Ellis, a retired Northern Kentucky University Assistant Vice President for Advancement from 1975 to 2001, studied under noted environmentalist and writer Rick Bass. Of Yonder, Ellis notes: "Yonder is a collection of new and selected stories gathered over many seasons spent with friends in the woods and on the waters. These are tales and sketches about treasured friends and places, wild birds and bright fish, and, if we were very lucky, occasional brushes with wonder and magic in the wild places we liked best."
In a beautifully written foreword for the book, author Robert DeMott comments: "A slice of paradise, Ron suggests, is within our grasp because, the yonder toward which we journey is never that far away if only we look properly. Even our backyard postage stamp of ponds or fields can be yonder, too, in the right frame of mind. The best part is that like Ron you don't necessarily have to travel long distances to find that place."
Ellis is also the author of the popular Cogan's Woods and Brushes with Nature: The Art of Ron van Gilder and edited Of Woods and Water: A Kentucky Outdoors Reader. Find out more about him and his work at ron-ellis.com.
• • • • • • • • • • • • • • • • • • • • • • • • •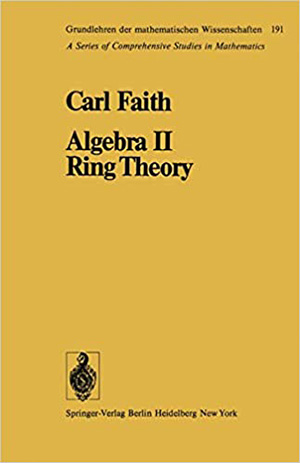 Historically, Kentucky is criticized for its deficits in educating its citizens, though in recent years, some positive changes have tended to help keep the wolves away. A 2019 U.S. News & World Report article rated in 36th in the country, not great but much improved from our days in the past when many thanked the state of Mississippi for being below our classroom learning performance. Being a retired and biased Kentucky teacher, I like to think we are better than credited, and as a writer, I like to occasionally share examples of nationally recognized achievers who were raised in Kentucky schools.
Carl Clifton Faith is one who reached international regard in the field of mathematics. Born in 1927, he grew up in the Peaselburg neighborhood of Covington, attending its Fifth and Seventh District schools and graduating from Holmes High School in 1945. Afterward, he joined the U.S. Navy, serving as an Aviation Electronics Technician from 1945-1946. Taking advantage of the GI Bill, Carl later graduated cum laude from the University of Kentucky in 1951, winning honors in mathematics.
Leaving Kentucky, he moved on to Purdue University, in Indiana. He earned his master's and doctoral degrees, preparing him for a career in education. He taught at Purdue, Michigan State, Penn State, and Rutgers.
Here are some of the professional accomplishments Carl Faith achieved:
• Fulbright-NATO Postdoctoral Fellowship ay Heidelberg, Germany (1959-1960)
• NSF Postdoctoral Fellowship, Institute for Adv. Study, Princeton, NJ (1960-1962)
• consultant for the National Science Foundation in 1968
• studied and taught in Europe, the Middle East, India, and throughout the U.S.
• named to alma mater Holmes High School's Hall of Distinction in 2003
Carl published several books, including Algebra: Rings, Modules, and Categories 1 (2012); Lectures on Injective Models and Quotient Rings (1968); and FPF Ring Theory: Faithful Modules and Generators of Mod-R (with Stanley Page, 1984). He also released a poetry book, The Seduction of Hummingbirds and Other Poems, and a memoir, The Sun Shines Bright: A Kentucky Boyhood during the Great Depression and World War II.
He died on January 12, 2014, and is buried in the Princeton Cemetery, Princeton, New Jersey.
Sources: The Encyclopedia of Northern Kentucky (U. Press of Ky., 2009); carlfaith.com; obits.nj.com; Wikipedia.org; catalogs.Rutgers.edu