Mark your calendars for one of the NKY Chamber Women's Initiative's most anticipated professional development events of the year – The Women's Initiative Regional Summit.
Taking place on Thursday, Nov. 3, from 8 a.m. to 4 p.m. at MegaCorp Pavilion in Newport, the Women's Initiative Regional Summit is a unique event designed to support professional women of all career stages working toward business and professional success.
The event's theme, Rocking Your Role: Amplify Your Power, Purpose & Goals, aims to bring the region's businesswomen together to discuss real-life leadership experiences and how attendees can care for themselves, their professional teams, and simultaneously drive business results.
While the schedule will include a variety of presentations covering topics such as compassion, leadership strategies, diversity in the workplace and workforce development, the day will kick off with Angel Beets, co-managing partner of Gilman Partners. Beets' presentation, The Executive Presence Formula, will offer tangible strategies to help leaders at any stage of their career boost their executive presence. Attendees will walk away knowing what factors make up executive presence, how to balance verbal and nonverbal cues, and when to use powerful and attractive strategies with various audiences.
"The mission of this event is always to inspire, uplift and connect women within the Greater Cincinnati area," Vice President of the Women's Initiative Gina Bath said. "The Women's Initiative is serious about creating important opportunities like this available for women in our region. It's incredibly crucial to have events like the Regional Summit that educate, empower and strengthen women to find their purpose and power."
The Women's Initiative Regional Summit is designed to support professional women in all stages of their careers including young professionals, mid-career and senior-level professionals and entrepreneurs.
The summit committee's goal is that women in all stages of their careers leave the event knowing that they are valuable, they should live their purpose and are empowered to truly rock their roles.
The session speakers for the 7th Annual Women's Initiative Regional Summit, sponsored by PNC, include (lineup subject to change):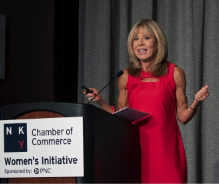 Morning General Session Speaker:
The Executive Presence Formula
Angel Beets, Co-Managing Partner, Gilman Partners
Session Speakers:
How Personal Brand Holds Back Aspiring Female Leaders
April Martini, Co-Founder, Forthright People
 
Become a Confident, Dynamic Speaker
Christy Demetrakis, President, The Empowered Speaker
 
The Path to Your Best Mental Health Life
Laurie Sharp-Page, Author & CEO, Flourish Psychotherapy
 
Driving YOUR Eureka! How to Find, Filter, & Fast Track BIG IDEAS for your Career, Company, or Community
Maggie Nichols, CEO & President, Eureka! Ranch International
 
Body Talk
Dr. Virginia Braden, Licensed Private Investigator and Behavioral Analyst, Braden Investigations & Consulting
 
Overcoming Perfectionism: How to Lead a Life of Excellence
Vitale Buford, CEO, The Hardin Group
 
Lunch Panelists
In addition to session speakers, attendees will hear from an engaging group of lunch panelists:
 
Sharon Fusco, Moderator, CEO, Easterseals Redwood
 
Christopher Johnson, Chief Diversity & Inclusion Officer, Frost Brown Todd
 
Bonnie Meyer, Owner, BlueJay Collective
 
Alicia Miller, Executive Director, The Women's Fund of the Greater Cincinnati Foundation
 
The cost to attend is $160 for YPs, $170 for NKY Chamber members, and $180 for future NKY Chamber members. Registration is required online in advance of the event. To register or for more information, visit www.NKYChamber.com/WISummit22.