Elly Piatt of Villa Hills interned for U.S. Senate Republican Leader Mitch McConnell (R-KY) this summer in his Washington, D.C. office.
She is a senior at the University of Kentucky pursuing a major in political science and economics.
"Since graduating high school, it has become my mission to use my gifts to make a difference in the communities around me," Said Piatt. "Working for Senator McConnell has been an honor as I have been able to both witness and contribute to the significant impact he has across our great Commonwealth, especially in Northern Kentucky and Lexington, two places that I am happy to call home."
Piatt is involved with UK's Holy Spirit Parish-The Newman Center, Student Government Association, College Republicans, and the Center for Community Outreach.
She is a 2019 graduate of Notre Dame Academy, and is the daughter of Joel and Meg Piatt.
For more information on the internship program, visit Senator McConnell's website HERE.
Sean Sinacori, newest Covington police recruit
Covington Police Department's newest recruit is a licensed private investigator and certified personal trainer who holds a Bachelor of Science degree in Criminal Justice from Xavier University.
 
Sean Sinacori was sworn in by Mayor Joe Meyer and received his badge in a ceremony at City Hall.
"In the political times we're in, it's particularly difficult to get people who want to work in law enforcement," Meyer said. "In Covington, our police officers have the full support of the administration. Our police officers are the face of this City. More people interact with the Police Department than they do with any other department, and the department promotes and supports the City's values."  
Police Chief Rob Nader presented Sinacori with his badge and echoed the mayor's comments about recruiting challenges – but also expressed optimism.  
Sinacori said he's excited to join the department and be of service.  
"I'm excited for this opportunity, and I'm excited to help the city of Covington," he said.  
Sinacori will begin his 20-week basic training at the police academy in Richmond. At the conclusion of the academy, he will return to Covington, where he will begin a field training program.
Ludlow native participates in world's largest international warfare exercise
Seaman Emmett Gernsna is a quartermaster aboard the USS William P. Lawrence, operating out of Pearl Harbor. He is participating in the RIM of the Pacific (RIMPAC) exercise.
Gersna is a Marshall High School graduate and a Ludlow native.
Serving in the Navy means Gersna is part of a team that is taking on new importance in America's focus on rebuilding military readiness, strengthening alliances, and reforming business practices in support of the National Defense Strategy.
"Protecting the season for those who can't is a big part of why I joined the Navy," says Gersna.
As the world's largest international maritime exericse RIMPAC provides a unique training opportunity that helps participants foster and sustain cooperative relationships critical to ensuring safety at sea and security on the world's oceans. This is the 28th exercise in the series that began in 1971.
Shannon Starkey-Taylor receives Vistage Award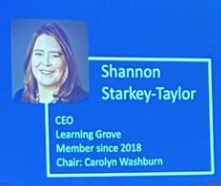 Shannon Starkey-Taylor, CEO of Learning Grove, has received the Leadership Award from Vistage, an executive coaching organization for small and midsize businesses.
The award is part of the Vistage Member Excellence Awards program.
Starkey-Taylor heads an organization dedicated to delivering outstanding early childhood education and services a racially and socioeconomically diverse population of nearly 7,000 children, youth, and families annually with programs across Northern Kentucky and Southwest Ohio.