People Working Cooperatively (PWC) teamed up with FC Cincinnati to help a Covington veteran as part of the club's "Salute to Service" match that honors those who have served in our nation's military.
 
PWC is a nonprofit providing professional, critical home repair, weatherization, and accessibility modification services for low-income homeowners throughout the Greater Cincinnati region.
An Army veteran who served three tours in Vietnam, James, who lives with his wife Sandra, recently underwent a leg amputation in addition to being on dialysis, which made maneuvering around his home challenging.
With its mission to keep residents safe and healthy in their homes, PWC was joined by FC Cincinnati staff volunteers to revitalize the property. Even Gary, FCC's proud blue and orange lion mascot participated.
The work included replacing existing handrails on the front porch and expanding the railing to the driveway, yardwork, repairing a fence, and replacing a fence gate that James had started but could not finish due to his health complications.
"The Greater Cincinnati region is filled with decorated men and women whose service to our country deserves the utmost respect and appreciation. Being able to give back and help veterans like James while partnering with a community-centric organization like FC Cincinnati is an opportunity PWC will always embrace," said PWC President Jock Pitts. "We look forward to continuing our work with FC Cincinnati to make our community stronger and safer for all."
FC Cincinnati Vice President of Community Relations, Kate Solomon, agrees.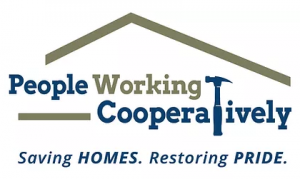 "We are honored to partner with PWC as part of our ongoing Salute to Service initiative," said Solomon. "Changing a life for the better is part of being a good steward in our community, and we enjoyed bringing our staff together to support a worthy individual like James."
James, 74, earned numerous awards during his years of military service, including a Bronze Star with Valor, seven Vietnam Service Bronze Stars, an Army commendation for Good Conduct, four Overseas Bars, a Combat Infantryman's Badge, a National Defense Service Medal, a Republic of Vietnam Presidential Unit Citation / 1st Oak Leaf Cluster and a Purple Heart/1st Oak Leaf Cluster.
To learn more about People Working Cooperatively, visit pwchomerepairs.org or call (513) 351-7921.