In The Beverly Hillbillies, patriarch Jed Clampett was frequently called upon to clean up some bit of nonsense wrought by Granny, Ellie Mae, and her critters or whoever happened to be made handy by the lowbrow scriptwriters. Often his efforts were thwarted by jugheaded nephew Jethro Bodine, who insisted on worsening any situation by providing unwanted assistance, leading an exasperated Jed to plead, "Don't help me, boy!"
Which brings us to Senate Republican Leader Mitch McConnell, of Louisville, and Sen. Lindsey Graham, R-SC, who has assumed the Jethro role with panache. As the ever-divisive issue of abortion arrives special delivery with an election just around the corner, Mitch clearly would like his own dull boy, Lindsey, to shut up and go away as the GOP staggers toward the November finish line.
To summarize:
It appeared earlier this year that Republicans were on a glide path toward regaining control of the Senate after a brief period in the wilderness, thus once again installing McConnell as majority leader, the only position he has ever coveted, not because he intends to do anything with it, mind you, but because it provides the sort of power that nourishes his ego.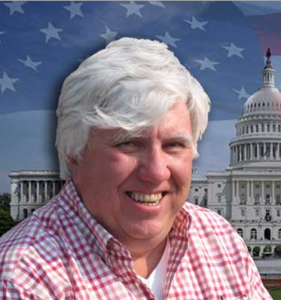 The NKyTribune's Washington columnist Bill Straub served 11 years as the Frankfort Bureau chief for The Kentucky Post. He also is the former White House/political correspondent for Scripps Howard News Service. A member of the Kentucky Journalism Hall of Fame, he currently resides in Silver Spring, Maryland, and writes frequently about the federal government and politics. Email him at williamgstraub@gmail.com
Things were progressing smashingly. It's an off-year election, a time when the party that doesn't hold the White House usually makes gains. The fruit seemed particularly low on the branch this go-round since the upper chamber already was split 50-50, meaning the pickup of only one seat would fulfill McConnell's dreams. Partnered with a bumbling early start from Democratic President Biden, it seemed like Mitch's happy days were here again.
Then came the Supreme Court's Dobbs decision, overturning an earlier high court precedent, Roe v. Wade, which held that women had a constitutional right to an abortion. Essentially, the decision authored by Justice Sam Alito in the snottiest manner possible, punted the issue to the individual states and was pretty much seen as a bunch of old white fogies – with a middle-aged white gal and a Black guy included for a dash of diversity – telling the nation's female population what is best for them when it comes to their own personal health care.
It does not appear at this juncture that Dobbs has enhanced the prospects of the anti-abortion cabal better known as the Republican Party.
Women, understandably enraged, are hinting they're now likely to pull the Democratic lever come November. In Kansas, a conservative state thought to oppose what was once characterized as abortion on demand, voters rejected a proposed amendment to the state constitution that would have empowered state lawmakers to impose new abortion regulations. Currently 16 states, including Kentucky, have adopted either full or partial abortion bans. Another nine are headed in that direction but are facing court challenges.
That leaves a lot of women without reasonable access to an abortion. In many cases, those seeking to terminate a pregnancy because of a medical condition are told tough luck. Women who suffer miscarriages in some states are made to feel like criminals. Kentucky has no exceptions for women who are raped or are incest victims. The indomitable Deborah Yetter of The Courier Journal in Louisville recently reported that the two youngest patients to receive an abortion in the Commonwealth over the past two years were age 9. Under current law they would likely have to go elsewhere to end their pregnancies.
McConnell, who back in the day generally supported abortion rights but turned heel once Republicans decided to make a whoop-de-doo over Roe v. Wade, supported the Dobbs decision, calling it "courageous and correct." He might as well have signed the decision himself since he was personally responsible for putting three of the justices in that in the majority on the bench.
"Millions of Americans have spent half a century praying, marching, and working toward today's historic victories for the rule of law and for innocent life," McConnell said in reaction to the Dobbs ruling. "I have been proud to stand with them throughout our long journey and I share their joy today."
Now Mitch would like voters to forget the whole long journey and the joy. After braying that "Now the American people get their voice back," it turns out that voice is saying the American people don't much care for the Dobbs decision. And it looks to be costing Republicans votes – a lot of votes.
In a June poll, the Public Religion Research Institute found that, in the aftermath of the Dobbs decision, 65 percent of Americans felt that abortion should be legal in most or all cases, including 33 percent who maintain it should be legal in all cases and 32 percent who say it should be legal in most cases. Only one-third of Americans say abortion should be illegal in most or all cases.
In an even more recent survey, this from Fox News, believe it or not, 63 percent of those questioned disapproved of the Supreme Court decision overturning Roe while only 33 percent approved.
Republicans for months held an advantage over Democrats on the generic ballot. Now, according to the website 538, Democrats hold a scant 1.4 percent edge over the GOP. But the gap appears to be widening – a Sept. 10-13 poll by the Economist has it at six percent. At least some of that movement is being fueled by objections, primarily among women, to the Dobbs decision.
If there's one thing Mitch can do, it's read polls and he realizes momentum is headed in the wrong direction for Republicans. He's also saddled with a bunch of GOP Senate candidates who, well, let's just say they ain't ready for Broadway.
So McConnell, understandably, is trying to change the narrative, detract attention away from abortion and toward issues like inflation and immigration that might just do the GOP some good. Even Republican candidates nationwide who tried to make hay with their anti-aborti0n constituents are back-tracking to emphasize other issues.
Enter Jethro or, as we like to call him, Lindsey Graham.
Apparently unaware of the burgeoning electoral crisis, Graham has introduced legislation to ban abortion throughout these United States after 15 weeks of a pregnancy. The measure includes exceptions for abortions that are necessary to save the life of the mother or when the pregnancy is the result of rape or incest. But it would leave untouched state laws that are more restrictive.
 
"Abortion is not banned in America. It's left up to the elected officials in America to define the issue," Graham said. "States have the ability to do it at the state level, and we have the ability in Washington to speak on this issue if we choose. I have chosen to speak. I have chosen to craft legislation that I think is eminently reasonable in the eyes of the world and I hope the American people."
Well, so much for keeping everybody on the same page. Asked about the Graham bill by reporters, McConnell drolly responded, "Most of the members of my conference prefer that this be dealt with at the state level."
Now the question is whether Senate Democratic Leader Chuck Schumer, of New York, will call the measure up for a vote, forcing Republicans to choose whether to disappoint their anti-abortion supporters, keeping them away from the polls, or further alienate women voters, bringing them to the polls but for the Democrats. Or he can let it lay there like a dead skunk in the middle of the road, leaving Republicans to sway in the breeze.
And Mitch might want to consider another Jed Clampett aphorism – "One of these days I'm gonna hafta have a long talk with that boy."